More than Half of D.C.-Area Feds Say Agencies Aren't Supportive of Telework Amid Metro Closures
Majority of respondents to a GovExec.com/Government Business Council survey report that the temporary shutdown of six Metrorail stations would have at least a moderate impact on their ability to do their jobs.
Although a plurality of Washington, D.C., federal employees said their agencies have gotten more flexible in providing telework opportunities within the past two years, more than half of respondents to a recent survey said leadership has not been supportive enough in offering workplace flexibilities in light of a series of summer-long Metrorail station closures.
While several departments have moved to cut telework drastically during the Trump administration, about 45% of feds in the D.C. area reported that their agency has become more flexible when it comes to offering opportunities to work remotely in the last two years, according to a new survey by the Government Business Council and GovExec.com. Around 35% of respondents said their agency has become less flexible with telework, while 20% reported no change.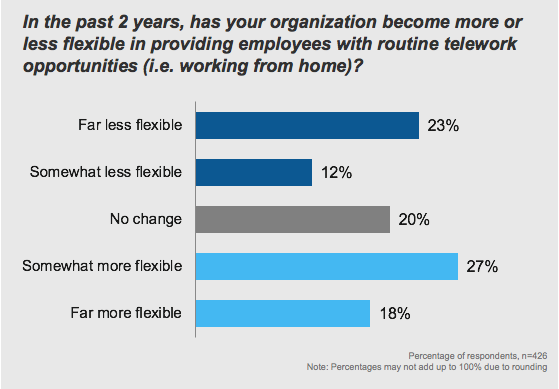 From Memorial Day until Labor Day, the Washington Metropolitan Area Transit Authority has closed six Blue and Yellow line Metro stations south of National Airport to rebuild outdoor train platforms. The Office of Personnel Management issued guidance encouraging agencies to expand access to telework and other workplace flexibilities to federal workers impacted by the station closures.
Although some agencies have worked to accommodate employees, others have implemented the memo in ways that continue to discourage working remotely. Some agencies recently moved to implement new restrictions on telework, despite OPM's guidance.
More than half of D.C.-area federal workers—53%—said their agencies were only slightly supportive, or not supportive at all, in offering situational telework to employees affected by the Metro closures. Only 29% of respondents said their supervisors were very or extremely supportive, while 19% reported their agencies to be moderately supportive.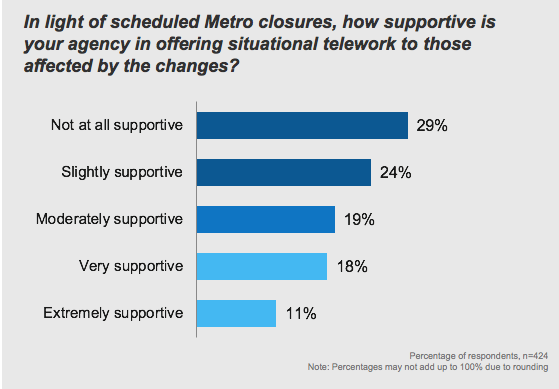 In written submissions, several respondents cited the Agriculture Department's intransigence on telework. The department in an internal memo encouraged the use of alternative schedules and paid leave, while reiterating that telework should only be used in "rare" circumstances.
On the other end of the spectrum, General Services Administration employee James Summers said his supervisor has been extremely understanding of his commute-related predicament. For the summer, he is working remotely five days per week, he said.
"GSA has been offering maximum flexibility to employees who have been disrupted by the Metro," Summers said. "There are no restrictions, as far as I know of, and my supervisor is being very flexible with telework."
Even with some agencies working to accommodate workers, 54% of respondents said the station closures will have at least a moderate negative impact on their ability to "accomplish work objectives" this summer. About 46% of feds said the closures will have minimal to no impact on their productivity.
Government Business Council and GovExec released the survey from June 13-20 to a random sample of Government Executive, Nextgov and Defense One readers. The results include 426 federal employees, and have a margin of error of plus or minus 5%.