FBI Has Failed to Move the Needle on Diversity Over the Past Decade, Despite Efforts of Recent Directors
Percentages of women and minorities have remained virtually unchanged.
Although diversity has been a priority at the FBI over the past decade, the make-up of the bureau's workforce has barely changed over that time, and employees' views of the agency's support for diversity have not grown more positive.
The FBI, which has 37,000 employees at 56 field offices nationwide, has struggled to recruit and retain a diverse workforce because of the application process, job demands and its history as a majority male and white organization, observers say. This is a challenge the entire law enforcement community faces, as the Justice Department and U.S. Equal Employment Opportunity Commission reported in 2016. Despite the initiatives and commitment to bringing in a broader mix of workers from FBI Director Christopher Wray and his recent predecessors, the composition of the agency's workforce and employees' views have remained largely unchanged over approximately the last 10 years.
"According to [the Office of Personnel Management], law enforcement is an area where there is a critical need for civil servants who look like the people and communities they serve," the Justice Department inspector general reported in October. The report acknowledged that the FBI and other sub-agencies have taken steps to boost diversity, but said that "fostering a diverse, highly-skilled workforce" was a top management challenge in 2019. 
According to the Office of Personnel Management's most recent federal data, as of March 2019 the FBI's overall workforce was 55.6% male and 44.4% female. This is compared to 56.1% male and 43.9% female in December 2009. Among the top three grades of the federal General Schedule pay scale (GS-13 to GS-15), which are considered supervisory positions, men also held the majority with 69.8% in 2009 and 64.8% in 2019.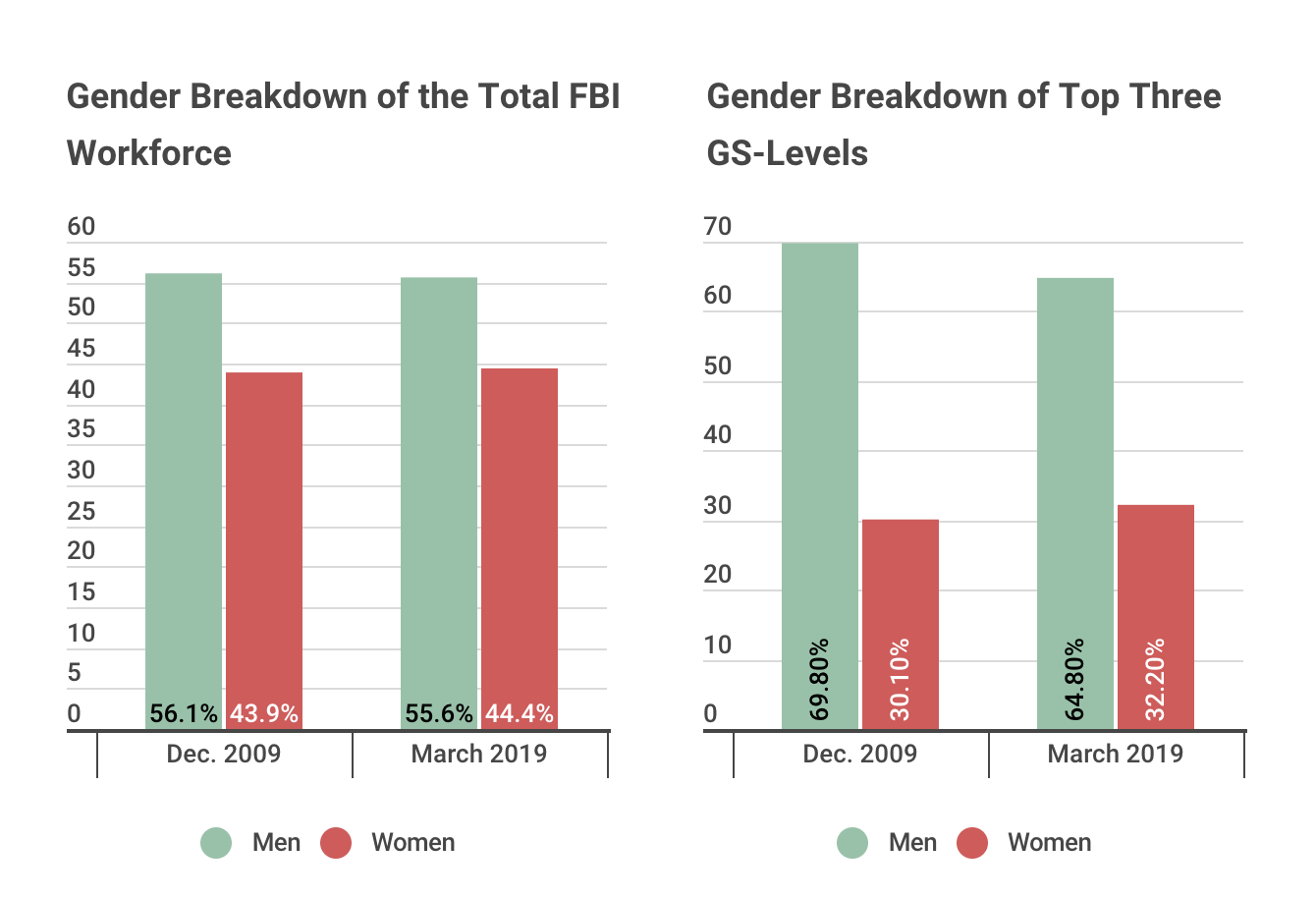 Source: Office of Personnel Management
As for racial demographics, the FBI's workforce was 75% white in 2009 and 74.4% white in 2019. Additionally, whites held 79.5% of the top GS grade positions in 2009 and 77.6% in 2019.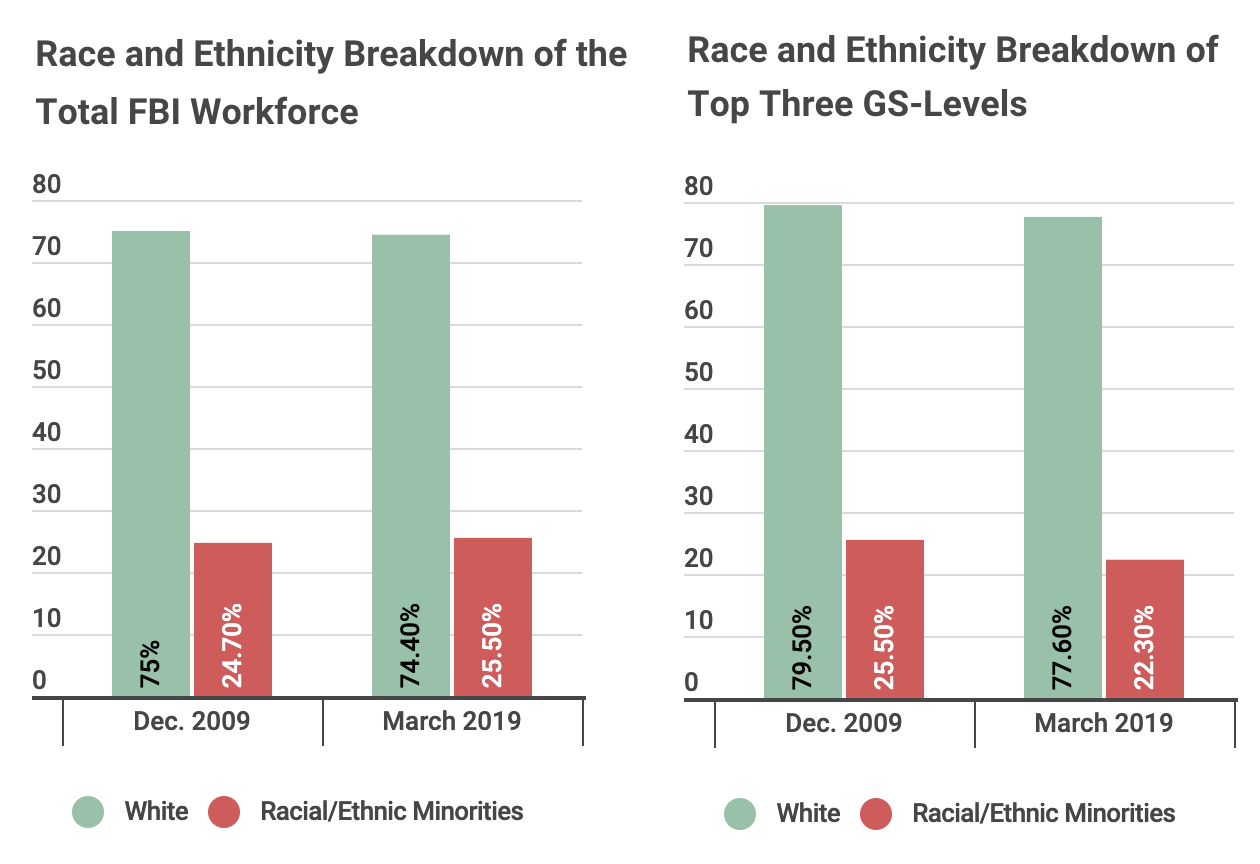 Source: Office of Personnel Management
These trends are similar among special agents, who are dispatched nationwide to investigate crimes and enforce federal laws, and make up roughly 36% of the FBI's workforce, according to Statista, a market and consumer data provider. In February 2020 special agents were 79.1% male and 20.9% female. This was a slight improvement from 79.6% male and 18.8% female in 2010. For ethnic minorities, there were 17% in 2010 and 18.4% in 2020, according to FBI statistics.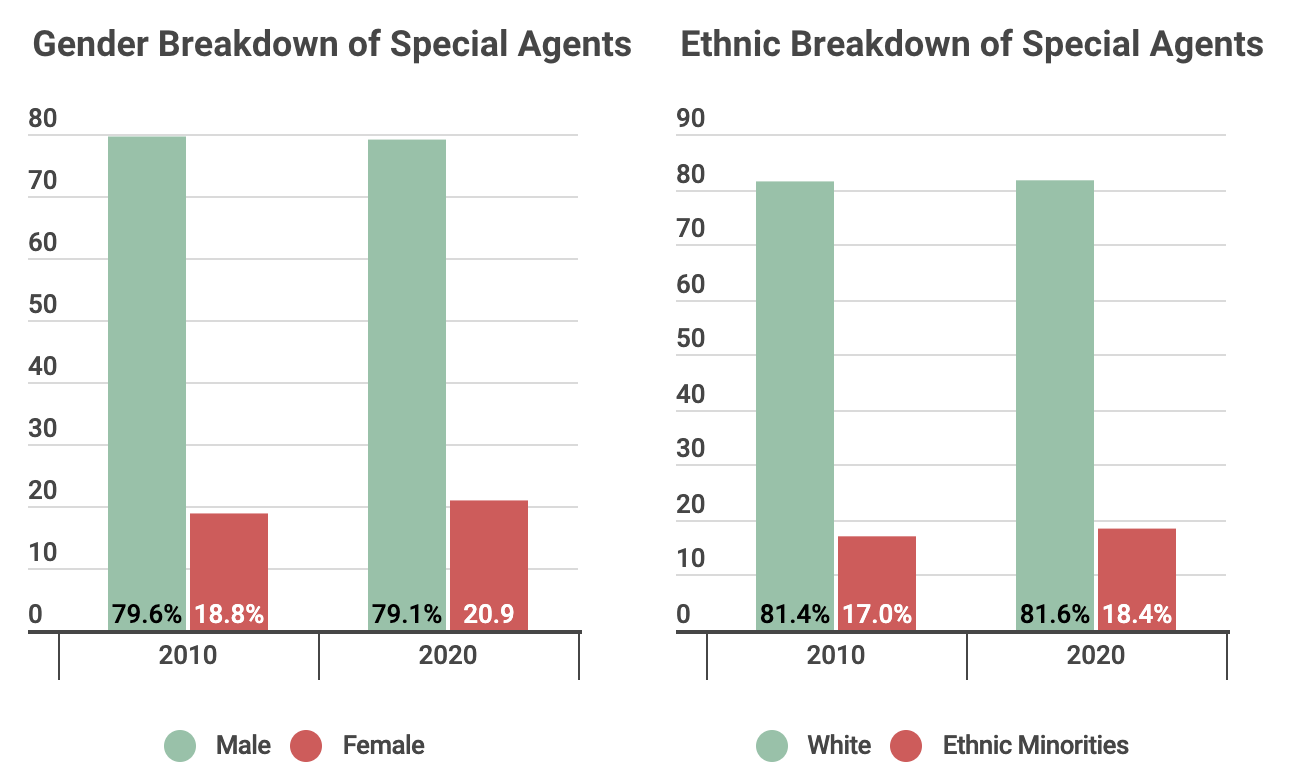 Source: FBI
When asked about the lack of significant change in numbers over the last decade, an FBI official who declined to be named told Government Executive:
The FBI recognizes the need for a diverse and inclusive workforce. We know we will most effectively accomplish our mission protecting the American people if we truly represent the communities we serve. Diversity recruiting and hiring is a priority for the FBI. Over the past several years, we have adjusted our recruiting strategies to bring in even more people of all backgrounds and implemented programs to support our employees' entry into leadership positions. We have seen significant improvement in the number of female and minority applicants, and our new agent classes are more diverse. We are committed to diversity, and we will continue to recruit the highest quality candidates of all backgrounds.
In addition to the workforce demographics remaining largely unchanged, so have employees' views on how the FBI approaches diversity, according to the nonprofit Partnership for Public Service and global management consulting firm Boston Consulting Group's annual Best Places to Work in the Federal Government ranking. 
The rankings measure the extent to which employees: think their superiors are representative of society, believe their agency has programs and policies to promote diversity and feel their supervisors work well with employees from different backgrounds. In this category, the FBI has remained relatively level and below the sub-agency median since 2007. Specifically, in 2019 the FBI scored a 56.6 out of 100 possible points on support for diversity, which was below the median of 62 for sub-agencies nationwide.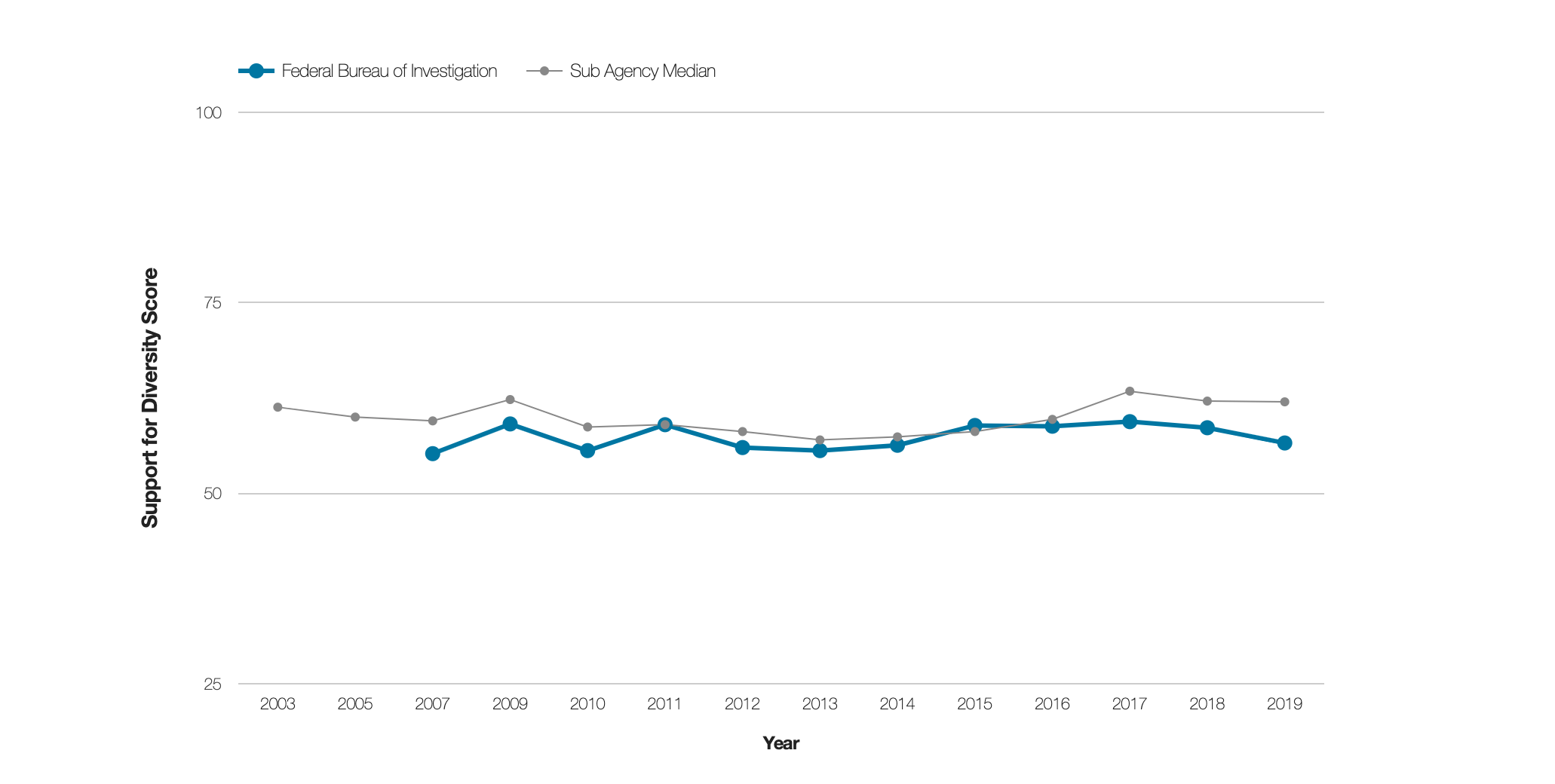 Source: Partnership for Public Service
Observers acknowledged the bureau's work to improve diversity, but also noted there are unique hiring challenges in law enforcement and, particularly, the FBI.
Michael German, Brennan Center for Justice fellow and 16-year FBI agent who left in 2004 as a whistleblower, told The Intercept in 2018 about the systemic issues at the FBI that make diversity a challenge. "There is this national security imperative that tends to view even people within the FBI with suspicion, particularly if they stand out," he said. "The FBI is a very conformist organization. So anybody who publicly criticizes the FBI is ostracized from the wider FBI fraternity–and I say fraternity because it is still almost all male, as well as almost all white."
Society of Former FBI Agents Executive Director Nancy Savage, who was an FBI personnel specialist from 1977-1983 and supervisory special agent from 1983-2011, applauded FBI Director Wray's diversity initiatives, which have built on efforts from past directors. "Wray has committed himself to recruiting a qualified and diverse workforce, believing such diversification makes the FBI better equipped to meet its mission," she told Government Executive. She said the bureau has attempted to boost diversity by using online tools and social media to reach a larger talent pool of applicants, its outreach to teens and its internship programs. The FBI is "getting people who are in high school or even younger used to thinking about 'hey maybe I'll pursue a career in the FBI.'"  
Still, she said the FBI faces unique hiring challenges that can make onboarding diverse employees difficult. These include the lengthy application process, rigorous background checks to get top-secret security clearances, demanding job requirements (such as the hours, travel and stressful nature of the job) and varying placement needs across the country. 
Maggie Feldman-Piltch, founder and CEO of #NatSecGirlSquad, an organization that advocates for diversity in the national security and defense industries, agreed that the bureau is working to improve its diversity. "No agency or department [in law enforcement] has a lock on doing this right," she said. "Every place has its challenges...I would also say that for now the third director in a row, the [FBI] has made diversity and inclusion, in a real way, a priority."
For example, "Director Wray is literally going to the diversity recruitment and hiring events," she said. "The director of the FBI is showing up for groups of 40 people who haven't even decided to apply yet. That sends a message." 
Wray mentioned such efforts during a House Judiciary Committee hearing on February 5. "On the issue of diversity, it's very important to us, it's one of our core values," he said. "I've made significant efforts to energize our diversity agent recruiting including speaking at some of those events myself around the country."
When examining the agency from a longer historical perspective, it's easier to see changes, observers said.
Savage started at the bureau in 1977. "For a period of time I was the only female agent in the state [of Kentucky] I was assigned, so you were very much an anomaly and even the public wasn't used to seeing a female FBI agent," she said. "But it's changed since then." 
Another pioneer, former FBI Special Agent Johnnie Bright, who served at the bureau from 1976-2008, said at first, "You had nobody to go to like you—a black female." She spoke about the progress she has seen in increasing the number of minorities at the agency over the years during an event in November to celebrate the 100th anniversary of the first African American special agent joining the FBI.
Other event attendees, noted, however, that diversity will likely remain a challenge at the FBI. 
"There is always going to be a problem [with diversity] because you give up a lot as a black person, probably as a person to be in law enforcement," said former FBI Special Agent Linda Berry, who served for 28 years and was the second African-American special agent, at the event. "You give up friends, you give up family, because you have to live your life in a certain way because you're always being watched."