Agencies Are Relying More on Alternatives to Contractor Suspension and Debarment
Annual report shows that exclusions from doing business with the government have decreased in recent years, yet are still up from 2009.
The number of contractor suspensions and debarments in fiscal 2018 was nearly double that of 2009, when an interagency committee started formally tracking them, but federal agencies are also increasingly relying on alternative measures to resolve disputes, according to a new report. 
In fiscal 2018, agencies surveyed by the Interagency Suspension and Debarment Committee reported 480 suspensions (temporary exclusions when an investigation is ongoing), 1,542 proposed debarments and 1,334 debarments (exclusions for a set period of time after an investigation or legal proceedings against a contractor), according to the committee's annual report released Tuesday. This is about twice the activity level reported in fiscal 2009. However, since fiscal 2014, the number of suspensions and debarments has been decreasing.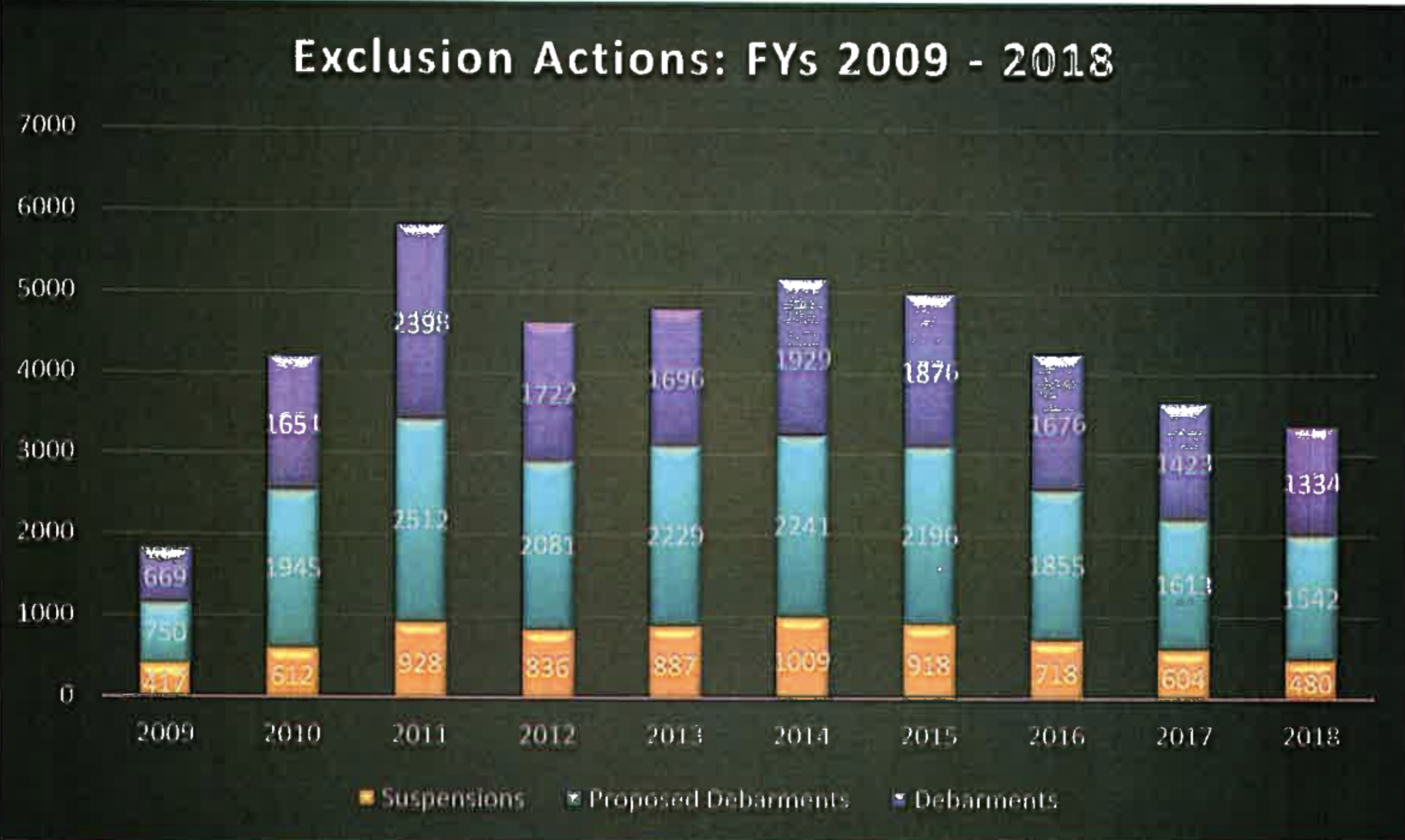 Source:  Interagency Suspension and Debarment Committee
"Compared to [fiscal] 2009 results, agencies reported greater reliance on the administrative remedies identified below as alternatives to immediate and/or continued imposition of suspension and debarment during [fiscal] 2018," the committee wrote.  Alternative remedies include: agency pre-notice letters, administrative agreements and proactive engagement by committee outreach. 
For example, in 2009, five agencies reported entering into 35 administrative agreements with contractors, while in 2018, 14 agencies reported entering into 61 administrative agreements. Although this is the overall trend during the last decade, these numbers have fluctuated over the years.
The Suspension and Debarment Committee is an interagency body that was established to enforce the 1986 executive order that monitors how agencies identify contracting companies, organizations and individuals engaged in improper conduct and enters them in the General Services Administration's System for Award Management database.
"Overall, it's a good thing," said Jessica Tillipman, assistant dean at The George Washington University Law School, on the increased use of alternatives to suspension and debarment. "Administrative agreements are a middle ground between full exclusion and doing nothing (while still providing fairness and accountability)."
Michael Wagner, a partner at Covington & Burling LLP, and Fred Levy, partner and co-chair of the firm's Government Contracts Practice Group, said that in addition to the increase of alternative remedies, another important takeaway from this year's report is the panel's creation of a cybersecurity subcommittee. This is an "increasing area of exposure for contractors," Levy said. Levy and Wagner noted that with an increased reliance on technology, the government wants to ensure it doesn't do business without the proper cybersecurity protections.
The subcommittee is tasked with "tracking and reporting to the membership on cybersecurity contractor compliance issues," the report said.  
The committee said its approach to finding faulty contractors "helps reduce business risk to taxpayer funds or interests" in accordance with the goal of suspension and debarment: "to protect the government; not to punish the wrongdoers."