The State of Government-Speak in 2022: A Slight Dip in Agency Writing Grades, But Within That 'A Far More Positive Story' 
A nonprofit issued its annual report card on 21 executive branch agencies' writing quality and organizational compliance with a 2010 law to combat jargon.  
Two of the main ways the public connects with the federal government are through agencies' "contact us" sites and public records requests, but how easy is it to read and understand those landing pages? A nonprofit has looked at that question for over a decade, and in its latest report card, it found that the writing grade overall has dipped slightly in the past year, but there are some bright spots with individual agencies. Also, overall compliance with a law aimed at eliminating jargon was positive. 
The nonprofit Center for Plain Language released on Monday its 11th annual report card on 21 executive branch agencies (including the Cabinet ones) adherence to the 2010 Plain Writing Act, which sought to bolster citizens' access to information from the federal government by making communications clear and understandable. 
"Across various sectors, officials are trying to combat misinformation and a surefire way to achieve that is for government agencies—in particular—to establish themselves as an official source of information," Barbra Kingsley, chair of the Center for Plain Language, said in a statement on Monday. "The 2022 Federal Report Card results showcase the federal sector's continued work to make information easy to understand and provide the public with a direct line to reach the agencies who serve them." 
For the writing grade, the center looks at how easy it is to locate, understand and utilize information that the public needs. For 2022, the center reviewed agencies' "contact us" and main Freedom of Information Act request pages. 
The average grade for writing was a "C," which was down slightly from a "B-" in 2021. However, "within that average is a far more positive story about the federal government's commitment to plain language: one third of agencies saw an improvement in their overall writing grade, with the Department of Agriculture seeing the most improvement (C to A)," said the report. 
The average grade for the "contact us" pages was a "B-." The report card said the Social Security Administration's "contact us" page was a great model to follow as it was the only one to receive an "A+." 
"For the lowest scoring pages, judges noted agencies did not provide a straightforward, concise path for members of the public to get in touch," said the report. "To fix these pages, agencies should establish a user-focused approach to their web content, navigation and design."
For example, a judge noted that the Housing and Urban Development Department has "nothing substantial that explains the links or provides assistance via SEO that would help users understand the purpose and intent of the page other than perhaps coming across it by accident."
For the FOIA request pages, the average writing grade was a "C-," which was down slightly from "C+" in 2021. (The report notes this was due in part to the change in the grading rubric for 2022). 
Some of the judges said that some agencies have "extraneous information and legal language" on their FOIA request pages. For example, one judge said in regard to the FOIA request page for the Commerce Department, which houses the U.S. Census Bureau, National Oceanic and Atmospheric Administration and U.S. Patent and Trademark Office, much of the "content uses jargon, passive voice and complex syntax that all make reading more difficult."
The report highlighted the Agriculture and Homeland Security departments and Social Security Administration's request pages as examples to follow. 
The DHS page links to FOIA portals for its various offices and agencies, such as the Transportation Security Administration, Immigration and Customs Enforcement, Secret Service and Federal Emergency Management Agency. According to its website, "DHS receives and responds to more FOIA requests each year than any other U.S. federal agency." 
The other aspect of the report card was organizational compliance, which looks at how they meet the staffing, training and reporting requirements required by the Plain Language Act.
Almost two-thirds of the agencies surveyed received an "A" for organizational compliance and that was the same as last year's scoring. 
"Honors for most-improved in this category go to the Small Business Administration whose compliance grade jumped from a F to a C," said the report. "Other agencies improving their compliance grades include the Environmental Protection Agency (from an A to an A+), State Department (from an A to an A+), and U.S. Securities and Exchange Commission (from an A- to an A+)."
The agency-by-agency breakdown of results is shown below: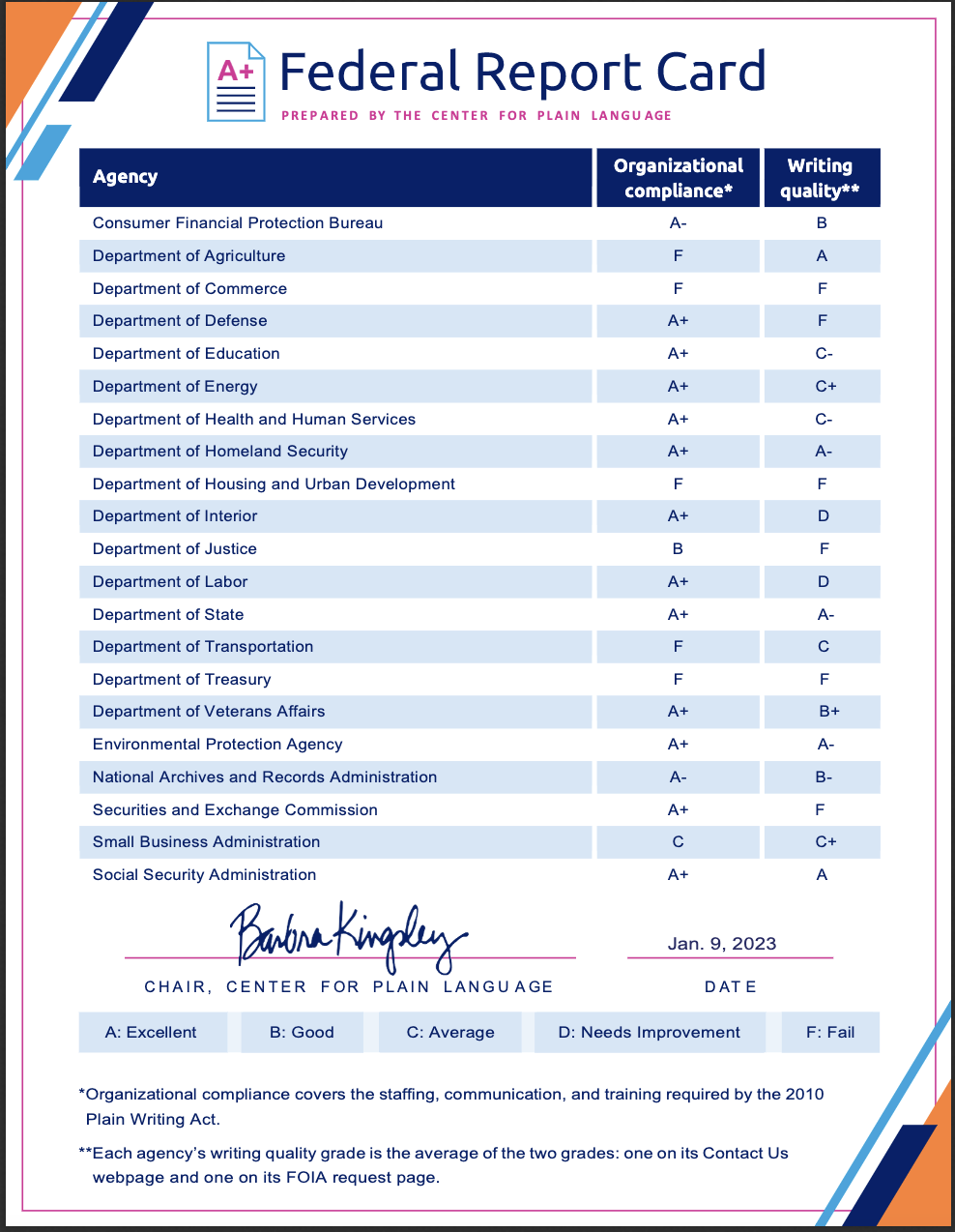 For the writing grade, the center evaluates slightly different pages every year, so in order to ensure consistency across years there is a "really structured assessment approach" and the judges "have all been doing this for a long time, so they are very used to using the criteria to assess information," Kingsley told Government Executive on Tuesday. Since some of the judges work at federal agencies, in order to prevent bias, no judge is allowed to review anything from an agency that they work for or with. 
Kingsely also said that in addition to grading agencies, the center offers assistance to them to help them better comply with the Plain Writing Act. 
Last month, the Senate unanimously passed a bipartisan bill that would update the Plain Writing Act to expand what is currently covered and add new reporting requirements. 
"Stop the 'government speak,'" said Sen. James Lankford, R-Okla., then ranking member of the Senate Homeland Security and Governmental Affairs Committee's Regulatory Affairs and Federal Management panel, in a statement in December. "Federal agencies don't need to use jargon, countless legal citations, and confusing references to laws so only 'insiders' can understand." However, there was not a version in the House at the time and now with the new Congress, the bill would have to be reintroduced. 
Correction: An earlier version of the report card said the Social Security Administration was a most improved agency for compliance, but it should have been the Small Business Administration. This article was corrected to reflect that.