White House Budget Gives Election Agency More Funding, But Expert Says It's Not Enough
"A budget should be doubling down on funding [election-related] institutions," the observer argued. 
Amid growing concern about the integrity of the nation's election systems, President Trump gave the federal agency charged with coordinating efforts to ensure accurate and secure voting a slight funding increase as part of his fiscal 2021 budget request to Congress, but one expert says it would not be nearly enough. 
On Monday, the White House sent Congress a $4.8 trillion budget request for fiscal 2021 that would increase military spending by 0.3% and decrease non-defense spending by 5%. For the bipartisan and independent Election Assistance Commission, the plan proposed allocating a little over $13 million, of which $1.5 million would be transferred to the National Institute of Standards and Technology. This would represent a $300,000 increase over fiscal 2020 enacted levels, after subtracting a one-time allocation for relocation expenses from the 2020 total. 
While some election security experts applauded the slight funding boost in Trump's proposal, others say more is needed for the agency that certifies voting systems and serves as an information clearinghouse for best practices in election administration. 
Aquene Freechild, co-director of the consumer advocacy nonprofit Public Citizen's "Democracy Is For People" campaign, said the increase was "a welcome improvement after years of cuts" since "it's the federal government's role to help states and localities" administer elections, test voting machine systems and make sure they are secure from foreign hacking, ballot fraud and other risks.
However, Meredith McGehee, executive director for the nonprofit Issue One, said more funding is still needed given "concerns over election security, foreign interference and the general distrust about how our elections are proceeding" for the federal agency "charged with ensuring elections are run fairly, efficiently and effectively." She said, "a budget should be doubling down on funding those institutions." 
Separately, the proposal does not include any grants under the 2002 Help American Vote Act for the federal government to provide to states to shore up their election security; $425 million was included in fiscal 2020 appropriations. 
The EAC has long struggled with funding and staff cuts as well as House Republicans' threats to terminate it. The chart below shows EAC's appropriations, including legislatively mandated transfers to the National Institute of Standards and Technology, from fiscal years 2010-2019. EAC's budget for salaries and administration has declined from a high of $18 million in 2010, to just $8 million in 2019. This proposed funding in Trump's fiscal 2021 request is almost $4 million more than two years ago and the administration indicated the increase would go toward employees' travel and contracting services.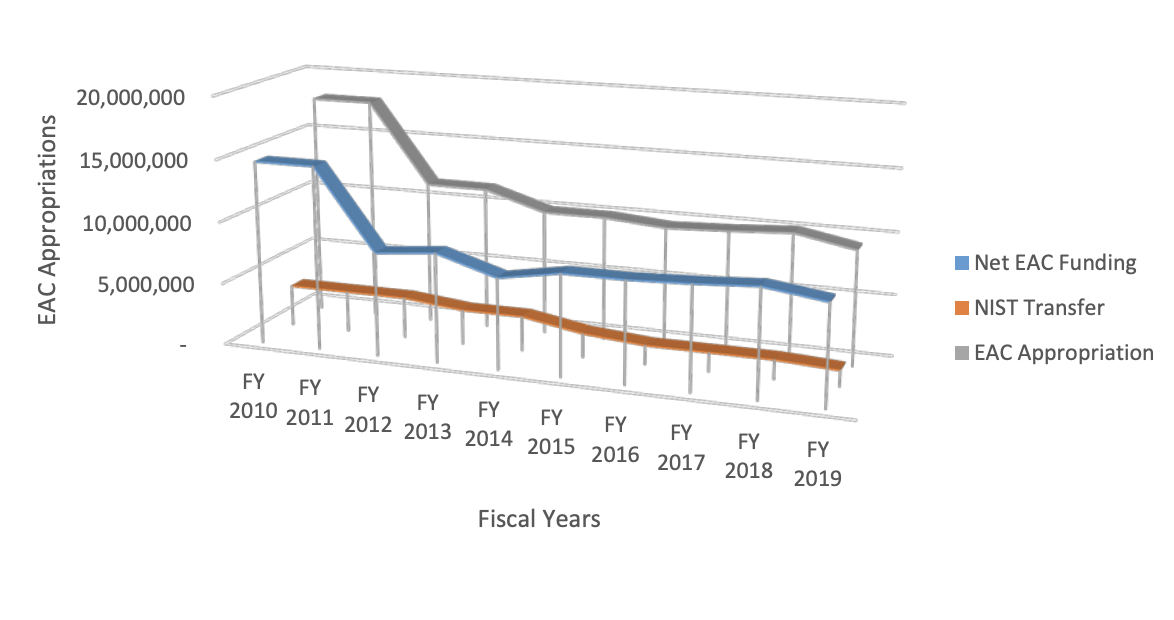 Source: U.S. Election Assistance Commission Inspector General
National Election Defense Coalition Vice President of Policy and Programs Susan Greenhalgh noted the importance of the Election Assistance Commission's role. She said she thinks the agency could use more money, but also is "conflicted and ambivalent about increasing the funding" because she is "very concerned that they have really failed to step up and be a leader on election security." 
Greenhalgh said that agency commissioners have made incorrect statements about voting machines and supply chain security during congressional hearings and "have kind of avoided the thorny subjects like internet voting and wireless modems," as they relate to certifying voting machines. "Is more money actually going to solve that problem?" she asked.
The EAC declined to comment at this time on the funding.