OPM Still Lacks Legal Analysis of Proposed Merger with GSA
Lawmakers in both parties expressed outrage at the lack of documents provided to support the Trump administration's proposal.
An Office of Personnel Management official on Thursday told lawmakers that the agency is still conducting its legal analysis of what authorities exist to transfer OPM functions to the General Services Administration without congressional action.
At a hearing of the House Oversight and Reform Committee to discuss OPM's slow production of documents related to the proposed OPM-GSA merger, OPM Deputy Chief of Staff Stephen Billy said the agency could not provide information on the legal analysis—and has redacted documents that mention the agency's legal authority—because it is not yet complete.
"There's an assumption that some parts likely are able to be executed under current statutory authority, and we're going through that analysis," Billy said. "There are different authorities that could potentially move different pieces, how they could affect people vs. resources. So we're going through that full analysis together with our interagency partners."
Lawmakers in both parties expressed frustration with OPM over its reluctance to hand over documents regarding the decision-making that led to the proposal to send the vast majority of OPM's operations to GSA, and to send the agency's regulatory authority to a non-Senate confirmed political appointee within the Office of Management and Budget.
The hearing also comes a week after acting OPM Director Margaret Weichert issued an ultimatum to Congress: commit to approving the administration's planned merger by the end of June, or the agency will prepare to furlough, and eventually lay off, 150 OPM employees in October. The House on Wednesday passed an appropriations package that blocks both the merger and any effort to furlough employees at the agency.
"Mr. Billy, you're not doing your job," said Rep. Jody Hice, R-Ga. "There is a stall going on here. It does not take multiple people to get 400 or 500 pages to this committee, particularly when those pages are filled with redactions that are relevant to our questions and have no reason to be redacted."
Lawmakers frequently cited a document provided to the committee on Wednesday that references OPM's "Legal Authority" in a header and then redacts all text underneath it.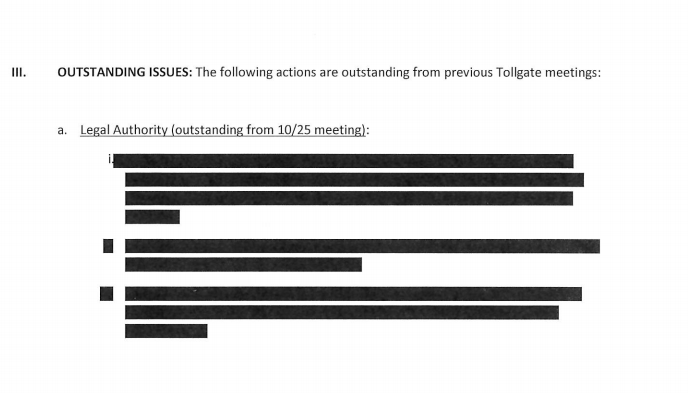 "What gives you the authority to redact that?" asked Rep. Jamie Raskin, D-Md. "You say it might change or that there might be more information given [later], but why is that justification for blacking out what the authority was when the memo was written?"
"Our acting director instructed us to provide as much information as we can to this committee, and we respect the oversight authority of this committee and want to continue working with you," Billy said. "Our attorneys are providing guidance as we go through interagency workings to determine what we're able to present and when. We're not withholding anything at this time, but we're going through the process of releasing it all."
Raskin, who is also a constitutional law professor, said his own analysis suggested that any effort to merge the agencies administratively would be "illegal."
"I just want to say that it appears that OPM made a very significant decision essentially to dismantle itself or dissolve itself without first obtaining any formal legal opinion regarding the legality of this decision," he said. "My first take on it, having looked at the statutory authorities is that the proposal is illegal. OPM came up with a plan but never took care to vet it or assess its lawfulness, and there are obviously dramatic implications for this."
Rep. Mark Meadows, R-N.C., expressed frustration that he was blindsided by news that Weichert was threatening furloughs, and that it broke while he was meeting with OPM employees and receiving a briefing on the agency's antiquated IT systems.
"Some of the lack of information that even in the reorg that we had, made the day I was at OPM, a headline came out that we're furloughing people, and it caught me by surprise," Meadows said. "So I'm having a great visit at OPM, and you were there some of your colleagues were there. And I come back to have to answer reporters' questions about furloughing employees. It embarrassed me, because I thought some of those OPM employees may have thought that I knew about that, and I didn't."
Billy's comments about OPM examining existing legal authorities also raise new questions about how OPM plans to proceed with the merger plan.
OMB's original letter to Congress proposing legislation to facilitate the proposal signaled that at least some of the merger could be accomplished administratively, and OPM Deputy Director Michael Rigas suggested the same in May. But later that week, Weichert downplayed the contemplation of executive action.
"That is not the administration's position [that this could be achieved entirely through executive action]," Weichert said last month. "That is why we submitted the legislative proposal."
An OPM spokesperson said that although Weichert continues to pursue legislation to complete the planned merger, the agency intends to move forward on some parts of the plan administratively.
"Both the acting director and deputy chief of staff have stated in their testimonies that the legislative proposal is necessary to enact the entirety of this reorganization," the spokesperson said. "OPM looks forward to continue working with Congress on that proposal because we believe that is the most straight-forward path. However, the lack of new legislative authority does not prevent the use of current statutory authority to enact parts of the reorganization, which we will continue to pursue out of critical necessity."