A Ranger Looks Back on 50 Years at Glacier National Park
The National Park Service has been around for 100 years, and Bob Schuster has been helping visitors connect with nature for 50 of them.
This year marks the National Park Service's 100th anniversary. The NPS manages 412 areas covering more than 84 million acres in the U.S., and has roughly 22,000 employees—along with over 200,000 volunteers—maintaining its 412 sites and assisting those who visit them.
Bob Schuster has been a ranger at Montana's Glacier National Park, the founding of which was a personal dream of the naturalist George Bird Grinnell, for 50 years. Schuster is what's called an interpretive ranger, and even while he was a high school biology teacher in Portland, Oregon (he recently retired), he spent every summer working for the NPS at Glacier. Not only has Schuster had a long career with the NPS, but his son and daughter-in-law also work at national parks. I talked to Schuster about why he became a ranger, the changes he's seen in the park in the past 50 years, and how to stay safe around bears. A lightly edited transcript of our conversation follows.
---
Bourree Lam: How long have you been working for the National Park Service?
Bob Schuster: The summer of 2016 will be my 50th year with NPS, and all have been at Glacier National Park. I was at Oregon State University and dropped in on a government career day. I talked to a ranger from Crater Lake; I was immediately interested. The process has changed over the years, but at that time you applied to individual parks. I applied to every park in the West. My first offer came from Glacier, and I didn't realize it at the time, but this was my opportunity for a life filled with amazing adventures and a chance to share this awe-inspiring scenery with a multitude of visitors.
Lam: Do you remember what you and the ranger from Crater Lake talked about?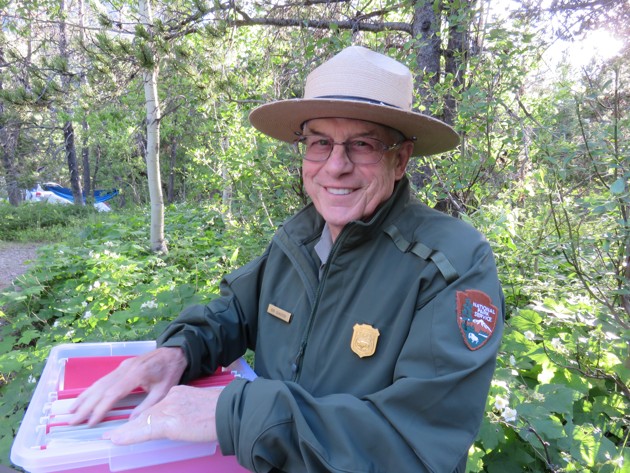 Schuster: He explained that it's not easy to get into the park service. He recommended that I apply and get summer work, and then eventually become a full-time ranger. That was my goal at the time, and I applied. It's different now—it's on the computer of course—but back then, this is 1967, it was the old-fashioned application where you wrote essays and so on.
He basically talked about the things you would do, and I had a background in biology and fisheries and wildlife—that was what I was studying at the time at Oregon State. It sounded like something I'd really enjoy doing. I think the problem was, I watched too many westerns as a kid. They were on TV, and once I saw those mountains for real, I was hooked. I don't know if I'd even heard of Glacier National Park, to be honest. I was raised in Wisconsin, so I wasn't familiar with a lot of the parks. Glacier was the first one to offer me a job, and I took it.
Lam: You're an interpretive ranger. What does that mean you're responsible for doing?
Schuster: I take visitors on short and all-day conducted hikes, and give evening programs in the campgrounds. We will also do interpretive patrol [which can involve explaining park regulations] at the hotel and the local trails. We also can give short talks and spend time in the ranger station answering the visitors' questions. My day will vary from a full day on the trail with visitors to spending shorter segments of time with the visitors doing some of the above. Interpreters are helping visitors connect with the intellectual and emotional aspects of Glacier's biology, geology, and its history.
Lam: Helping people connect with the park sounds like a hard job, even though nature is so awe-inspiring.
Schuster: Yeah, that's tricky, and it's different. It's everything, from very easy questions to themed conducted hikes when we're going to a particular location like Iceberg Lake or Grinnell Glacier. You stop along the way and talk about the things that they can see right in front of them, and of course in the distance in the mountains, and make connections with everything from historical figures that were there, the geology of the park, the wildlife, the plants, and the vegetation.
Lam: What's your favorite thing about Glacier National Park?
Schuster: Living and working in this spectacular landscape and the opportunity to share the amazing diversity of Glacier with the visitors. I enjoy the all-day conducted hikes, because you get to spend most of a day with the visitors and that makes Glacier's experience much more meaningful for them as they get a little deeper into the heart of Glacier. There is so much to Glacier that it is hard to pick a favorite. You have the deep valleys and sharp peaks of this glaciated land, the diversity of animal and plant life. Glacier is one of the few places in this country that is truly wild with the presence of the grizzly, wolf, and wolverine.
Lam: You don't sound like a person who would ever want an office job.
Schuster: That would be correct, yeah.
Lam: Is that a personality type, in your opinion?
Schuster:  It seems that way to me, yes. I had someone help me with my taxes. I just went to the accountant's office this morning to visit with my wife, and I had that thought, "This is what she does all day." She had someone else coming in right after me. And you sit in the office—it wouldn't be for me.
Lam: How has the park, or the visitors to the park, changed in the 50 summers you've been at Glacier?
Schuster: The glaciated peaks, the ridges, and the U-shaped valleys are still there as evidence of the Ice Age and provide the spectacular scenery that amazes the visitors as they arrive in Glacier. The most startling change is the disappearance and shrinking of the glaciers. There were about 50 glaciers in the park when I arrived in 1967, and now we have about 25 glaciers. A computer-based model predicts our glaciers will vanish by 2030, or even sooner.
I take visitors on a conducted hike to Grinnell Glacier, and can point out places where I used to lead people onto the Glacier. Now the ice is gone, and it is covered with a deep lake. There are other areas that once were covered with glacial ice, deep crevasses, glacial wells, and ice caves that are now bedrock. Wolves had been eliminated from the park and started to move in from Canada in the late 1970s. And now several packs exist in the park. Grizzly-bear populations have increased. The number of visitors has increased from about 1 million to over 2 million per year. Backpacking in Glacier has increased so much that it is difficult to get a spot at the more popular backcountry sites. You didn't need a backcountry permit in 1967, and now most permits will be given out online. More people visit the park in late spring and fall. Interpreters now work several weeks after Labor Day.
Lam: So Glacier National Park has become a lot more popular over the years?
Schuster:  I think it was in kind of a transition from 1967 and into the 1970s. Hiking and backpacking took over and got more popular. Our backcountry trails just got overwhelmed. You can ride horses on some of the trails in the park, and they had campsites in the backcountry where there may have been 30, 40, 50 people. Normally when you're backpacking, people are getting more of the solitude of the wilderness and a few people staying at a lake or place. Of course, it damaged the sites, too.
Lam:  Do people really come to Glacier to see bears?
Schuster: Oh yes, people definitely come to see bears.
Lam:  From far away or up close?
Schuster: Well, that's a good question. It should be from far away.
We actually have spotting-school programs in the evening where we'll set up a scope, and it varies from year to year. You don't always see bears, but there's a hillside parking lot where there's a small motel and above that on the slope we see bears quite a bit, but it varies from year to year. But we have people come to see bears.
Where I stay is called Many Glacier, and it's the area where I spent most of my summers. There's a little town called Babb, Montana, and it's about 13 miles from Many Glacier.* Half of that is outside the park, on the Blackfeet Reservation; the other part of it is inside the park. If I come back from Babb in the evening, I'll see cars driving slowly back and forth on that road looking for bears. In fact, I don't deal with this too much, but there are people who come on a regular basis and are sometimes getting too close to bears.
Lam:  What can you do about that? Can you talk to them?
Schuster: Yes. We have other rangers that are called patrol rangers. They are law-enforcement rangers and they're the ones who would normally deal with that, and we actually have in our park a couple of rangers that are called bear-management rangers. They do other things, but their first priority is with the bears. At times, we close trails if there are too many bears or bears getting close to people.
You've got some visitors here, who if there's a bear on the trail, they're going to go up there. Other people are here, who if there's a bear on the trail, they're going nowhere near there.
Lam:  I just can't understand why anyone would want to be close to a bear.
Schuster: Well, I have been myself. Overall, bears are pretty tolerant of people. I sometimes use this comparison, but the bison in Yellowstone—I hear so many stories and I'm not really familiar with their behavior—but it sounds like they just charge people. Bears do, but it's mostly when they're surprised. They're pretty tolerant of people, overall, I'd say, but they're certainly dangerous. We have signs and programs. I do a program once a week on bears one evening in the summer about the things we advise people about bears. For hikers, we say be alert, stay on the trail, don't go off the trail, don't hike alone, don't go out too early in the morning or late in the evening, make noise. It's all based on avoiding surprising a bear.
Lam: Are there any funny or memorable visitors who have stayed with you?
Schuster: My best memories are those of sharing Glacier with the visitors: Their first sighting of a grizzly bear in the wild, their first view of a glacier, their joy at seeing a mountain meadow filled with Glacier's wildflowers, their amazement while enjoying the breathtaking view from a mountain pass.
My personal memories would include the opportunity to go with a research team under the Grinnell glacier and see the fascinating underside of the glacier. The fresh burst of flavor, as you taste the first ripe huckleberries of summer. Guiding a short flower walk and spotting four moose in Fishercap Lake and two more near Wilbur Falls. Pausing with a group in the Iceberg Cirque, and hearing what sounded like rifle shots as a series of small avalanches raced down the slopes of the Pinnacle Wall. Traversing Swiftcurrent glacier and spending my 40th birthday on Grinnell Mountain with friends and fellow rangers. Sitting on top of Mount Wilbur, astonished by the panorama of glacier-carved peaks on my 55thbirthday with my sons and another ranger who was also experiencing his 55thyear. Many nights of sitting on the balcony of the Many Glacier Hotel drinking in the view of the spectacular crimson sunset over the Pinnacle Wall and watching visitors find the cluster of sun rays that poke through the famous Hole in the Wall.