Where Telecommuting Is on the Rise
The short answer: pretty much everywhere.
Joseph Kane and Adie Tomer at Brookings break down the latest Census data release to bring us a map of where telecommuting is on the rise among U.S. metros. The short answer is basically everywhere (except Omaha):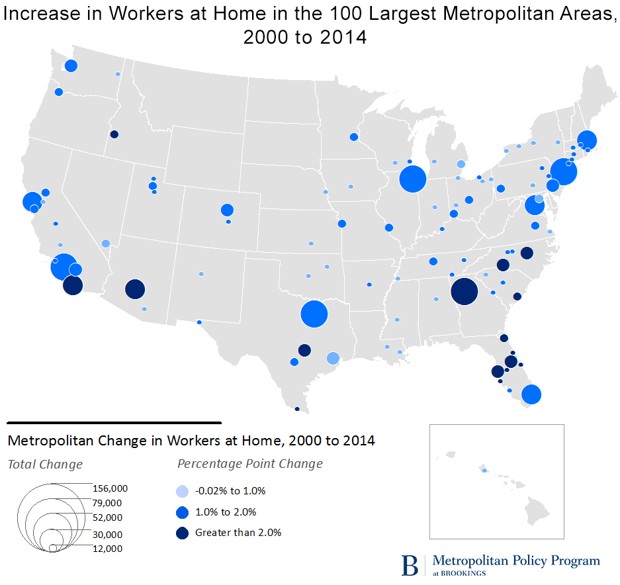 No commute mode has grown in popularity more than telecommuting in recent times. The share of telecommuters has roughly doubled since 1980—up from 2.3 percent then to 4.5 percent in 2014 (according to the new Census release). Kane and Tomer add that about 13 percent of all new commuters between 2000 and 2014 are telecommuters; here's their big-picture context:
This pattern is nearly universal across the country. With the exception of Omaha, all metro areas experienced a gain since 2000 in the share of people working from home, topped by Raleigh, Boise, and Austin, which each realized a jump of 3 percentage points or more. There's a bit of a regional pattern to the growth, too, with the largest gainers primarily in the South or West.
Among all commute travel modes, the national share of telecommuting remains slightly below that of public transportation—4.5 percent to 5.2 percent, respectively, via the 2014 American Community Survey—though working at home tops transit as the primary alternative commute mode in many major U.S. metros. The list includes:
San Diego. Telecommute: 7.5 percent. Transit: 2.7 percent.
Atlanta. Telecommute: 6.2 percent. Transit: 3.1 percent.
Austin. Telecommute: 6.9 percent. Transit: 2.5 percent.
Denver. Telecommute: 6.6 percent. Transit: 4.5 percent.
Phoenix. Telecommute: 6.1 percent. Transit: 2.1 percent.
These aren't competing options, of course, and put together they represent a lot fewer cars on the road during rush-hour. The best research out there suggests that working at home does reduce total driving, even accounting for offsetting increases like non-work trips or the induced demand of new road space. One study that tracked the effects of telecommuting found that it reduced vehicle mileage about .8 percent in 1998—before America hit peak driving.
The benefits of working at home from a business perspective are still debated. A helpful new comprehensive survey of telecommuting research suggests it "may be most beneficial in terms of organizational outcomes when it is practiced to a moderate degree": a balance of face time and virtual time. But the balance telecommuting also provides to metro area transportation networks should not be overlooked—especially if it keeps increasing.
(Image via dangdumrong/Shutterstock.com)