For federal employees, effective leadership is the most important driver of employee satisfaction and commitment, yet they have consistently given leadership – and especially senior leaders –low marks in the Best Places to Work in the Federal Government ® rankings.
In new analysis of 2012 federal employee survey data, the Partnership for Public Service and Deloitte examined the perspectives of the senior leaders themselves -- members of the Senior Executive Service (SES) who typically hold the highest managerial and policy positions in federal government to determine how satisfied they are with their jobs and workplaces, and how their perspectives vary from the employees they manage.
Government-wide, members of the SES are more positive than other employees, scoring 18.6 points higher on overall satisfaction and commitment than all other employees. It is not surprising that senior leaders are more satisfied because generally speaking, an organization's leaders enjoy more autonomy and have more control over issues that affect them, but the differences are quite stark.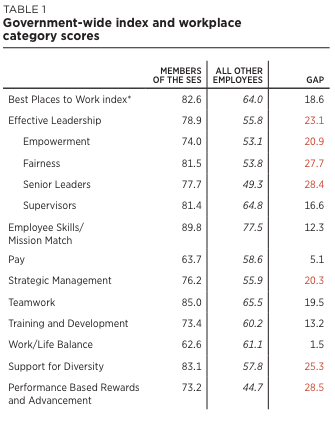 There was at least a 20-point gap between senior executives and other employees on four out of 10 workplace categories the Partnership and Deloitte rank in Best Places to Work , including performance based rewards and advancement, leadership, support for diversity and strategic management. There was an alarming 46.5-point gap on the survey question, "Promotions in my work unit are based on merit," with close to 80 percent of senior executives agreeing with the statement in contrast to only 30 percent of all other employees.
Senior executives and their employees were more aligned on issues such as pay and work/life balance, but those are also the two categories members of the SES gave the lowest marks to. On two of the questions in the work/life balance category, "My workload is reasonable," and I have sufficient resources to get my job done," employees were slightly more positive than senior executives. These were the only questions in the 84-question survey where SES members had a lower score than all other employees.
In specific agencies, members of the SES were most satisfied at the Department of the Navy, Department of State and the National Aeronautics and Space Administration. At the other end of the spectrum, SES members were least satisfied at the Department of Commerce, Department of Veterans Affairs and the Department of Defense, including the Office of the Secretary of Defense, Joint Staff, Defense Agencies and Department of Defense field activities.
For a full list of agency rankings, visit www.ourpublicservice.org .
Lara Shane is Vice President for Research and Communications at the nonprofit Partnership for Public Service. This is the fifth article in a series on the 2012 Best Places to Work in the Federal Government ® rankings. For information on how to improve employee satisfaction and commitment at your agency and to request a senior leadership briefing on your agency's Best Places to Work results contact Mark Doboga at mdoboga@ourpublicservice.org .
Image via Denis Cristo/Shutterstock.com