Trump has already faced one lawsuit for allegedly violating the federal vacancies law.
Read more 1:21 PM ET Leave a comment Evan Vucci/AP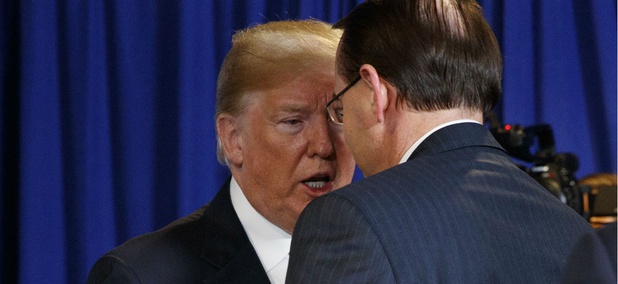 LATEST NEWS
sponsor content
Delivering the IC Network of Tomorrow – Today "The network should be an enabler. By moving to a managed service model, the government ...
Defense
Trump Signals an Openness to Talks with Iran Secretary of State Mike Pompeo and U.N. Ambassador Nikki Haley appeared on Sunday morning's ...
TSP TICKER
| FUND | G | F | C | S | I | |
| --- | --- | --- | --- | --- | --- | --- |
| SEP 24 CLOSE | $15.8626 | $17.8096 | $41.6386 | $53.8963 | $30.7040 | |
| DAILY CHANGE | 0.0038 | -0.0049 | -0.1466 | -0.2172 | -0.0851 | |
| THIS MONTH (%) | 0.19 | -0.83 | 0.73 | -1.45 | 1.49 | |
| FUND | L 2050 | L 2040 | L 2030 | L 2020 | L Income | |
| --- | --- | --- | --- | --- | --- | --- |
| SEP 24 CLOSE | $20.6068 | $35.3882 | $32.3090 | $27.8528 | $20.1320 | About the TSP Ticker |
| DAILY CHANGE | -0.0570 | -0.0850 | -0.0640 | -0.0264 | -0.0103 | Monthly Returns |
| THIS MONTH (%) | 0.45 | 0.42 | 0.39 | 0.27 | 0.23 | TSP Site |
MORE FROM GOVERNMENT EXECUTIVE MEDIA GROUP