Officials Clarify Coming Opioid Restrictions, Retirement Backlog Stays Steady and More
A weekly roundup of pay and benefits news.
Labor Department officials on Tuesday sought to clarify an upcoming policy change intended to restrict prescriptions of opioid-based painkillers among federal workers.
Last month, officials reportedly suggested that later this year, all participants in the Federal Employees Health Benefits Program who undergo surgery would see post-operation opioid prescriptions filled only in seven-day increments, up to 28 days. But on Tuesday, a Labor Department official said the change actually will only occur in relation to federal employees' workers' compensation benefits, not FEHBP writ large.
"Beginning in the fall of 2019, injured workers who are newly prescribed opioid users will be limited to an initial seven-day supply for all opioids, with a maximum of four sequential seven-day supply prescriptions (for a total of 28 days), without prior authorization," the spokesperson said. "During this time, no more than one opioid may be prescribed at any given time without prior approval from [the Division of Federal Employees' Compensation]."
Under the new policy, all subsequent opioid prescriptions must come with a letter of medical need, which would authorize two additional 30-day supplies of the painkiller. The policy still only applies to new patients with acute issues, not those with chronic conditions.
Meanwhile, the Office of Personnel Management announced this week that in July, the agency essentially treaded water in its efforts to process federal employee retirement requests, reducing its backlog by 88 claims.
Last month, OPM received 8,000 new retirement claims, and processed 8,088 requests. Although the agency processed about 1,000 more claims than in June, that effort only reduced the backlog from 18,501 in June to 18,413 last month.
The performance was good enough to drop the monthly average processing time for a retirement claim to 55 days last month from 60 days in June.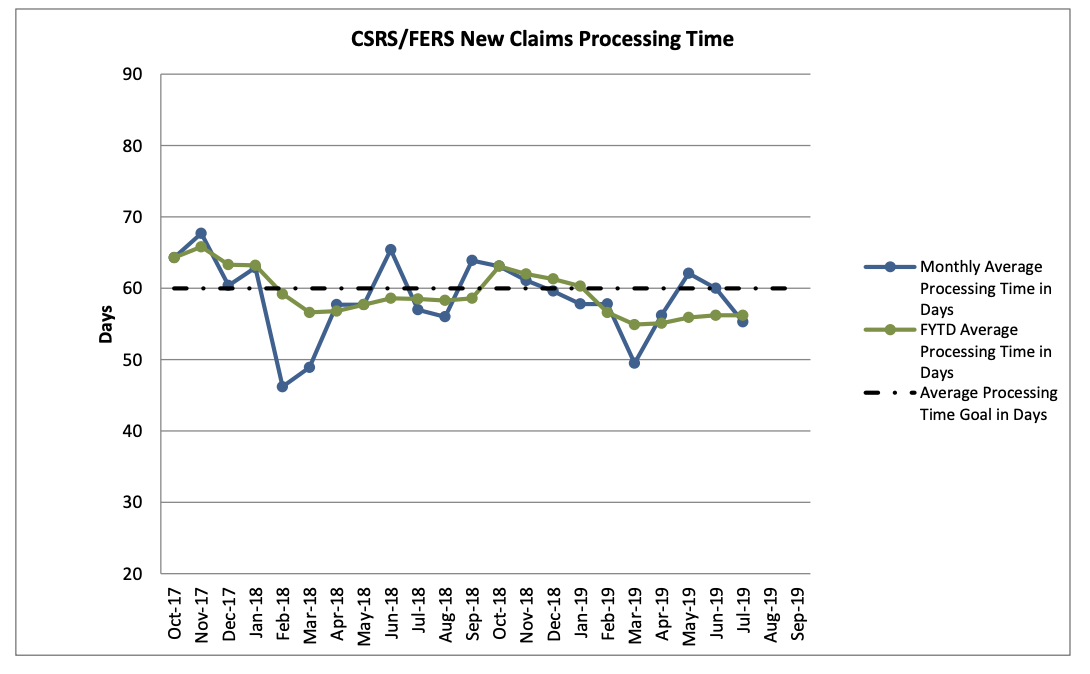 So far this fiscal year, retirements are slightly down compared with fiscal 2018. Between October 2018 and last month, 87,479 employees filed retirement claims with OPM, compared with 89,330 between October 2017 and July 2018.
The Thrift Savings Plan on Wednesday issued a bulletin to participants in response to recent market volatility, advising them of a simple strategy: "Stick to your plan."
Earlier this week, the stock market fell roughly 6%, in part because of escalating trade tensions between the United States and China. It has since started to gain back some ground, but officials at the federal government's 401(k)-style retirement savings program told participants that it's best not to make any hasty decisions regarding investments during these turbulent periods.
"The stock and bond markets can change rapidly," officials wrote. "By the time you react to the situation, the market may be moving in the opposite direction, and you could miss out on significant gains. Remember that investing for retirement is for the long term. Try not to let short-term movements steer you off course."