Dental Premiums Drop, Retirement Claims Spike, Anxiety Over Benefits 'Reform' Grows
A weekly roundup of pay and benefits news.
Kudos to the dedicated feds at the Agriculture Department's National Finance Center. The center, which processes payroll for more than 650,000 federal employees, was badly damaged in a tornado that hit eastern New Orleans on Tuesday. USDA quickly initiated its Continuity of Operations plan, relocating staff to an alternative work site in Shreveport. Thanks to their quick action, feds will be paid on time.
For TRICARE beneficiaries affected by the tornadoes in Louisiana, emergency refill procedures are in place through March 9. See the notice from TRICARE for details.
A tornado of another sort may be about to hit federal employees. The Trump administration and lawmakers have been discussing major changes to pay and benefits for federal employees, as well as  how to reduce the role of unions and make it easier to fire poor workers. Yesterday, Rep. Jason Chaffetz, chairman of the House Oversight and Government Reform Committee, met with President Trump to discuss some of those issues. It's worth noting that the meeting took place at Trump's request.
As Eric Katz reported:
Chaffetz told reporters after his meeting he brought up the support in his committee for moving federal employees off a defined benefit pension system. He also said he and Trump discussed civil service reform generally, as well as changes to the U.S. Postal Service.
While the administration and lawmakers ponder ways to address federal workers' "unsustainable" benefits packages, those who rely on TRICARE dental coverage can look forward to lower premiums starting May 1. That's when United Concordia takes over the program from MetLife.
According to a report on Military.com: "The changes push premiums below 2015 levels across all categories, while moving all the family and family-plus-sponsor rates to about $9 below 2014 rates."  See the TRICARE notice here for specific rate changes.
In other good news for military families, those that shop at Defense commissaries save, on average, 23.7 percent, according to a new calculator the military came up with to better reflect savings based on regional cost of living measures. The highest savings rate is overseas (44.2 percent); the lowest is in the Mountain west (17.6 percent).
On the civilian side, many feds have said they'd consider leaving government once President Trump took office, so one might expect that the typical January surge in retirement applications would have been even higher than usual. That actually wasn't the case, though, according to the latest numbers from the Office of Personnel Management.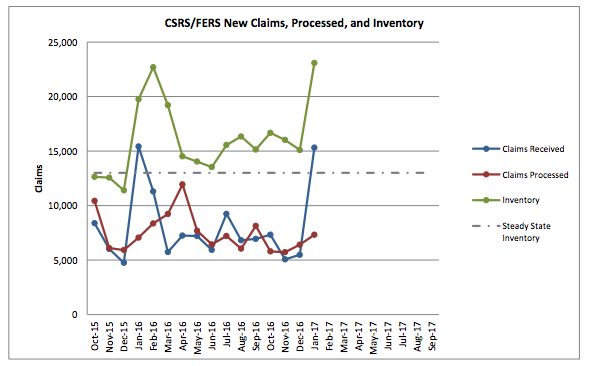 OPM received 15,317 retirement claims last month, a huge jump from the 5,483 in December, but about 100 fewer than the 15,423 that came in for January 2016. The news still isn't great for recent retirees: OPM processed 7,327 applications last month, leaving a retirement backlog of 23,087, which is slightly higher than the inventory at the same time a year prior. It took an average of 53 days to process a claim (for those that were handled in 60 days or less).  
We'll be watching to see how the retirement numbers look in February and whether the new administration starts to have a bigger impact on applications.