Immigration Judge Could Face Discipline for Hatch Act Violation
Interior Secretary Zinke also accused of a violation after wearing MAGA socks.
Justice Department immigration Judge Carmene "Zsa Zsa" DePaolo violated the Hatch Act in March 2016 when she spoke favorably of Democratic candidates during an official hearing, according to a complaint filed Wednesday by the Office of Special Counsel.
In a filing with the Merit Systems Protection Board, the special counsel requested discipline for the judge for saying, during an open deportation hearing, that the threat of a 10-year ban on reentry for an undocumented person was "a pretty harsh thing" that then-Democratic presidential candidate Hillary Clinton was planning to change.
The policy would be altered provided that "the Senate becomes a Democratic body and there's some hope that they can actually pass immigration legislation," DePaulo added. She then said the Republicans, by contrast, "aren't going to do anything" about immigration "if they can help it," other than to "try to deport everybody," according to the OSC's account.
"When a federal immigration judge in a public setting uses her position to advocate for partisan campaign outcomes, that's a real problem," Special Counsel Henry Kerner said in a statement. "Judge DePaolo appears to be in clear violation of the Hatch Act and we believe she should face significant disciplinary action."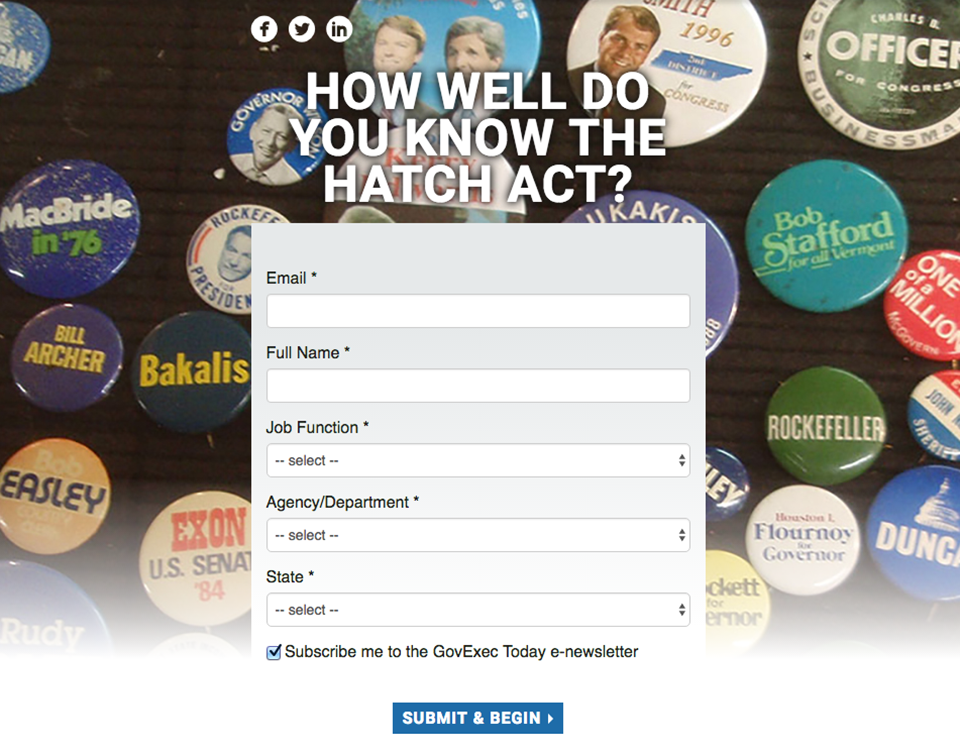 How well do you know the Hatch Act?
Hatch Act violations can result in demotion, suspension, removal from employment or debarment.
Separately, the OSC is being asked to deal with a possible Hatch Act violation by Interior Secretary Ryan Zinke. On Tuesday, while attending the Western Governors Association annual meeting in Rapid City, S.D., near Mount Rushmore, Zinke tweeted a photo of his sock, which bore a likeness of President Trump and his campaign slogan "Make America Great Again."
Zinke later deleted the photo and tweeted an apology: "Earlier I tweeted a pic of my new socks not realizing it had what could be viewed as a political slogan. I've deleted it and apologize for the mistake. I remain excited about all the incredible policy work POTUS is doing." The new tweet contained a picture of the socks with the campaign slogan obscured.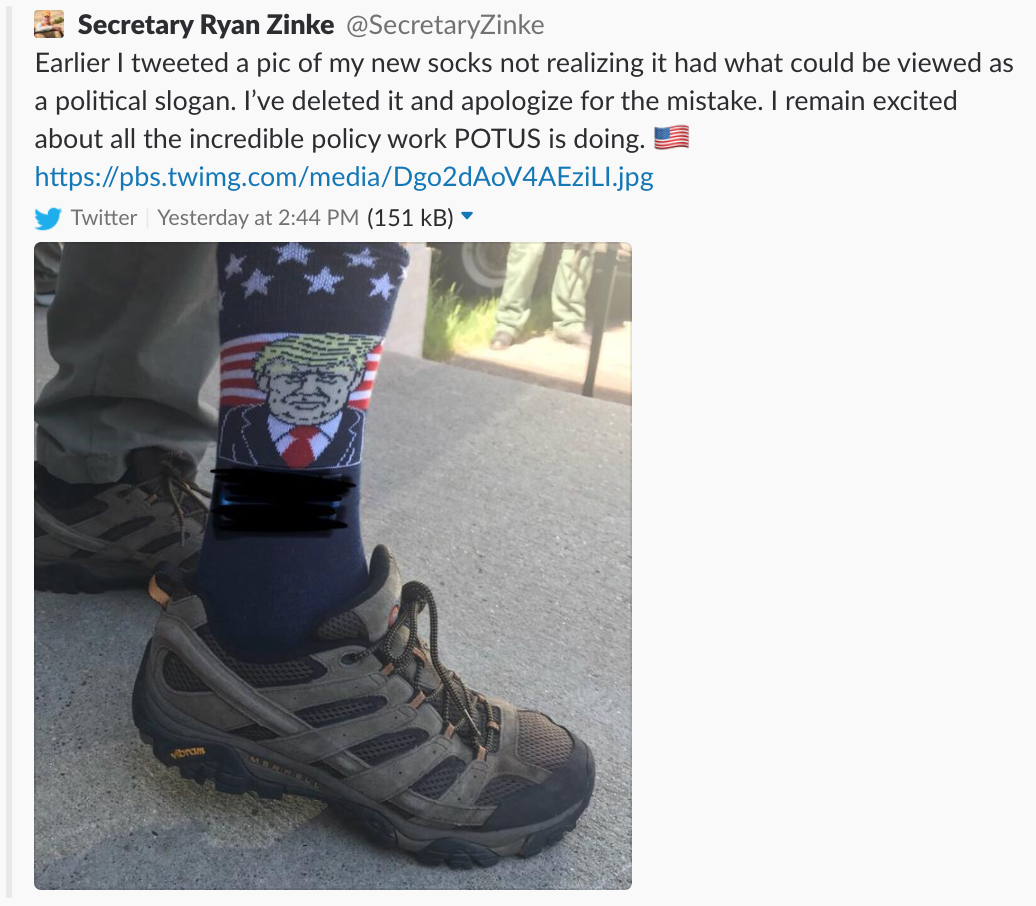 On Wednesday, the nonprofit Campaign for Accountability issued a complaint to the OSC asking it to probe Zinke's actions.
"The secretary of the Interior should know better than to promote a campaign slogan while touring a national park," said the group's executive director Daniel Stevens. He cited OSC's March 2018 guidance on the Hatch Act updated after President Trump launched his 2020 reelection campaign, as well as its February 2018 social media guidance issued after some Hatch Act violations.
"Almost incredibly," Stevens said in the complaint, "Zinke's wearing of the socks in question, as well as his advertisement of such on social media, violates two of the four exact examples of prohibited conduct the OSC listed in its memorandum. To be clear, while the secretary's tweet is potentially violative of the OSC's own published guidelines for public employee actions through social media and email, just the simple act of wearing the socks (even if he did not advertise them on social media) constitutes a Hatch Act violation."