OPM Retirement Backlog Balloons Again in October
Agency says training, lack of overtime funding have hampered processing efforts.
The Office of Personnel Management on Monday reported a slowdown in its processing of federal employee retirement claims in October, marking the first significant increase to its backlog since July.
Last month, OPM received 8,850 new retirement claims from departing federal workers, which was only slightly more than the 8,810 new claims it saw in September. But the agency processed far fewer claims—6,818 last month, compared to 9,107 in September.
As a result, the retirement claims backlog increased from 16,828 in September to 18,860 last month, the largest increase since July. Each year, OPM typically sees a surge of new retirement claims in July, and this year the backlog jumped by 2,561 claims to 17,091.
An OPM spokesperson attributed the spike in unresolved claims to a number of factors. First, the total number of new claims is up compared with October of last year. Additionally, officials are in the midst of preparing for the annual retirement surge in January by conducting a number of staff training initiatives.
Further complicating matters is the fact that Congress has not approved a long-term spending deal. The spokesperson said although OPM has the authority to grant overtime for its employees, under the current continuing resolution, which keeps the federal government open until Dec. 8, the agency does not have sufficient funding to do so.
"The limited funding and other spending pressures within this period prevents overtime at this point in time," the spokesperson said.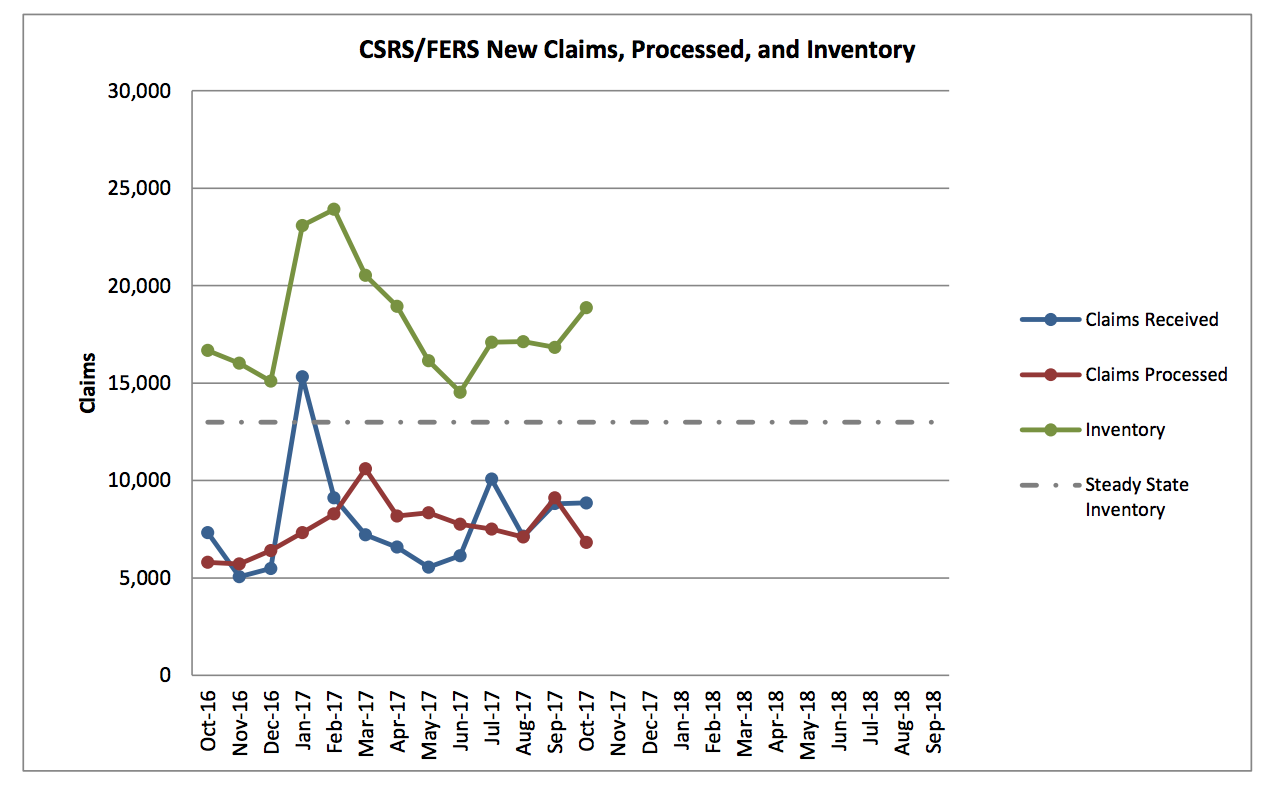 OPM saw its largest backlog in retirement claims in January, another traditionally busy month in terms of workers departing public service. For months, the agency struggled to handle pending requests, in part because of the federal hiring freeze that ran from shortly after President Trump was inaugurated until May.
Democratic members of Congress have cast blame for the problem on the lack of a permanent director at OPM. Trump's initial choice to lead the agency, George Nesterczuk, withdrew his name from consideration in July.
Last month, Senate Homeland Security and Governmental Affairs Committee Chairman Ron Johnson, R-Wis., threatened to withhold a vote on the current nominee, Jeff Pon, over a document request from the agency related to a 2013 rule allowing employees of Congress to purchase insurance on the D.C. Small Business Health Options Plan exchange under Obamacare and receive an employer subsidy.