GSA Swears in Acquisition Chief as Predecessor Emerges as Whistleblower
Alan Thomas promises insight as an "outsider."
Former Defense Department acquisition official and private-industry veteran Alan Thomas was sworn in Monday as commissioner of the Federal Acquisition Service, just two weeks after incumbent Tom Sharpe abruptly resigned.
Sharpe's resignation followed acting General Services Administration chief Tim Horne's announcement that the agency's newly stood-up Technology Transformation Service would move into the Federal Acquisition Service as part of President Trump's efforts to streamline information technology acquisition.
Horne during Monday's ceremony at GSA headquarters' "historic administrative suite" acknowledged the three previous FAS commissioners—Sharpe, Steve Kemp and Jim Williams—since the unit was created in 2005 via a merger of the Federal Supply Service and the Federal Technology Service. Horne exulted that – after six months on the job at a desk that sits alongside others in the agency's open-office bullpen – he finally got to use the high-ceilinged wood-paneled room that was built a century ago for powerful Interior secretaries (and where the 1920s Teapot Dome oil royalties bribery scandal was said to have originated) for the swearing in.
Thomas' main qualification for the job," Horne quipped while praising Thomas' procurement experience, "is that he is a good dude."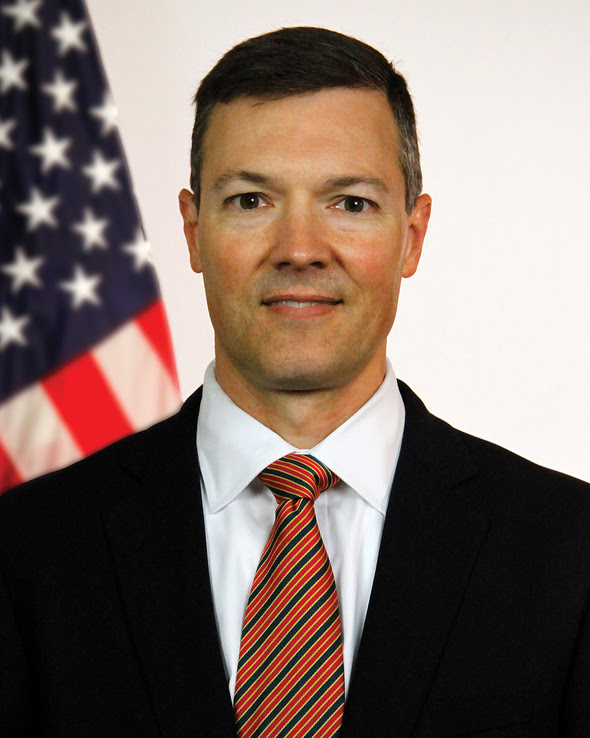 Having "checked that box on the application," as Thomas joked, the new commissioner comes with 20 years of both federal and industry experience. He led a small technology company contracting in the federal market through GSA's Schedule 70 for IT products and services, managed profit and loss for an Alliant Small Business prime contract holder, and used GSA procurement vehicles as a government program manager, according to a GSA statement. Thomas also worked for the Office of the Undersecretary of Defense for Acquisition, Technology and Logistics, and as an Army management analyst.
"Observing our organization's ecosystem from my vantage point as an outsider will provide valuable insight into how we achieve our goals," Thomas said after he was sworn in, thanking GSA staff who helped with his orientation, among them longtime FAS technology specialist Mary Davie. "My philosophy and approach for combining the mission and resources of the TTS and FAS is to first listen intently, starting with our internal GSA team and our customers and then widening to encompass our industry partners and external stakeholders."
Thomas said when he travels to meet with staff members, he will ask each one, "What is most important to keep, what do you most look forward to changing, and what are the obstacles to that change?"
A onetime college basketball player, Thomas stressed the importance of teamwork and his own "core values of honesty, courage and graciousness." 
The new leader at FAS arrived just after the story broke on Friday that predecessor Sharpe had been vindicated by the GSA inspector general for an earlier complaint of having been retaliated against by departed GSA Administrator Denise Turner Roth. Sharpe had blown the whistle on what he saw as problems with Roth's changes to FAS.
As reported by Federal News Radio, the GSA inspector general on June 21 posted a notice that it had determined that Roth had threatened to transfer Sharpe and reduce his duties at FAS after he made "protected disclosures." Those included expressing "concerns of violations of law, gross mismanagement, a gross waste of funds, and abuse of authority to former Administrator Roth, the former deputy administrator, the former General Counsel, and the OIG."
Sharpe's main issue was the allegedly improper move of the fee-based multi-billion-dollar Acquisition Services Fund to the Technology Transformation Service, according to the news report, a fund that FAS traditionally controlled.
Roth, now a senior adviser at the WSP USA engineering services firm, said in a statement to Federal News Radio, "While I respect this process, the OIG's findings are wrong and disappointing. As with my entire, unblemished, 23-year career in government, all actions I took were necessary and driven to modernize the federal government."
The inspector general referred the findings to the Office of Special Counsel. The Trump team now at GSA declined to comment.