Architects Have Been Gearing Up To Build Trump's Border Wall For Years
Creating a single "impenetrable, physical, tall, powerful, beautiful southern border wall" is probably impossible.
Last year, the American Institute of Architects speculated that no architects would get involved in US president Donald Trump's dream of building a "tall, impenetrable, beautiful" wall between US and Mexico. It was "primarily an engineering project," they scoffed. They were wrong.
On March 17, the US Department of Homeland Security issued not one but two requests for proposals (RFP) for design prototypes. One RFP solicits ideas for a solid concrete wall , while another labeled " other border wall " calls for alternative design solutions. The two separate RFPs are designed to cast a wide net for ideas, explains Roger Maier, a spokesperson for the U.S. Customs and Border Protection (CBP). While builders will gravitate to the straightforward solid concrete wall solicitation, architects' interest will be piqued by the competition for creative barrier concepts. "Two RFPs will allow CBP to evaluate each design category independently allowing for the best concrete wall designs and the best alternative wall designs for award, construction and evaluation," says Maier.
Having two RFPs recognizes the impossibility of Trump's dream wall: "On day one, we will work on an impenetrable, physical, tall, powerful, beautiful southern border wall," declared Trump on while campaigning in Phoenix, Arizona last August—but such a monolithic structure for the entire length of the border simply cannot be built.
Bidders must wrestle with diversity of terrain and urban conditions along the 1,989 mile (3,201 km) border stretching from the waters of the Pacific Ocean off the coast San Diego to Brownsville, Texas. As geologist Mika McKinnon explained to Smithsonian magazine , the US south border is comprised of wetlands, grasslands, desert, rivers, mountains and forests. "Some places the bedrock will be too deep—you'll never be able to reach the bedrock in an affordable fashion," she explains.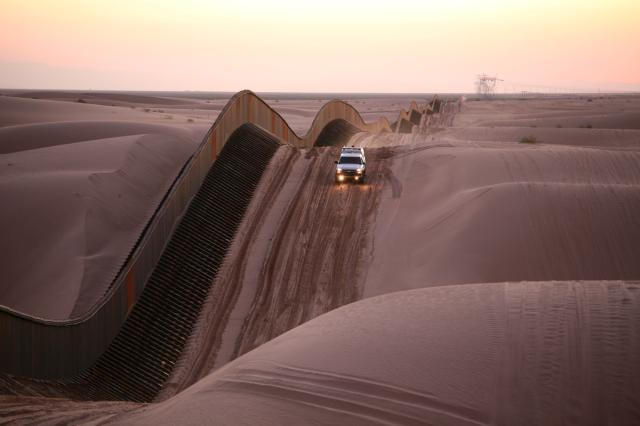 For instance, transecting the Algodones sand dunes between Yuma, Arizona and Calexico, California is seven-mile "floating fence" (aka the Sandy Dragon) that can be repositioned whenever the desert dunes shift. Levee walls are used to mark international boundaries when it transects rivers and bodies of water. In some areas, the US-Mexico border cuts through private property , national parks and slices through the Brownsville campus of the University of Texas.
By necessity, the southern border consists of a diversity of boundary markers : cement walls, wire mesh, X-shaped Normandy style barricades, heat-and motion detecting sensors, drones, human guards, even sections secured by repurposed Vietnam-era helicopter touchdown pads . Instead of the Great Wall of China-like fortress, the future US-Mexico border wall, if it's ever realized, can only hope to be a more sophisticated patchwork of fencing solutions.
All new wall concepts must abide by the CBP's technical stipulations: The height must be less than 18-feet tall; deter human climbers; deflect ladders and climbing devices; impervious to blowtorches and cutting tools; and must be relatively cheap to maintain and repair. The RFP also specifies that the US-facing side should also be "aesthetically pleasing in color" and disguise menacing anti-climb features.
Though 350 companies expressed interest during the pre-solicitation, firms have kept mum about their participation, for strategic or public relations reasons. Several big firms like Leo A Daly, Vinci and Mexican cement supplier Cemex, have issued statements clarifying that they will not participate in the multi-billion dollar business opportunity. Others have taken a friendlier stance toward the project: "I believe there is an extraordinary opportunity for designers, artists, and architects to become engaged with the problem. The scale is profound, the implications are enormous," said architect John Beckmann, speaking on behalf of the Third Mind Foundation, a New York-based coalition of architects that convened an unofficial border wall design contest last year. "Trump's wall requires a visionary solution," he said.
Design proposals are due by March 27. Maier confirmed that CBP will award multiple contracts for erecting prototypes by this summer. The government estimates spending $200,000–$500,000 to build and demolish full-scale mock-ups of each chosen proposal. CPB has identified the San Diego sector border —an area which accounts for 40% of illegal entries into the US—as the site for erecting the 30-foot long prototypes.
"CBP will leverage the lessons learned from prototype construction to develop a standard border wall design for future construction as part of a border wall system," explains Maier. The timetable and locations of new, permanent border wall structures have not been set, but US Homeland Security is determined to fence the entire length of the border by 2020.
In many ways, architects have been gearing up for the "other border wall" competition for years. Thought experiments began popping up when George W. Bush signed the Secure Fence Act in 2006 that cancelled all laws that would hinder any grand designs and in effect creating a blank canvas for ideas. That year, the New York Times coaxed several architects to draw proposals for "beautiful fencing."
Third Mind Foundation's " Building the Border Wall" contest surfaced proposals for "bold humanitarian solutions, creativity and innovation." Earlier this month, Miami-based DOMO Design Studio gained notoriety for publicizing their well-meaning, if fluffy ideas for the ethically-polarizing project. And inevitably, satirical ideas also emerged like the DIY Ikea Börder Wåll kit and a solid, hot pink structure from Mexican firm Estudio 3.14.
But not all architects are looking for ways to re-invent the wall. In his new book, Borderwall as Architecture: A Manifesto for the US Mexico Boundary , University of California, Berkeley associate professor Ronald Rael proposes both satirical and real structures to add along the southern border's existing barriers, which he says could heal the rift between communities and countries. These playful suggestions include solar energy strips, boundary-crossing see-saws, and a barrier lined with burrito carts to forge transnational connections instead of cutting them off.
Architects, Rael explains , are trained to consider the spaces between walls.