White House Pleads Ignorance on Agency Gag Orders
EPA employees "are scared," according to one long-time career worker.
The White House said it was unaware of various "gag orders" that have reportedly been instituted at agencies across government, though a spokesman added it is standard procedure for new administrations to review policies.
The issue first came to light when the Environmental Protection Agency issued a memorandum to its employees instructing them to freeze contracts and grants. It subsequently, in an email obtained by Government Executive, instructed employees not to discuss the issue and said the agency would no longer issue press releases, post blogs, review external speaking engagements and webinars, and would block any new information from being posted on its website.
"A lot of people are scared," said John O'Grady, a career EPA employee since the Reagan administration and current president of the American Federation of Government Employees' EPA Council. He noted the contracts and grants freeze was "stupid" and "bad management," as 65 percent of EPA's budget is passed through to states, municipalities, tribal authorities, contractors and other agencies through interagency efforts, such as its work with the Army Corps of Engineers.
"The EPA fully intends to continue to provide information to the public," the agency said in a statement. "A fresh look at public affairs and communications processes is common practice for any new Administration, and a short pause in activities allows for this assessment." 
The EPA report was followed by the Agriculture Department barring employees at the Agricultural Research Service from communicating with the public.
"Starting immediately and until further notice, ARS will not release any public-facing documents," ARS Chief of Staff Sharon Drumm wrote in an email obtained by BuzzFeed. She said the banned communications included news releases, photos, fact sheets, news feeds and social media content. An ARS spokesman confirmed the email to BuzzFeed but said the agency is "committed to maintaining the free flow of information between our scientists and the American public."
A similar order was placed at various components of the Health and Human Services Department, according to The Huffington Post. Over the weekend, the Interior Department sustained a temporary Twitter ban after it sent messages from its official account comparing the crowd size at President Trump's inauguration to previous such events.
Interior employees "had inappropriately violated their own social media policies. There was guidance that was put out to act in compliance with the policies that were set forth," White House Press Secretary Sean Spicer said Tuesday.
Spicer said the White House was "looking into" the apparent crackdown at agencies across government, but added he did not have any more information to offer.
"I don't think there's any surprise that when there's an administration turnover there's going to be a review of policies," Spicer said. 
At least one Interior component appeared not to impose any limits on its tweets, with the official account of the Badlands National Park sending several messages about climate change issues.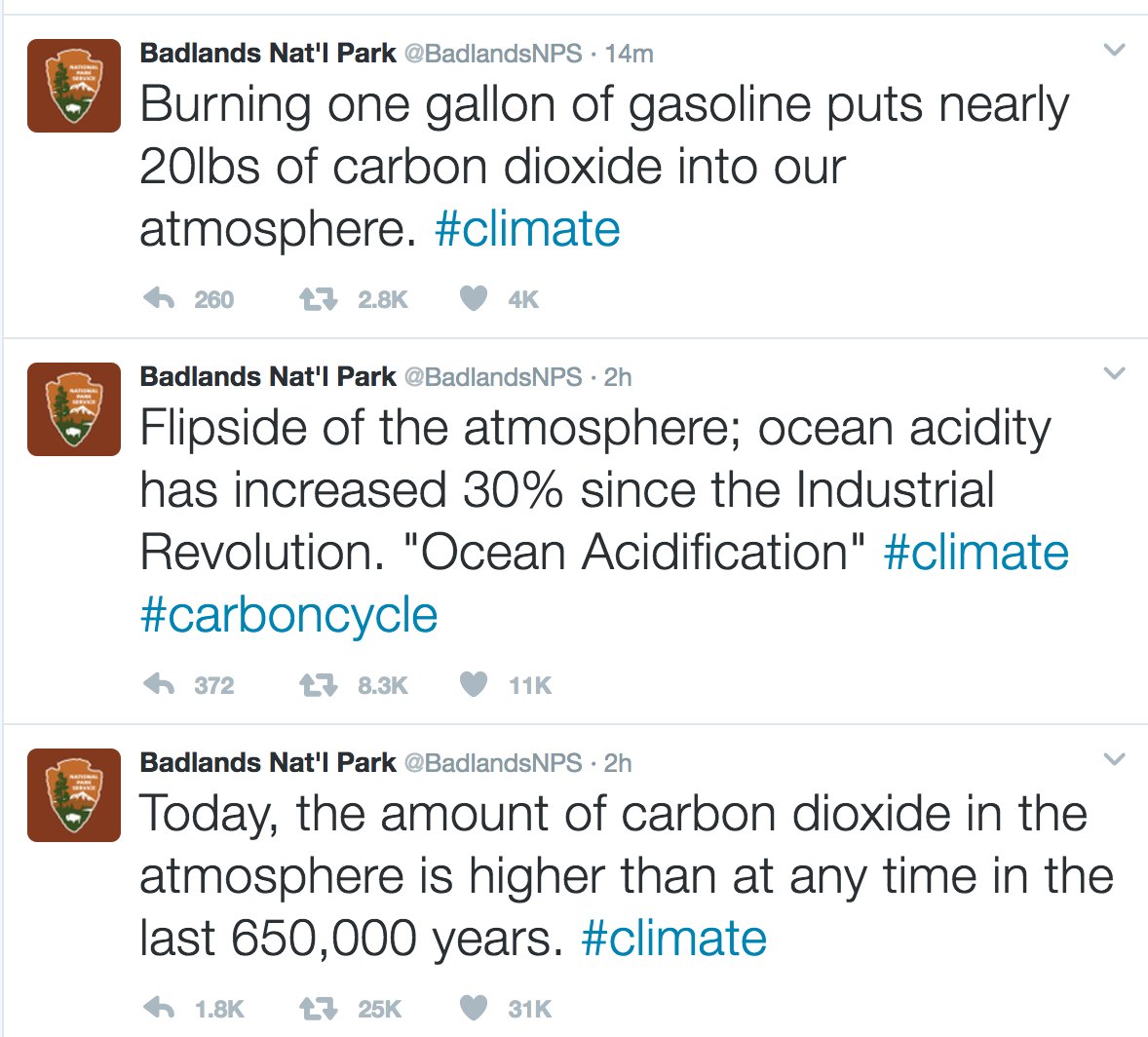 Update: This story has been updated with comment from EPA.