Inside How Federal Agencies Will Operate in Trump's First Days
Trump is sending hundreds of appointees across government on Day 1.
President-elect Donald Trump is sending more than 500 temporary political appointees to federal agencies across government and retaining more than 50 appointees nominated by President Obama, according to a spokesman, as part of an effort to be "locked and loaded" on day one.
Deploying temporary Schedule C employees to agencies, while rejecting the resignations of some political leaders from the previous administration, is standard procedure during transitions. Incoming White House Press Secretary Sean Spicer said Thursday the efforts would preserve "continuity of government" and a readiness "to make things happen" immediately.
Very few agencies will actually have Trump's top leader in place when he is sworn into office, triggering a succession process in which, in most cases, the highest ranking career official will take over as acting secretary or administrator. With certain constraints, Trump can name his own acting secretary. The career employees tasked with temporarily leading their agencies will face certain limitations on what they can do in terms of enacting Trump's agenda, but will serve to steady the ship during the often rocky transition period.
"In terms of being ready to go and being ready to respond to an incident, we are ready to go at 12:01 tomorrow," Spicer said. He added, "Make no mistake about it, we are ready to go on Day 1."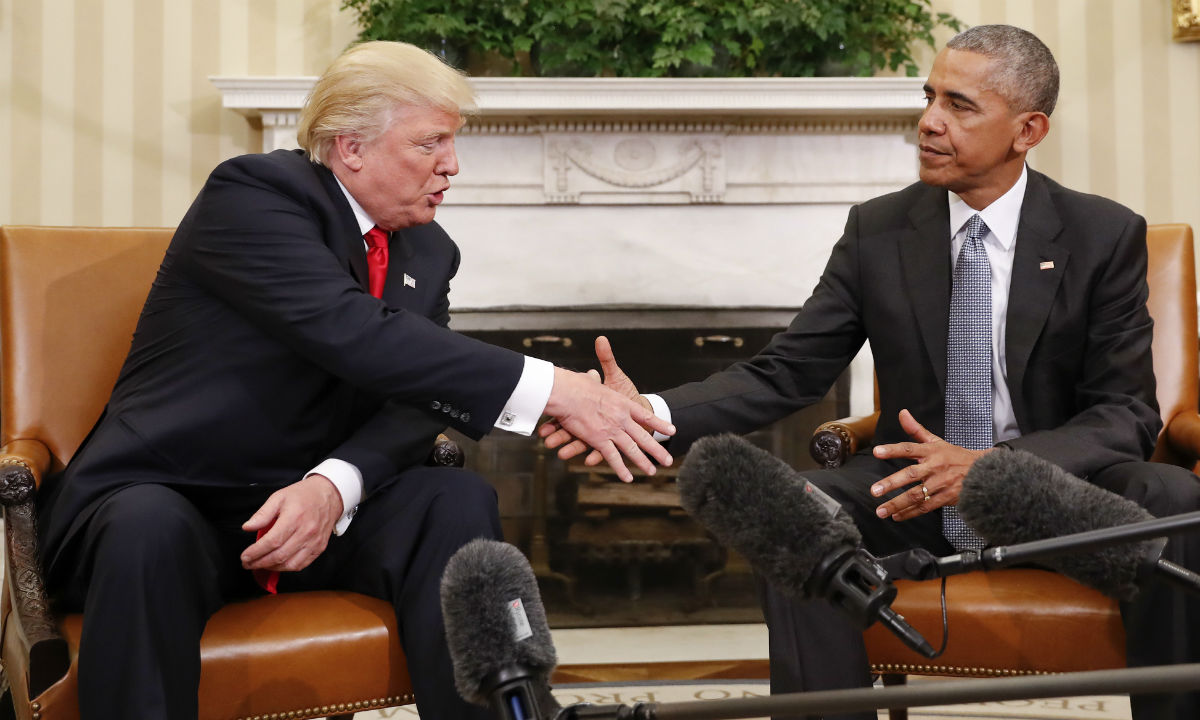 Here Are the Officials Who Will Lead Federal Agencies In Transition
The top priority at the start of any new administration is to ensure the federal government continues to operate during the influx of political leaders, some of whom need Senate confirmation. Getting new appointees in place , even the vast majority who don't need Senate confirmation, typically can take several months to a year. It's a tricky time, and it requires a mix of senior career staff and political personnel working closely together from the first day of the administration. The senior career staff's role is to keep the trains running on time; the political personnel are responsible for helping to advance the new administration's policy priorities in the early days, before its team is fully in place.
Federal agencies, based on their resources and missions, decide which top career employees will step into acting leadership roles while appointees await confirmation. So, it's not necessarily the same position across the board that is elevated. For instance, at the Office of Personnel Management, current chief management officer Kathy McGettigan will serve as acting OPM director until a permanent one is named and confirmed. But at other agencies, it could be the general counsel who is tapped to lead temporarily.
In each department, there likely will be "a point person who will have political portfolio who will coordinate the activities" across three groups: the career Senior Executive Service and other career staff; political appointees who don't need to be confirmed; and the appointees who require Senate confirmation, said Ed DeSeve, co-chair of the National Academy of Public Administration's Transition 2016 program. DeSeve is a veteran of presidential transitions and has served at the Housing and Urban Development Department as well as the Office of Management and Budget.
The 2015 Edward "Ted" Kaufman and Michael Leavitt Presidential Transitions Improvements Act required federal agencies to designate a senior career official to oversee the transition and it expanded training for incoming appointees. That law, along with the 2010 Pre-Election Presidential Transition Act, "really made a big difference in how the government approaches transitions," said Kristine Simmons, vice president of government affairs at the Partnership for Public Service.
Spicer said Trump's team searched governmentwide to identify the more than 50 Obama officials who will stay on temporarily during the initial days of the new administration. At some agencies, such as the departments of Interior, Housing and Urban Development, Health and Human Services, Labor and the Small Business Administration, Trump has not asked any political appointees to stay behind past noon on Friday. As is customary, Obama in December asked every political appointee in his administration to offer letters of resignation effective Jan. 20. Trump must proactively ask individuals he wishes to stay to continue at their posts to prevent those resignations from taking effect.
Several of those who are remaining will be at the Pentagon , including Deputy Defense Secretary Bob Work -- who will serve as acting head of the department. Others include Deputy Attorney General Sally Yates, Drug Enforcement Administration Administrator Chuck Rosenberg, Undersecretary of State for Political Affairs Thomas Shannon and the Treasury Department's Assistant Secretary for Management Kody Kinsley.
Those individuals will be joined by 536 temporary appointees the Trump team is calling "beachheads" -- a term taken from the Mitt Romney transition effort -- who will help guide agencies in a direction friendly to the new president's agenda. The beachhead members will report to the secretary-designees, said Spicer, who called the total number of employees Trump is launching to agencies on his first day "unprecedented." They can stay at their agencies for up to two 120-day terms under authority known as "Temporary Transition Schedule C" granted earlier this month by the Office of Personnel Management.
Each agency in the Trump administration will retain the authority from when the president-elect is sworn in until one year from the time the new agency heads begin their tenures. Trump's team can also place individuals awaiting Senate confirmation in Senior Executive Service positions for up to 10 days following the inauguration.
Appointees awaiting confirmation will act as advisers during this time. "They can't make decisions, but they can advise the senior staff, both political and career," DeSeve said, who did just that for a few weeks back in the early 1990s before he was officially confirmed as HUD's chief financial officer. Usually the agency's general counsel, or the White House general counsel, will give incoming political appointees awaiting confirmation a briefing, explaining precisely what they can and cannot do during this time. "To some extent, it's idiosyncratic to the department," said DeSeve. "When I came into OMB in a similar circumstance [the general counsel] told me what I could and could not do at OMB, which was different from what I could and couldn't do at HUD."
In the earliest days of the George W. Bush administration, for example, the president sent "watchdogs" to federal agencies, according to PPS' transition guide. They served to ensure acting leaders did not act against the agenda of the new administration and to prevent the issuance of new regulations.
Using OPM as an example, "there will be a political appointee over there who will bring the policies of the administration to bear for Kathy, so she is not wandering around out in the darkness" in the interim period, DeSeve said. Career staff are responsible for holding down the fort and ensuring "government programs do what they are supposed to do even in these uncertain times," said NAPA President Terry Gerton. "There are really great SESers who are stepping into acting secretary roles, not only at the big agencies but at the small agency level," she said. "They know their organizations; they know the work that those organizations do."
In some cases, Spicer said, the Schedule C beachheaders will stay at their agencies after the expiration of their terms. The agency leaders will make that determination in consultation with those individuals.
Between presidential appointments, longer-term Schedule C employees and several hundred non-career SES workers, Trump's team must fill more than 4,000 positions. About 1,050 of those will require Senate confirmation; Trump has so far nominated 28. Spicer said the team remains on track, and was waiting for Trump to finish naming his Cabinet -- which he did Thursday when he selected Sonny Perdue to lead the Agriculture Department -- to move to lower levels.
"We are working very, very aggressively at the undersecretary, deputy secretary, assistant secretary and ambassador levels to have individuals ready to go," Spicer said. "Now that the Cabinet is filled I think you will see a lot more activity at that level. The president-elect wanted to make sure his entire cabinet was locked and loaded before he got the deputy, assistant and under level."
DeSeve said it was "too early" to tell how the transition as a whole is going. "When you see in about three or four weeks which departments and agencies have a pretty full complement of politicals who don't need confirmation, as well as politicals who are going to be confirmed -- CFOs, CXOs, deputy secretaries and so on – then you will know a lot better," he said.
DeSeve offered some advice for career staff involved in the transition. "First, do no harm, he said. "Make sure that any decision that happens that has to be made in a timely basis is made, but also any decision that can be deferred is appropriately deferred for the new administration. He also recommended staying in close contact with Capitol Hill, particularly the majority party on the relevant committees, so they know "you are trying to work as hard as you can to make this work in an orderly way."