NOAA: The Earth Has Endured 14 Straight Months of Record-Breaking Heat
Such an extreme warming spell has never occurred in nearly 140 years of observations.
The lower part of South America, the Beijing region, and a little patch of far-east Russia: These were the landmasses that experienced abnormally cool temperatures in June.
The vast majority of the Earth's surface, however, was either warmer than usual or scalding with record-breaking heat, according to NOAA's latest global analysis. At 1.6 degrees above the 20th-century average of roughly 60 degrees, it was the warmest June in modern history and the 14th consecutive month of unprecedented hotness. That's the longest streak of record-busting temperatures in observations dating back to 1880.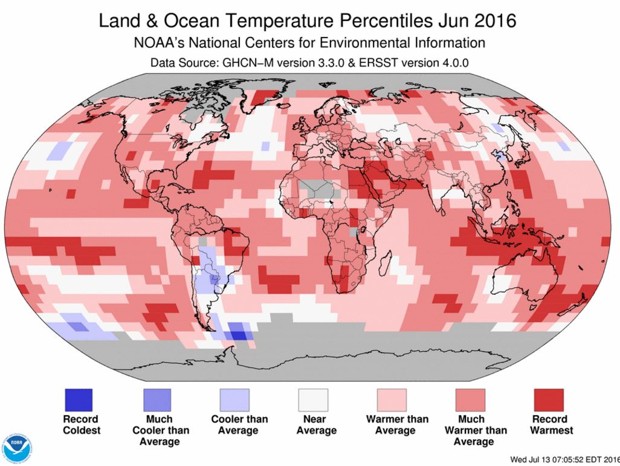 As has become common, worrying signs of accelerated warming and breakdown continue to pop up in the Arctic. The average sea-ice extent in the region was the most piddling ever recorded for the month of June—100,000 square miles smaller than the previous record-low extent in 2010.
Here's more from NASA on last month's dismal hot spell, which the agency says is a result of "rising concentrations of heat-trapping carbon dioxide and other greenhouse gases in the atmosphere":
Five of the first six months of 2016 also set records for the smallest respective monthly Arctic sea ice extent since consistent satellite records began in 1979, according to analyses developed by scientists at NASA's Goddard Space Flight Center, in Greenbelt, Maryland. The one exception, March, recorded the second smallest extent for that month….

The extent of Arctic sea ice at the peak of the summer melt season now typically covers 40 percent less area than it did in the late 1970s and early 1980s. Arctic sea ice extent in September, the seasonal low point in the annual cycle, has been declining at a rate of 13.4 percent per decade.