Here's How HUD Plans to Stop the 'Worst-Case' Housing Crisis
The National Housing Trust Fund will give housing assistance to the very poorest households in the nation.
The federal government debuted a program on Monday to provide housing for the very poorest residents in America. The National Housing Trust Fund is a new affordable-housing program, one that creates permanently affordable housing for extremely low-income households.
Julián Castro, Secretary for the U.S. Department of Housing and Urban Development, announced that $174 million in allocations for the National Housing Trust Fund would be available soon. He and other officials from HUD, along with other housing policy officials, broke down the details Monday at a forum hosted by the National Low Income Housing Coalition. Here's everything you need to know.
The fund is modest: $174 million split between 50 states plus the District of Columbia and the U.S. territories doesn't go terribly far. Still, these are funds geared toward creating new and permanently affordable housing for very-low-income and extremely-low-income residents—people who are at great risk of falling through the cracks.
The need is enormous: According to HUD's 2015 Worst-Case Housing Needs report to Congress, Americans living in "worst-case" housing scenarios include families that pay more than half their income toward rent as well as households that live in substandard or unsafe housing. In 2013, this category included "2.8 million families with children, 1.5 million elderly households without children, 2.7 million other 'nonfamily' households … and 0.7 million 'other family' households."
The worst-case housing category is growing: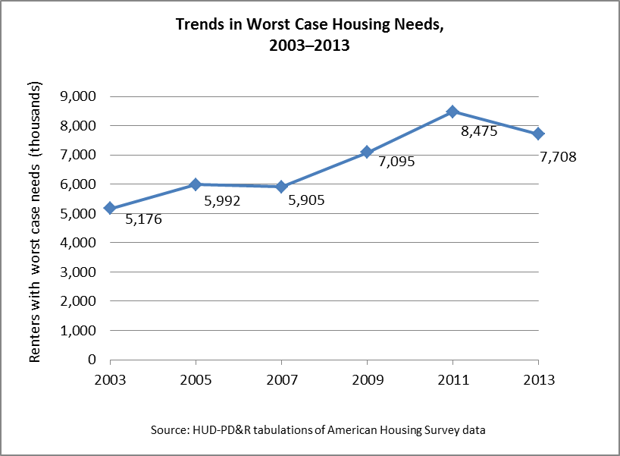 Unlike other housing programs, the National Housing Trust Fund targets worst-case housing: Most housing programs, including Low-Income Housing Tax Credits, don't generate housing for extremely-low-income or very-low-income households. HUD is developing criteria to try to make that happen with the National Housing Trust Fund. "The goal of the Housing Trust Fund is to provide ELI or VLI households with support, with primary attention on rental," said Marion Mollegen McFadden, deputy assistant secretary for grant programs at HUD, during a panel Monday.
HUD still has work to do on the National Housing Trust Fund formula:The fund is a formula-based grant, meaning states (or state-designated entities) will distribute funds based on eligibility. For now, HUD has set the eligibility for affordability at the greater of 30 percent of area median income (the extremely-low-income limit) or 30 percent of the federal poverty level. That definition for affordability is a problem, according to Greg Payne, a developer with Avesta Housing and the director of the Maine Affordable Housing Coalition. "The issue of when you have 30 percent of [the federal poverty level] as opposed to 30 percent of AMI, depending on the family size and where you are, [is that] you can end up with rents of 40 to 45 percent of AMI," Payne said during the panel. (States have the discretion to set tighter affordability limits for the formula.)
The National Housing Trust Fund is designed to complement inclusionary zoning: According to Nancy Rase, the former CEO for Homes for America, the National Housing Trust Fund will work best to create new, deeply affordable housing, not to rehab existing public housing. "Public housing is the question of the day. How do we stabilize and improve the public housing?" Rase says. "I never envisioned the NHT as a resource to rejuvenate affordable housing. I looked at it as a resource to create new extremely low-income housing."
HUD wants to make an immediate impact: Both HUD and other housing experts acknowledged that HUD, well, doesn't exactly move quickly. Payne, a developer and advocate, said that the funds should supplement projects that are already in the pipeline—and that affordable-housing developers and policymakers should be ready to broadcast the stories of the people whose situations are changed by the grants. "There's no part of the process that's fast," Rase said during the panel. "If you put the funds toward the development that you're just beginning to think about, it's going to be a long time before there's housing for people to live in."
The National Housing Trust Fund has enemies: Texas Republican Congressman Jeb Hensarling and California Republican Congressman Ed Royce tried but failed to prevent the National Housing Trust Fund from going into effect. The funds come from Fannie Mae and Freddie Mac, a condition of the $187.5 billion bailout that these government-sponored enterprises received in 2008. Hensarling and and Royce have argued that redistributing housing funds to extremely poor Americans cheats taxpayers.