Obama to Immigrants: Citizenship Leads to Better Jobs
A White House PSA touts the benefits of becoming naturalized.
Citizenship Day, which falls on September 17, is a big deal for immigrants. It commemorates when many of them officially become Americans. In the next couple of days, 36,000 immigrants will attend 20 naturalization ceremonies around the country and pledge allegiance to their new home.
Here's what one now-naturalized immigrant told NBC News about the day's significance:
"I'm so proud to be here now. I already have a job and my family all are here, so I feel peaceful and safe," said Iraq native Aliaa Shimmary, who now lives in Arlington.
This September 17, the White House launched a multilingual PSA encouraging all eligible immigrants to take steps towards citizenship. The video is a part of the government's " St and Stronger " campaign, which hopes to spread awareness about the naturalization process.
"It's not about changing who you are, it's about adding a new chapter to your journey as an American citizen, and to our journey—as a nation of immigrants," President Obama says in the video the White House tweeted out yesterday. "If you are eligible, commit to become a citizen today. It is an important step for you, and an important step for our nation."
Today, we celebrate citizenship & the dreams of those striving to earn it → http://t.co/xDYEAUpODN #ConstitutionDay https://t.co/mwl22fdN54

— The White House (@WhiteHouse) September 17, 2015
In the PSA, Obama brings up a key economic benefit of citizenship: better job opportunities. According to a 2012 report by the Migration Policy Institute, naturalized immigrants tend to earn 50 to 70 percent more than their non-citizen counterparts. And yet high costs related to the naturalization process, a lack of information about the paperwork, and language barriers all prevent eligible immigrants from becoming American citizens.
Here's an MPI chart showing these economic benefits of citizenship: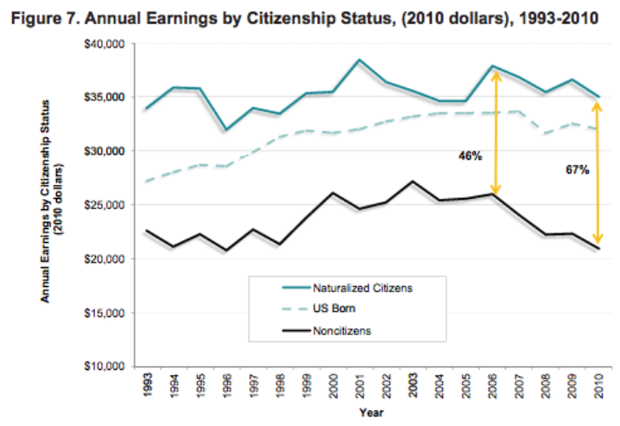 Naturalization isn't the final destination in an immigrant's journey, but it is an important milestone along the way. It helps them unlock the economic and social benefits they came to America for in the first place, and puts them in a better position to give back to their adopted country.