A New Report Details the Harrowing Conditions of U.S. Immigrant Detention Centers
A new government report details the rights violations in government-run and private facilities.
Mirabel was 16 when her alcoholic father attacked her with a machete. It was the latest incident of violence she and her family had faced at the hands of her father, and the last straw for her. She left her home in Honduras and made her way to America. In an interview with Politico, she recalls her risky decision:
"We all know the stories of women who get raped or die in the desert," Mirabel told me. "But I couldn't stay. I had no life there."
Like Mirabel, thousands of people try to cross the U.S. borders illegally to escape the horror and pain in their home countries. But if they get caught and detained by the U.S. Border Patrol—as Mirabel briefly was—they might end up facing an even more terrible fate than the one they're running from, according to a new report by the U.S. Civil Rights Commission.
Here's how the report puts it:
While these immigrants migrate to the United States to escape harsh living conditions, once they cross the U.S. border without authorization and proper documentation, the federal government apprehends and detains these individuals in conditions that are similar, if not worse, than the conditions they faced from their home countries.
In 2013, Immigration and Customs Enforcement officials detained more than400,000 people for varying amounts of time (below, top). This number has been climbing in recent years (below, bottom), in part because of tightening border security.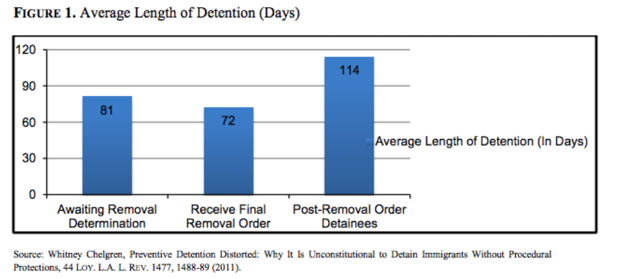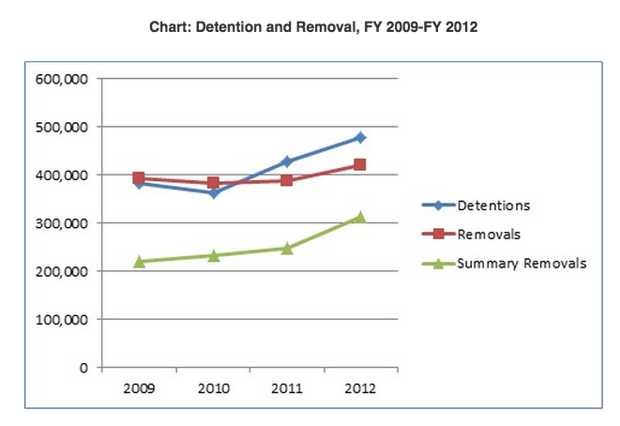 In theory, detention is temporary and for administrative purposes only. In reality, apprehended children are often detained for longer periods of timethan necessary. They are separated from their families and exposed to conditions that don't meet government's child-protection standards. Adults, meanwhile, are "held in conditions similar to criminal incarceration in violation of standards of civil detention," the report says.
Here are some highlights from the report that describe the deplorable conditions at these facilities.
Medical negligence
While Immigration and Customs Enforcement officials maintain that they have taken steps to ensure that government- and private-run facilities meet medicalstandards, the commission finds evidence to the contrary. Medical care is delayed and often denied to detainees, in both private and government facilities.
The report mentions the case of a 46-year-old detainee in a private Denver facility, for example, who succumbed to a heart attack because of lack of access to immediate medical care. It also cites the testimony of journalist Maria Hinojosa, who has investigated abuses at detention facilities. In it, she explains how a detainee named Andre, who suffered from bipolar disorder, was overmedicated by the medical staff:
He was given pills and he was asleep for 36 hours. At some point during that time Andre fell off of his top bunk and fell on his head on the concrete floor. He broke his eye socket bone and his testicle ruptured.
Unlivable conditions
According to the report, many detainees called their cells "hieleras," or freezers, because they were far too cold. The detainees also got inadequate food and water, and faced unhygienic living conditions.  
"Andre told me about once seeing a detainee fighting with a rat over his food," Hinojosa reports in her testimony.
Shoddy handling of sexual abuse cases
The commission found many instances of young female and LGBTQ detainees being sexually abused by guards while in custody. The handling of these cases by detention officials was extremely opaque, according to the report.
Ill-treatment of LGBTQ detainees
The abuse and mistreatment of transgender detainees at these detention centers is well-documented. Transgender women are often locked up with men, making them targets for sexual, physical, and emotional violence. The report also found that facilities often isolated transgender detainees as a way of protecting them. Here's Barbra Perez, a transgender detainee put in solitary confinement after she told authorities she feared the male inmates, via aFusion investigative report:
"When you're in solitary confinement it starts to break you down," Perez said of her 20 days in a cell alone. Desperation, anxiety and depression started to eat away at her will.
(Earlier this year, ICE released a new directive which allows transgender detainees to be housed according to their gender identity, not the gender assigned to them at birth.)
Religious freedoms and legal rights violated
In many cases, detainees' First Amendment right to exercise free religion was ignored. Muslim detainees, for example, often had their daily prayers interrupted.
Detainee rights to due process, a fundamental Constitutional right everyone on American soil is entitled to, were also grossly undermined. Here are some of the ways in which these violations occurred, via the report:
Practices at detention facilities, including requiring detainees to pay for telephone calls to their attorneys, inhibit the detainees' Due Process rights, including access to counsel, assistance of counsel, and allowing working conditions for counsel which allow them to perform their jobs efficiently and thoroughly.