The U.S. Is Making Its Border Stations More Welcoming
Despite Republican appeals for a wall between the U.S. and Mexico, America is investing in more secure, welcoming facilities along its borders.
Contrary to Donald Trump's claims, the U.S. government isn't neglecting its borders. It's just the opposite: The U.S. is investing in them heavily, replacing border stations that used to be little more than shacks with facilities that are modern, secure, and welcoming.
Border-control facilities took home two of the 2016 General Services Administration Design Awards, announced last month in Washington, D.C. The Mariposa Land Port of Entry (designed by Phoenix-based Jones Studio for Nogales, Arizona) and the San Ysidiro Land Port of Entry (designed by the Seattle-based Miller Hull Partnership for San Ysidiro, California) both won GSA Design Awards.
In terms of both infrastructure and philosophy, these projects offer a significant departure from the Republican Party's vision for a border wall running the length of the U.S.–Mexico border. As Eddie Jones of Jones Studio explained to Architect, his design for the Mariposa Land Port of Entry started with "Border Lines," a poem by Alberto Ríos, Arizona's poet laureate and a Nogales native. That poem concludes, "Let us turn the map until we see clearly:/ The border is what joins us,/ Not what separates us."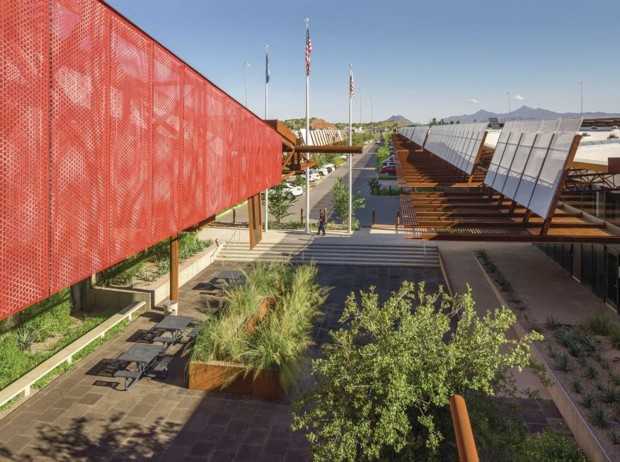 So, not exactly "build-a-wall-and-make-Mexico-pay-for-it." Still, the U.S. has made a significant investment in its border stations since the recession. The American Recovery and Reinvestment Act of 2009 authorized $420 million to the U.S. Department of Homeland Security to replace up to 31 land ports of entry and update eight more. The fact that these projects were feasible, not wolf-faced crazy, doesn't make these border stations any less secure. Modernizing America's land ports of entry and making these gateways into the country more welcoming puts people to work and enhances border security.
The Mariposa station designed by Jones Studio, which replaced a facility that was 35 years old, was designed to meet new federal environmental and security standards—not merely 9/11 standards, but post-1980 standards. PerArchitect, the design went through 45 revisions before it was affirmed by U.S. Customs and Border Protection officials. "The facility ensures security in a manner that is as efficient as it is humane, and which simultaneously celebrates regional landscape and national pride," reads the GSA entry on the award.
Another extraordinarily busy border crossing, the San Ysidro Land Port of Entry, required building a facility to accommodate 102,000 people crossing the U.S. border with Mexico daily. The Miller Hull Partnership focused on sustainable features to make the building extremely energy efficient—which also boosts the facility's security.
To list just one example, the firm built a 780-feet "pillow" canopy over the lanes of traffic inbound to the U.S. The canopy is made from the same material that PTW Architects and Arup used for the Water Cube in the Beijing 2008 Summer Games: ethylene tetrafluoroethylene. The material protects border-inspection agents from sun and rain but is translucent, meaning that the inspection checkpoints don't require artificial lighting during the day. "The design reasoning behind the use of the canopies was also for security: The canopy's thin nature provides unimpeded views to cars queuing at the border," reads the design brief.
The biannual GSA Design Awards program recognizes excellence in architecture, engineering, urban design, interior design, conservation, and preservation in public buildings across the country. There are many more courthouses and federal buildings constructed each year than land ports of entry. Still, border stations manage to snare accolades from across the design sector every year, including top honors from the GSA.
Snow Kreilich Architects's Land Port of Entry in Van Buren, Maine, and Bohlin Cywinski Jackson's Peach Arch Land Port of Entry in Blaine, Washington, each won honor awards in 2014. Snow Kreilich, formerly known as Julie Snow Architects, also designed a GSA Design Award–winning Land Port of Entry in Warroad, Minnesota, making the firm something of an expert in this typology. Robert Siegel Architects received an award for another border station in Mainein 2010; Smith-Miller + Hawkinson Architects picked up one for a border station in Massena, New York.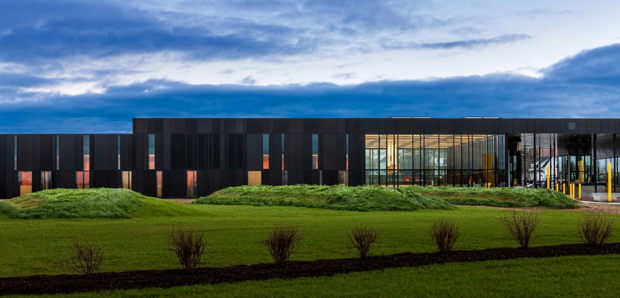 Nearly every GSA Design Awards program over the past decade has included awards for border-station projects, for either completed structures or on-the-boards designs. From Donna, Texas, to Raymond, Montana, these new designs not only extend a gesture of hospitality to our neighbors and guests, they make it easier for national security officials to do their jobs.
Borders stations don't have to be hostile places. It's a lesson that some candidates and policymakers could stand to learn from our architects and poets. Here is the full text of "Border Lines" by Alberto Ríos:
The world on a map looks like the drawing of a cow
In a butcher's shop, all those lines showing
Where to cut.

That drawing of the cow is also a jigsaw puzzle,
Showing just as much how very well
All the strange parts fit together.

Which way we look at the drawing
Makes all the difference.
We seem to live in a world of maps:

But in truth we live in a world made
Not of paper and ink but of people.
Those lines are our lives.  Together,

Let us turn the map until we see clearly:
The border is what joins us,
Not what separates us.