Democratic Senator Questions Mulvaney's Hatch Act Compliance
Warren sends offices of Government Ethics and the Special Counsel a letter on the acting consumer bureau director's speech to GOP donors.
The acting director of the Consumer Financial Protection Bureau has made waves this summer with his warnings that Republicans face a tough mid-term election climate.
Now Mick Mulvaney, the former Tea Party-aligned House member whose main job is White House budget director, has been hit with questions from Sen. Elizabeth Warren, D-Mass., on whether he has complied with the Hatch Act. The law bans federal officials from engaging in partisan political activity on the job. 
In a Sept. 19 letter to Mulvaney at his Office of Management and Budget address, Warren asked him about his attendance at a "closed door" event with Republican donors and campaign officials on Sept. 8 in New York City.
"Your appearance at this private event with Republican donors and campaign officials raises questions about your compliance with the Hatch Act and other federal laws, your judgment, and your management of OMB and the CFPB," she wrote. (The consumer bureau is the controversial agency originally conceived by Warren). "The report of your meeting with top donors and campaign officials raise[s] new questions about your behavior, and require[s] an explanation," she said.
The senator's research found no other examples of such meetings with political party officials on electoral prospects by past OMB and CFPB directors, or by any top Securities and Exchange Commission, Commodity Futures Trading Commission, Federal Deposit Insurance Corp., or Federal Reserve officials. "I do not understand how your decision to do so was consistent with your responsibilities either as OMB director, or as acting director of the CFPB," the letter stated.
Warren requested documents, such as the event invitation, the text of Mulvaney's remarks, a list of attendees and explanations for Mulvaney's reasoning for attending the event. She also noted that Mulvaney has not responded in detail to her previous related requests.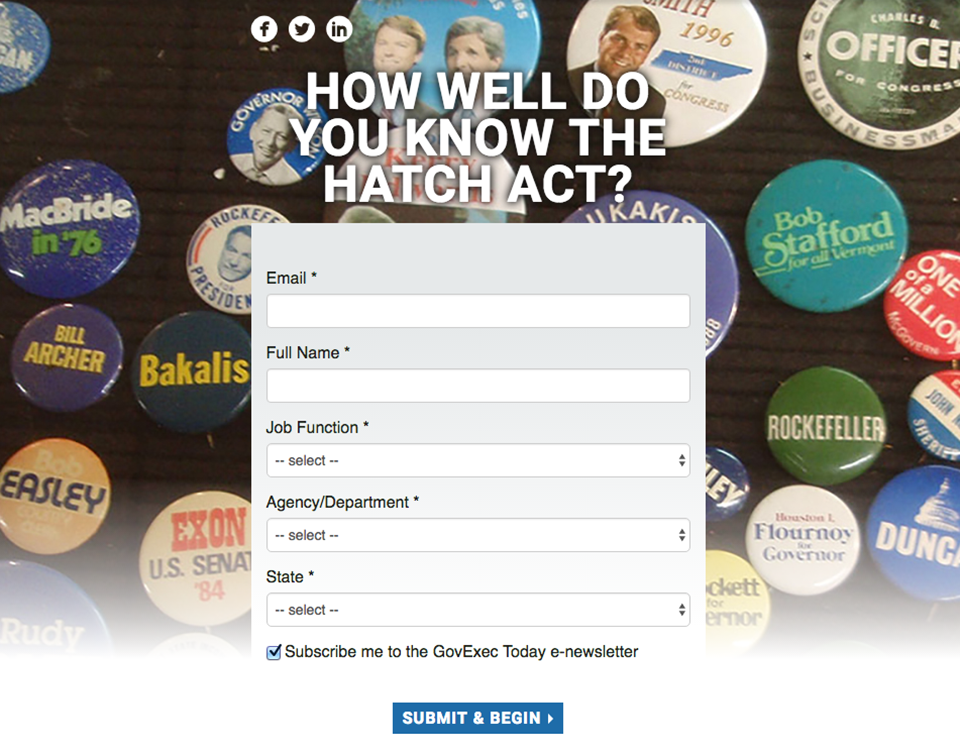 How well do you know the Hatch Act?
Asking for a response by Sept. 29, Warren also sent a copy of the letter to the heads of the Office of Special Counsel, and the Office of Government Ethics.
CFPB's press office did not respond to Government Executive requests for comment.
The advocacy nonprofit Allied Progress, which has been sharply critical of Mulvaney's policies running the consumer bureau, has published details on the planning of a talk Mulvaney gave on June 9 to a financial industry group.
Emails from the bureau's communications staff that Allied Progress obtained through the Freedom of Information Act discuss the fact that that the bureau's political appointees agreed that the event will be "closed press" and not announced to reporters.
The group provided other examples of Mulvaney's appearances before industry groups with business before the bureau.