Special Counsel Finds Hatch Act Violations by HUD Chief, Others
Julian Castro admits error in political comments in Yahoo interview.
With the electoral campaigns in full swing, the Office of Special Counsel in recent days has announced a series of findings of Hatch Act violations, including one by Housing and Urban Development Secretary Julian Castro.
On Monday, the independent investigative and prosecutorial agency sent the White House a report saying that Castro violated the act during an April 4 interview with Yahoo News anchor Katie Couric. His statements "impermissibly mixed his personal political views with official agency business despite his efforts to clarify that some answers were being given in his personal capacity," OSC said. "Federal employees are permitted to make partisan remarks when speaking in their personal capacity, but not when using their official title or when speaking about agency business."
The questionable comments came late in an interview that dealt mostly with HUD policy. Couric asked Castro what makes him most fearful about Donald Trump being president, to which he responded that "Mr. Trump is not prepared for the office of president because Mr. Trump does not understand what leadership or being president is about, or the basic functions of our government or its relationships with other countries."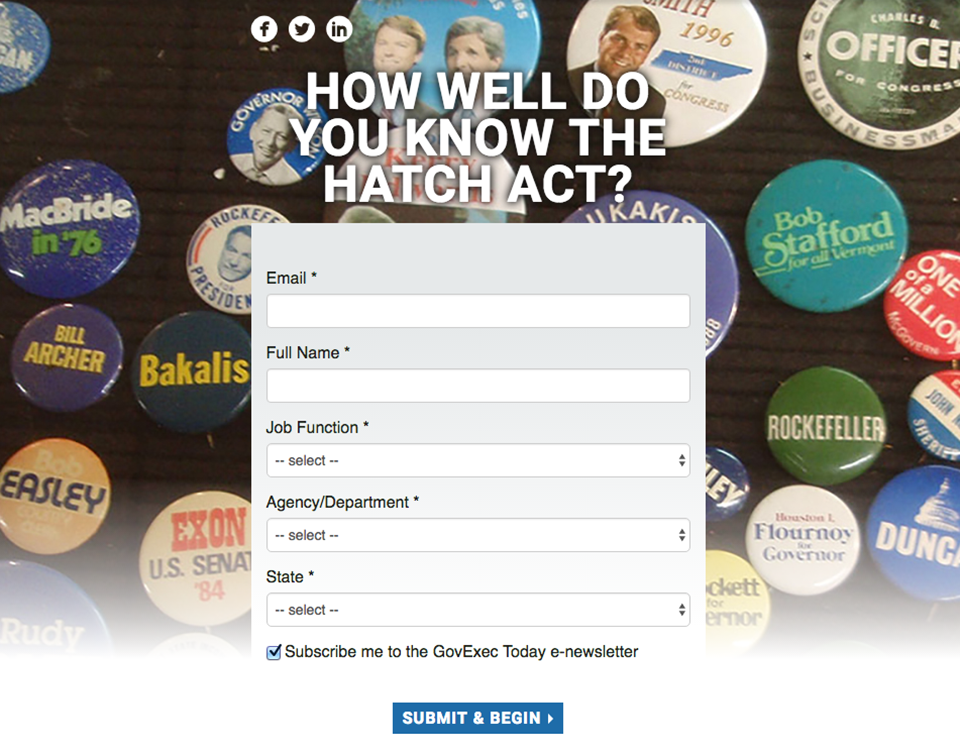 How well do you know the Hatch Act?
Couric then asked Castro whether he wanted to be the vice presidential nominee on a ticket with Hillary Clinton, to which he replied that he did not think that would happen. "What I am interested in, though, is trying to do a great job here at HUD and serving the people that we do serve, folks that are of modest means but who deserve our attention and our efforts," he said. "And so I don't believe that is going to happen, but I am supportive of Secretary Clinton and I believe she is going to make a great president."
The OSC investigated after receiving a complaint. Its report included details such as the preparations the HUD public affairs staff executed in arranging the interview and the fact that Castro had received four briefings on the Hatch Act since arriving at HUD. "Although he stated during the interview that he was 'taking off my HUD hat for a second and just speaking individually,' to indicate he was answering questions in his personal capacity," OSC wrote, "that disclaimer could not negate the fact that he was appearing in his official capacity for the rest of the interview."
In response, Castro sent Special Counsel Carolyn Lerner a letter acknowledging error. "I offered my opinion to the interviewer after making it clear that I was articulating my personal view and not an official position," he said. "At the time, I believed that this disclaimer was what was required by the Hatch Act. However, your analysis provides that it was not sufficient. Thank you for bringing this matter to my attention. When an error is made -- even an inadvertent one -- the error should be acknowledged."
Castro commended the OSC staff's "professionalism" and said he was tasking HUD's executives with enhancing training in compliance with the Hatch Act.
Separately, the OSC on Friday announced it had filed a petition for discipline against a Commerce Department GS-15 employee for sending "several emails, while on duty, in support of the Montgomery County (Md.) Republican Party and to assist candidates running for local and state office." That employee, it added, also invited—while at work-- more than 100 individuals to attend an annual "Lincoln and Reagan" Republican Party fundraiser and asked them to send him a check if they wanted to attend.
The Commerce employee had previously received guidance from a senior ethics official warning him not to solicit or receive political contributions or engage in local political activity while at work.
OSC is seeking disciplinary action from the Merit Systems Protection Board.  "As the presidential election approaches," Lerner said in a statement, "it is important for federal employees to remember the Hatch Act's restrictions on engaging in partisan political activities while at work and the ban on soliciting contributions for partisan political candidates or groups at any time."
Last week, OSC announced that it had obtained disciplinary settlements with three other federal employees for Hatch Act violations.
At the Labor Department, a wage and hour investigator was found to have circulated a nominating petition for a mayoral candidate, obtaining signatures from three co-workers and retweeting one of the candidate's requests for political contributions. She received a three-day unpaid suspension and a letter of reprimand.
At the U.S. Postal Service this May, a letter carrier admitted to displaying a congressional candidate's campaign sticker on his official vehicle while delivering mail in his official uniform. He will be suspended for five days without pay.
At the Internal  Revenue Service in June, OSC confirmed allegations that an employee, while on official travel to perform site visits with her subordinates, canceled a site visit and asked a subordinate to drop her off at the location of a presidential candidate's campaign rally. The employee did not return to her place of duty for over four hours and did not request leave, OSC found. The employee agreed to serve an unpaid 14-day suspension.
OSC's annual report, released last week, showed that its Hatch Act Unit had better focused its activity since a 2012 law relieved its staff of responsibility for state and local government officials who run for political office. In fiscal 2015, the Hatch Act Unit received 106 complaints while resolving 131 complaints, and issued 1,023 total advisory opinions, a drop of 359 from the previous year.