Trump Administration Will Ask Career Feds How to Do Things Better -- or Not at All
Architect of government restructuring plan wants it to be key part of Trump's legacy.
Career federal employees will play an outsized role in crafting the Trump administration's effort to reshape government, one of the architects of the plan said, and those who survive the ultimate workforce reduction will come out on the other side with a renewed sense of purpose.
The administration is taking a deliberate approach to cutting the federal workforce, Office of Management and Budget Senior Adviser Linda Springer told Government Executive in an interview Tuesday, and is confident employees will emerge feeling better about their careers. OMB has billed its guidance implementing elements of two different executive actions -- one to come up with a long-term plan to reduce the civilian workforce and another calling for the reorganization of the executive branch -- as a new approach never before attempted in government.
The Trump administration is not looking to reduce the federal workforce for purely ideological purposes, said Springer, former director of the Office of Personnel Management in the George W. Bush administration, and has avoided setting arbitrary goals for each agency.
"We think the net effect is the government will probably have a smaller footprint as [far as] the workforce goes," Springer conceded. "That's just a natural consequence of doing that examination of what's duplicative, what's obsolete, and getting rid of those things."
Agencies must come up with high-level plans to reduce their workforces and reform themselves by June 30. In that time, Springer said, officials will determine exactly what government should be doing.
"The pretty widely held view is it is doing things that are obsolete, that are duplicative," she said. "The goal is to do the right things and then where that takes us with the workforce is how that gets implemented."
Employee Input
Springer acknowledged there is "always a dimension of" employees being nervous as they go through a process that may eliminate their jobs, but she said she expected many of those concerns to be alleviated by the nature of the administration's approach. She emphasized that agencies will depend on the input of career staff as they put their reform plans together.
"We are operating under the notion that the career civil servants know better than almost anyone, because they live with this day in and day out, and they experience the challenges of doing their work," Springer said. "So from the standpoint of how things can run better, or whether or not what they're doing is used or has value, I think they are right on the front lines."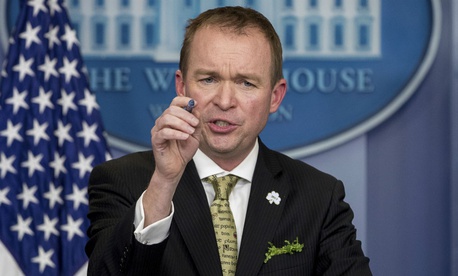 Related: The Potential Pitfalls of Trump's Plan for Agencies to Transform Themselves
She suggested employees be proactive in submitting their advice, but it will ultimately be up to agency leaders to "draw out" those insights.
"This is a deliberate effort to get their wisdom about what could be done better, differently [or] not done at all," Springer said.
Ideally, she added, ideas would come from a mix of individuals with fresh eyes "unencumbered by the burdens that come with the bureaucracy" and the "wisdom of the practitioners." Currently, due to the slow nomination and confirmation of political appointees, Springer said the latter group has the "opportunity to shape the dialogue to a greater degree."
Strategy
Unlike previous government reform efforts, Trump is not creating a new commission or third-party entity to oversee the executive branch restructuring. It is instead asking agencies to determine how they would build themselves if they were "starting from scratch." While OMB has promised to take a backseat as agencies develop their initial proposals, they will still be active in identifying crosscutting reforms that would affect multiple entities throughout government. OMB will conduct a review of its own to find "silos that could be broken down," Springer said.
The agency will also begin engaging with Congress to keep lawmakers informed of its plans, understanding it would be "naïve" to suggest everything it does will be met with universal approval. OMB is currently "developing plans for outreach," Springer said. Its default strategy, she said, will be to convince lawmakers the administration is doing "what's in the best interest of the American people."
The administration will require buy-in not just from Congress but from the career employees it is relying upon for ideas. This will depend on "good direction from managers," Springer said, as well as the sweetener of better recognition of top performers. As part of their June 30 submissions, agencies will include plans to address hiring and retention, as well as the removal of bad employees.
"If we didn't care about making sure there is good direction and clarity and the right type of reward structure, then we wouldn't have been interested in having a requirement for a performance plan," Springer said. The administration is not yet looking at wholesale personnel reforms, focusing instead on changes it can implement "within the current structure."
When agencies decide programs are obsolete and need to cut employees, Springer said they can use buyouts, early retirement incentives "and other types of things." She said her old agency has been involved to "answer questions and facilitate any requests."
From What to How
For now, agencies are focused on what they should be doing. OMB will work with the newly created White House Office of American Innovation to help agencies do the things that are deemed essential better.
The office, led by Trump's son-in-law, Jared Kushner, will "help us and help agencies transform, whether it's technology, whether it's service delivery, whether it's innovation," Springer said. OMB and OAI have already begun holding meetings.
Springer is hopeful employees who take part in that effort and see their agencies transform will end up with higher morale than ever before.
Federal workers will "feel invigorated because what they're doing has been validated," she said of those who survive pending reductions. "It's been recognized as something that's important to continue. You've in effect come through a very critical screening and your function has come through that with a renewed sense of purpose and importance."
The administration, she added, acknowledges there are "great things that are done by the men and women that have chosen to be civil servants." Those who paint the federal workforce negatively with a broad brush are "disruptive and it's unfair," she said. At the end of the restructuring process, Springer said, the view some hold of federal employees could change. Shrinking the government while making it work better could be a key part of how the Trump administration is remembered.
"I think it is something people will look back on as part of the legacy of this administration to take a hard look at itself and recognize we can't do everything for everyone," Springer said, "and we want to do the things that we do really well."