NOAA: The World Just Sweated Through Another Record-Hot June
Every state in the U.S. has endured above-average heat this year.
If last month, while excreting rivulets of moisture like a ham in the oven, you found yourself thinking, This is crazy hot—you weren't wrong. It was the warmest June in the U.S. since records began in the late 1800s, surpassing 2015's historically scorching June and perhaps adding to the world's never-before-recorded streak of incredible heat.
The 71.8-degree average temperature for the Lower 48 was more than 3 degrees above the historic norm, according to NOAA. It beat out the previous record-holder of 71.6 degrees in 1933, and made 2016's year-to-date temperature the third-warmest in known U.S. history.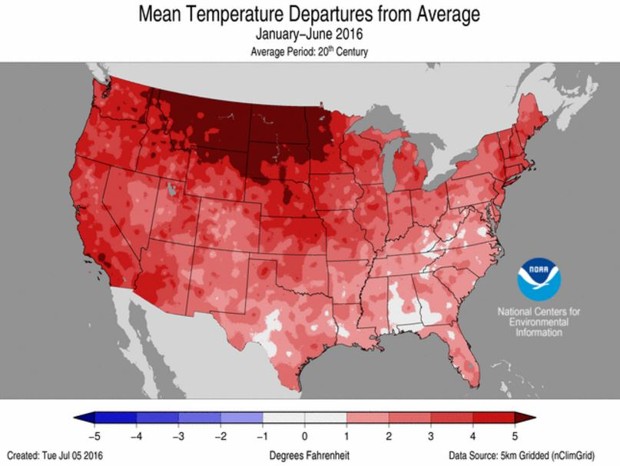 This May was the 13th straight month with record-breaking heat, globally. If June's temperatures prove to be extraordinary throughout the planet, that'd be 14 months. We'll know more about that when NOAA releases its full accounting on Tuesday, but either way there's no denying the crisis is real. Aside from being alarmingly hot, June also marked the month in which 31 major U.S. scientific institutions warned Congress in a consensus letter that "climate change is occurring, and rigorous scientific research concludes that the greenhouse gases emitted by human activities are the primary drive."
If you missed it, the Associated Press has more about that story:
Those signing the letter include the world's largest scientific society, American Chemical Society, and groups that represent meteorologists, public health experts, biologists, Earth scientists, oceanographers, geologists, crop researchers, bug, fish and reptile experts, as well as mathematicians and statisticians.

Texas Tech climate scientist Katharine Hayhoe said the situation is like a doctor telling a patient he has cancer, with the patient saying he doesn't. The doctor then gets every oncologist in the hospital to tell the patient it is cancer, but is treatable. It's up to the patient.

"We told you everything we could," said Hayhoe. "We are like Pontius Pilate, metaphorically washing our hands."
And here are a couple specific items about the nation's June fever from NOAA:
• Alaska: Record warmth spanned Alaska from January through June. The statewide average temperature for this period was 30.4 degrees F, 9.0 degrees F above average, and 2.5 degrees F warmer than the previous record in 1981….

• U.S. Drought: By the end of June, 16.2 percent of the contiguous U.S. was in drought, up about 3.5 percent compared to the end of May. Drought remained entrenched in parts of California and the far west, and expanded to other parts of the nation.