NOAA: The U.S. Looks Due for a Scorching Summer
Forecasts show above-average chances for high heat on both coasts and in Alaska.
Good news for surfers and picnickers, bad news for pallid folk who color like steamed crabs when exposed to the sun: Vast portions of the U.S. could get blasted with abnormal warmth this summer, including probable heat-magnets like New England, the West Coast, Hawaii, and Alaska.
That's according to NOAA's Climate Prediction Center, which is forecasting "well-above average" warmth throughout the land from June to August. Here's a probability map for temperatures ranking in the top third of the historical average; darker hues indicate greater chances for sweltering conditions: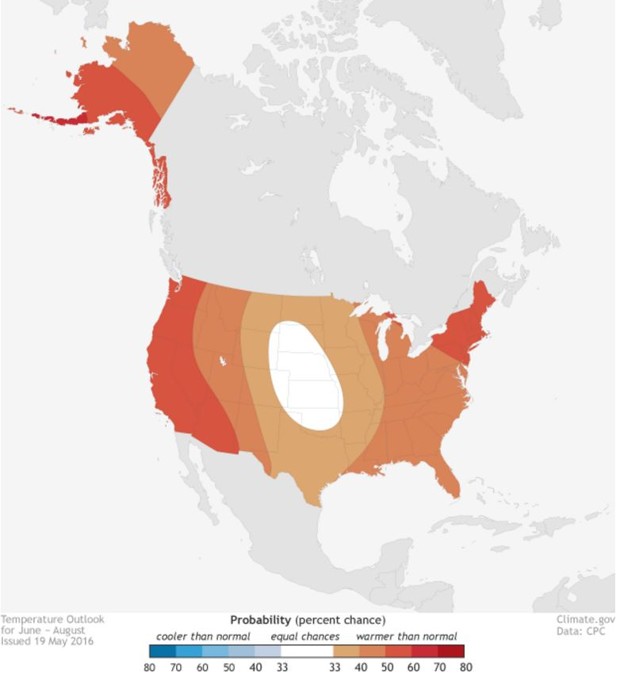 The folks at Climate.gov explain:
Nationwide, Alaska's Aleutian Islands have the highest chances of an unusually warm summer, with probabilities between 60-70 percent. For the contiguous United States (i.e, the "Lower 48"), the chances for top-tier warmth are greatest in the West and the Northeast (50-60 percent), and smallest in the heart of the Great Plains, where the odds of well above average temperatures are the same as the odds of near-average or well below average temperatures (33 percent each)….

Darker colors mean greater chances of a hot summer, not how much hotter it's projected to be. In other words, we're not predicting that summer temperatures in Maine will be farther above average than temperatures in Florida; we're predicting that the chances for an unusually hot summer are greater in Maine than they are in Florida.
If you're thinking you can dodge the heat by running out into some refreshing showers, think again. There are few places in the U.S. with above-average chances of precipitation this summer, as shown in this other NOAA map: