NOAA: The Mariana Trench, Seven Miles Below Sea Level, Is Abuzz With Noise
A mission seven miles down reveals a surprisingly raucous soundscape.
Plunge to the most abysmal reaches of the ocean, roughly seven miles down in the Mariana Trench's Challenger Deep trough, and what do you hear? Groaning behemoths, seismic rumbles, and yes, even the noise of ships far above churning the waves.
This surreal soundscape is now ours to trance out to thanks to scientists at NOAA and elsewhere, who dropped a microphone 36,000 feet down in the seas near Micronesia. Here's some of what they noted during three weeks of monitoring, according to NOAA:
"You would think that the deepest part of the ocean would be one of the quietest places on Earth," said Robert Dziak, a NOAA research oceanographer and chief project scientist. "Yet there is almost constant noise. The ambient sound field is dominated by the sound of earthquakes, both near and far, as well as distinct moans of baleen whales, and the clamor of a category 4 typhoon that just happened to pass overhead."

The hydrophone also picked up sound from ship propellers. Challenger Deep is close to Guam, a regional hub for container shipping with China and the Philippines.
The scientists eavesdropped using a special, titanium-armored mic that wouldn't implode under the trench's pressure of 16,000 PSI (sea-level pressure is around 15 PSI). They hope the recordings will help establish a baseline reading for oceanic clamor—important because increasing noise from human sources like ship engines and sonar has possible harmful effects on marine life.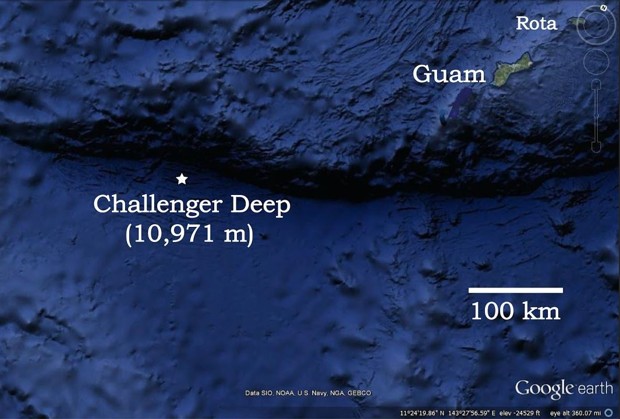 The expedition had some unreal moments, such as when the researchers detected the booms of a magnitude 5.0 earthquake below the quake itself. There was also this lonesome baleen-whale call that sounded like a man being punched in the groin in slow motion:
The scientists have shared photos and an auditory sampling of the Mariana Trench here; these are a couple more examples of the commotion at the fathomless deep. This is a ship's propeller passing overhead:
And this duet was composed by a whale singing before and during that earthquake: