NOAA: 2015 Could Be the New Hottest Year on Record
El Niño might "push the needle on global temperature" toward unprecedented warmth.
Remember the awful heat of 2014, which was likely the warmest year in known history? Well, the odds are increasing that 2015 might outdo that superlative sultriness, becoming the hottest year since record-keeping began in 1880.
Whether or not that happens could depend on El Niño, writes NOAA scientist Deke Arndt at Climate.gov. The reoccurring climate phenomenon, characterized by abnormally warm waters in the central Pacific, can have broad impacts on the world's weather—causing torrential rain and flooding in South America, for instance, and drying Australia into a tinderbox for wildfires.
Arndt says the "arrival of El Niño raises the chances of setting a new record-warmest global temperature for any time period." We're already off to a good (bad?) start. The planet's warmest 12-month periods that we know of have allfallen in the last four months. Unusual hotness was behind the near record-breaking low extent of Arctic sea ice in April, and it continues to drive a murderous heat wave in India that's claimed at least 2,500 lives.
Spikes in global heat can go hand in hand with El Niño episodes. Here's a graph Arndt put together, showing historical "El Niño-flavored" months often aligning with above-average temperatures: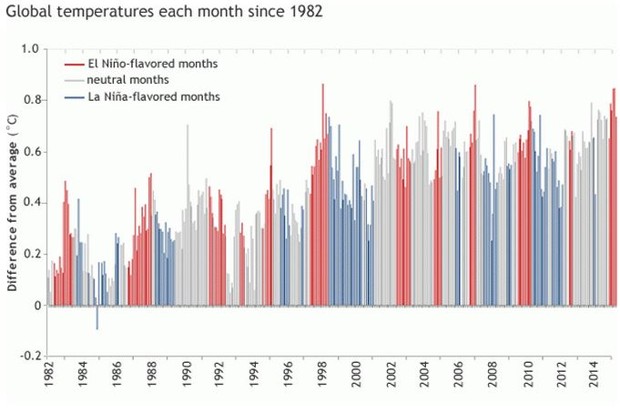 So how might El Niño jack up this year's thermostat? Arndt explains:
El Niño is characterized by, among other things, a large footprint of warmer-than-normal surface water across much of the tropical Pacific Ocean. This footprint contributes directly to warmer globally-averaged temperatures, in the same way that, if you leave one of your stovetop burners on "warm" the average temperature of the whole stovetop is warmer.

But the warm footprint also adds heat to the atmosphere, just like the warm burner heats the air just above it. The atmosphere carries this along, reinforcing, over time, the direct heating from the "warm burner" in the tropical Pacific.
El Niño isn't the only climate pattern affecting world temperatures. (Last year's incredible torridity occurred in its absence, for example.) But should this one be exceptionally powerful and persistent—and some experts expect it to lastuntil 2016—we could once again crack open the books to record another year of dismal, unprecedented warmth.
(Image via ChameleonsEye/Shutterstock.com)