How I Lead: By Making Wrong Turns and the Right Choices
Insights from Jim Hearn of the Army Corps of Engineers' Northwestern Division.
Jim Hearn is the director of regional business for the Army Corps of Engineers' Northwestern Division in Portland, Ore. He oversees strategic planning, a $210 million operating budget, and a team of engineering and construction specialists. He also manages construction, environmental remediation, and interagency and international support programs for the division's five districts.
What is the best leadership lesson you've learned?
We can learn about leadership from observing good and bad leaders, by reading books on leadership or by learning about the lives of leaders. However, there is no substitute for actually leading. The act of making leadership decisions, assessing the results and learning from our experience is the best learning model. Many of us by choice or chance will find ourselves in a leadership position. Being ready to lead with energy, vision and the right leadership model for the situation is the key to a successful experience. But be adaptable when necessary.
How did you get to where you are today?
I'm not being facetious, but I got here by making many boneheaded mistakes and wrong turns, by blind luck, and much later than I want to admit, by planning, guile and persistence. I teach a class on career development, and my thesis is that most people do not plan their career -- it evolves with some being lucky and some not so lucky. This was my model for two-thirds of my career. I applied for jobs and promotions because they were available, not because I had it in my long-term strategy. I had no vision of being an SES until some co-workers cornered me and said that I would make a great SES. I would?  So, I did a critical assessment on my abilities -- I call it a personal SWOT analysis [of strengths, weaknesses, opportunities and threats] -- and formulated a plan to improve my strengths and mitigate my weak areas. I needed more project and program management experience, and I needed to attend a Senior Service College -- both of which I did. I had to overcome not being an engineer in an engineering world, so I learned everything I could about engineering in order to hold my own at an appropriate high level. I was ultimately successful and have found this the most rewarding time of my career.
What is a good book you've read recently?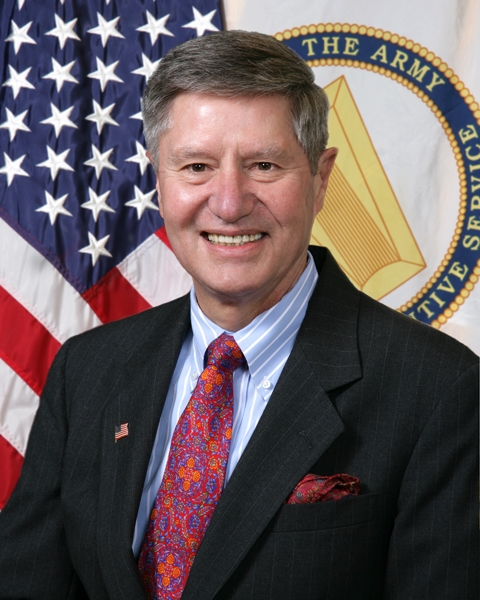 I will talk about two books that complement each other. The first is Against the Gods: The Remarkable Story of Risk by Peter L. Bernstein. I work for the U.S. Army Corps of Engineers, and risk permeates everything we do: Risk to project schedules or budgets, risk to our dams or levees, risk to our other infrastructure, etc. Learning more about the nature of risk provided me good insight on risk and how it can be managed. The second book, Black Swan: The Impact of the Highly Improbable by Nassim Nicholas Taleb, basically counters the first book I mentioned, stressing that risk sometimes comes from the unknown, and it cannot be managed. I find both books very interesting.
What do you do after work for fun or to relax?
I must be hyperactive because none of my hobbies involve being sedentary. I have been a competitive runner since elementary school and still love to run. I've taken up cycling and added swimming to my pursuits. I have completed a few triathlons and did not do badly for an old dog. I do have to force myself to pause and read. I travel frequently in my position, and flights are a good opportunity to catch up on reading. I really like to cook and eat at good restaurants; therefore, I have an active sports life to keep my weight in check.
Describe your average day in 10 words or less.
Provide good advice, make a few decisions and help others succeed.
What strengths do you bring to your organization?
I work in an engineering and construction world that is dominated by ISTJs [introversion, sensing, thinking, judgment] on the Myers Briggs Type Indicator survey. I am basically the opposite – ENTP [extroversion, intuition, thinking, perception]. I have to understand their profiles for communication and teaming purposes, but I enhance our problem-solving by using my profile to fill the gaps in theirs. I bring global understanding, vision and innovative thinking to our leadership team. I am curious by nature and always want to learn new things. I am basically a happy boy. I enjoy every day and use that energy and good karma to create an environment for people to feel safe, enjoy their work, and grow and develop in their careers.
What is your weakness, and how do you compensate for it?
As I stated above, I am an ENTP. The P trait describes a perceiver who is always looking for the best option and does not like being tied to a schedule. That is not a good trait in an ISTJ world. To compensate for this, I over-mitigate my traits. My day planner is color coded for added clarity and schedule focus and my desk is clear except for the task at hand, or I will jump from pile to pile without finishing any one of them.
What career accomplishment are you most proud of and why?
I can think of many events on which I look back fondly. I successfully managed the Dexheim, Germany Community and assisted all the family members after 95 percent of the soldiers deployed to Bosnia for a year. I enjoyed my tour in Afghanistan helping rebuild the country. Being selected to the Army War College as the oldest man in the class was a big thrill. But my greatest accomplishment and the one of which I am most proud is the opportunity I've had to coach and mentor numerous men and women to successful careers.
Tell me something your co-workers do not know about you.
In 1973, I ran with the bulls in Pamplona.
What motivates you?
I absolutely love what I do. I work with a great team, I belong to a great organization, and I get to solve DoD's and the nation's complex problems. It doesn't get much better than that. My goal each day is to create an environment where others can succeed and grow. I want to delight customers and make life better for those we serve.