The Federal Government Does a Terrible Job of Recognizing High Performers
Study shows federal workers aren't getting the recognition they should.
The federal government has frozen employee pay for the past three years, and many workers now are being furloughed, resulting in a loss of income. And performance bonuses for many senior executives have been canceled.
For managers and leaders, it is hard to recognize and reward top performers in this environment, and as these measures pile up and drag on, it is only going to get more difficult.  As part of our Best Places to Work in the Federal Government analysis, the Partnership for Public Service and Deloitte examined how satisfied federal employees were with "performance-based rewards and advancement," the category that measures whether workers feel that they are rewarded and promoted in a fair and timely manner for their performance and contributions to the workplace.
Out of 10 workplace categories examined from the 2012 data, federal workers rated performance-based rewards and advancement dead last, as they have since 2005. In 2012, federal workers gave a score of only 43.4 points out of 100, a drop of 2.5 points since the 2011 survey. This means that only four out of 10 employees believed that they will be rewarded for doing good work.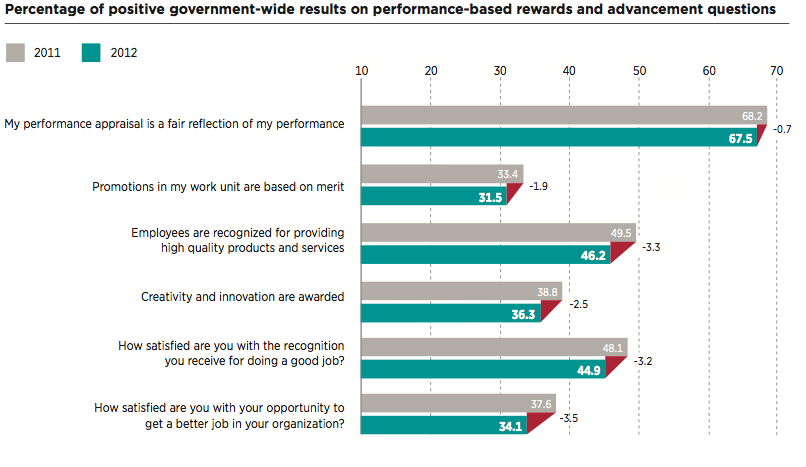 This score was based on the responses to six questions that deal with employee perceptions regarding performance appraisals, the rewards and recognition they receive for doing a good job, creativity and innovation, merit-based promotions and opportunities to get better jobs within the organization.
These unsettling findings beg the question, "If federal employees are dissatisfied with their pay, don't believe they will be rewarded for doing good work and don't believe there are many opportunities for them to advance, will they stay in service to their country?"
Chances are they won't unless managers think creatively about how to support, reward and recognize their employees. Here are just a few steps managers can consider that are low-cost or even cost-free.
Consider meaningful assignments that give employees an opportunity to work on cross-functional challenges and with new people across the organization.
Write a note of thanks that acknowledges the contributions an employee has made and that details the impact those efforts have had on the team or organization.
Nominate employees for awards or special recognition.
Give meaningful feedback about promotion potential and help employees get ready to move to the next level.
Support benefits other than pay or bonuses, such as alternative work schedules, telework or time-off awards.
Federal workers are largely motivated by their mission and want to serve the nation, but top performers will always have other employment options, and government runs the risk of losing them if it can't, or won't, appropriately recognize and reward them for their work.
To read Satisfaction with Performance-Based Rewards and Advancement, the latest Best Places to Work in the Federal Government analysis produced by the nonprofit Partnership for Public Service and Deloitte visit ourpublicservice.org.
Image via Konstantin Chagin/Shutterstock.com