15 Things the Public Has More Confidence in Than Congress
Americans' confidence in Congress has dropped to a record low.
It wasn't too long ago we had the pleasure of reporting Congress is less popular than the likes of root canals, colonoscopies, cockroaches and Nickleback. Today, we return to once more examine the public's hate-hate relationship with Congress.
According to Gallup, Americans' confidence in Congress decreased by 3 percent this year, falling from 13 percent in 2012 to 10 percent in 2013—ranking last on a list 16 American institutions for the fourth year in a row. How does that compare to other times in history? I'll let Gallup take it from here:
This is the lowest level of confidence Gallup has found, not only for Congress, but for any institution on record.
Ouch. Congress withstanding, what public institutions are Americans feeling confident in? Good news for the defense community (and the upcoming launch of GovExec's new defense publication, Defense One ) more than three-fourths of Americans (76 percent) feel pretty darn confident in the military.
The full rankings are in order below: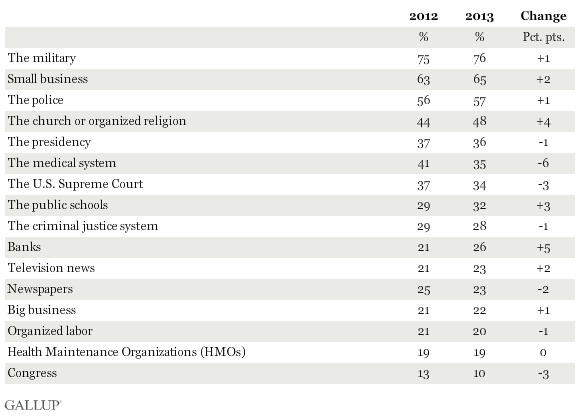 Anything here surprise you?
Image via Gary Blakeley/Shutterstock.com