The Most Interesting Hurricane Sandy Images, Gifs and Memes
Round up of the most fascinating images coming out of Hurricane Sandy's approach and landfall.
Hurricane Sandy has arrived. The fact I'm writing this and my power isn't out is a small, and I'm sure temporary, miracle. Below are some of the most interesting images and animated .gifs from the super storm so far:
What you were hopefully doing Monday…
Some perspective (and a reminder of the difference a year makes)—Hurricane Irene vs. Hurricane Sandy:
Even more perspective—how Hurricane Sandy would look if positioned over Europe:
High-resolution model of Hurricane Sandy's approach:
When it comes to a "Frakenstorm," it takes two storms to tango (how a superstorm is born):
Truly terrifying? The things people do when they're stir crazy…
Horse Man in Northwest DC yesterday: Winner of the weirdest reaction to a hurricane? He clearly thinks so:
And now...some much needed levity
Probably the truest thing anyone has said about Hurricane Sandy: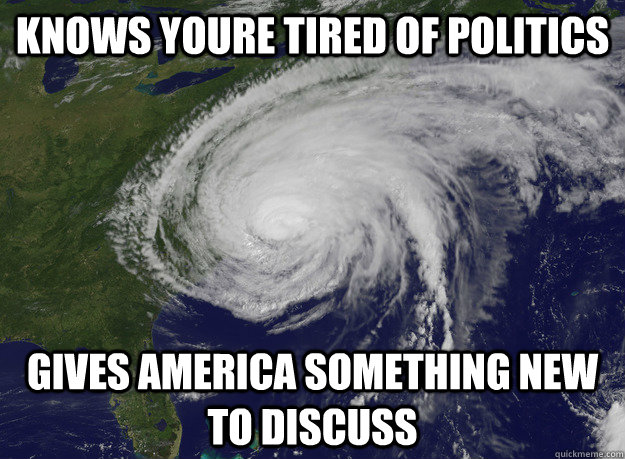 See the Atlantic Wire's round up of images:
Stay safe everyone--you can make a donation to the Red Cross disaster relief effort here .
For more coverage on Hurricane Sandy, read GovExec's continuous updates , track the storm in real time , and learn how to prepare and stay safe.
Follow Excellence in Government on Twitter | Facebook | Google + | LinkedIn
(Image via lev radin / Shutterstock.com )