Will Donald Trump Dismantle the Internet as We Know It?
Open-web advocates are preparing for a renewed policy war as net neutrality's future remains uncertain.
Talking about net neutrality is so boring, the comedian John Oliver once quipped, that he would "rather listen to a pair of Dockers tell me about the weird dream it had" than delve into the topic.
So it's unsurprising that Donald Trump—an entertainer with a flair for the dramatic and little interest in wonky details—has stayed away from the issue almost entirely.
If you want to captivate a nation, discussing thorny telecommunications policy is generally a terrible way to do it. (For those who have managed to avoid reading up on net neutrality thus far, the term refers to open-web principles aimed at curbing practices that give certain companies competitive advantages in how people access the internet. The FCC formally established rules last year that allow the agency to regulate broadband the way it oversees other public utilities. Those rules ban internet service providers from throttling—or slowing—connections to certain content online, and prohibit providers from offering faster connections to corporations that can afford to pay for premium web services. The rules also discourage zero-rating—in which an internet service provider subsidizes a consumer's cost of going online but often does so in exchange for a competitive advantage.)
Despite Trump's prolific social media presence, the president-elect hasn't demonstrated any real understanding of tech issues—net neutrality included. As a candidate, Trump never outlined a technology plan or platform. His discussion of cyber security on the campaign trail and in presidential debates was muddled and at times bizarre. (Remember his comments on the Democratic National Committee hack? "I mean, it could be Russia, but it could also be China. It could also be lots of other people. It also could be somebody sitting on their bed that weighs 400 pounds.")
Nevertheless, net neutrality advocates are preparing for a renewed fight, operating on the belief that Trump will work to dismantle the internet as we know it.
Trump's main—and possibly only—public comment on net neutrality came in 2014, before he was officially running for president, in a bewildering tweet that seemed to conflate tenets of the open web with the Fairness Doctrine, a federal policy that required broadcasters to use airtime to discuss controversial issues of public interest—and to feature opposing views on those issues. (The rule was eliminated in 2011.)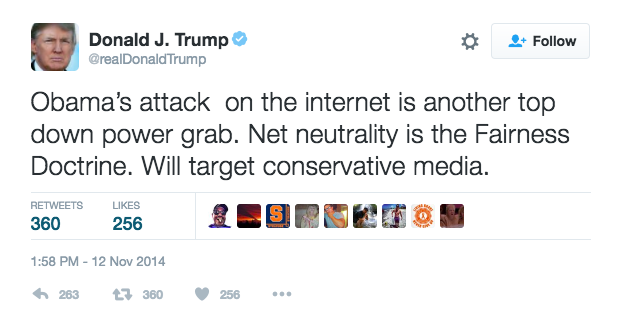 Trump's stance, incoherent though it may be, seems simple enough to parse anyway: the Obama administration advocated for net neutrality (and specifically for strong FCC regulation of net neutrality rules), therefore Trump opposes it. Plus, Trump's a Republican; Republicans tend to oppose regulation.