Nonprofit Files Hatch Act Complaints on 10 White House Officials
Social media posts from budget director and press secretaries were partisan, group argues.
Noting that President Trump last February announced that he is running for reelection in 2020, an ethics group has seized on celebratory tweets from high-level White House staff that it says violate the Hatch Act's ban on partisan political activity in the federal workplace.
In a series of letters to the Office of Special Counsel—the government's Hatch Act enforcer—Citizens for Responsibility and Ethics in Washington on Thursday offered chapter-and-verse complaints about 10 White House officials, including budget director Mick Mulvaney, Press Secretary Sarah Huckabee Sanders and Principal Deputy Press Secretary Raj Shah.
"We continue to see Trump administration officials at all levels engaged in unprecedented partisan political activity using their official Twitter accounts in direct violation of the Hatch Act," said CREW Executive Director Noah Bookbinder, in a release. "Despite multiple investigations and violations found, the Trump administration clearly has no intention to stop the misuse of government offices and resources for political purposes. We are now calling on the OSC to consider additional measures to prevent the rampant abuses coming from this administration."
Most of the tweets in question involved Trump's campaign slogan "Make America Great Again." The additional staffers cited were Deputy Director of Communications Jessica Ditto, Executive Assistant to the President Madeleine Westerhout, Deputy Press Secretary Hogan Gidley, Deputy Press Secretary Lindsay Walters, Director of Media Affairs Helen Aguirre Ferré, Press Secretary for Vice President Mike Pence Alyssa Farah and OMB Deputy Communications Director Jacob Wood.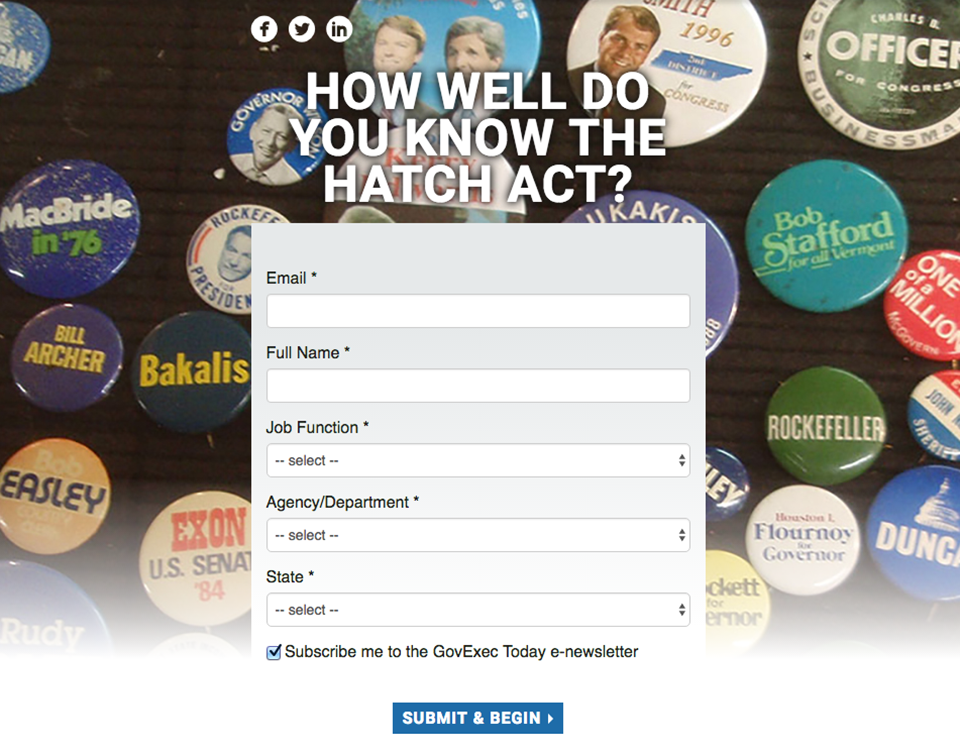 How well do you know the Hatch Act?
OSC last year found that White House director of social media Dan Scavino Jr. had violated the Hatch Act, as did presidential counselor Kellyanne Conway this March.
CREW argued that each Twitter account that was used for political activity is clearly intended and used for official White House or government business. OSC guidance says an employee may not "use a Facebook or Twitter account in his official capacity to engage in political activity" and requires that "any social media account created in a federal employee's official capacity should be limited to official business and remain politically neutral."
Mulvaney, for example, in an op-ed published last April by CNBC wrote, "While many are predicting GDP growth for the first three months of this year may not be as high, we should weigh that possibility against this certainty: the Left, and many in the media, will pounce on any report to throw doubt on not only the health of the American economy, but on the efficacy of President Donald Trump's MAGAnomics (Make America Great Again) agenda of tax reform, deregulation, trade renegotiation and domestic energy independence."
Sanders, according to CREW's letter, on March 6, 2018, shared a Wall Street Journal article regarding U.S. oil production along with her commentary: "Great again: 'The U.S. is likely to overtake Russia to become the world's largest oil producer.'"
And Shah, on June 4, 2018, tweeted "Fantastic @RNCResearch release #Winning: 500 Days Of American Greatness."
The White House press office did not respond to Government Executive inquires. An Office of Special Counsel spokesman confirmed receipt of the 10 letters.