ICE Employee Who Repeatedly Told Coworkers to Vote Hillary Is Barred From Federal Service
Watchdog is cracking down on feds in immigration who inappropriately voiced support for Clinton in the 2016 election.
An Immigration and Customs Enforcement employee is facing a five-year ban on federal employment after it was found that she repeatedly told her coworkers to vote for Democratic presidential nominee Hillary Clinton in the run up to the 2016 election.
The discipline was doled out in a settlement agreement between the employee, who went unnamed in the announcement, and the Office of Special Counsel. OSC is responsible for enforcement of the Hatch Act, which prohibits federal employees from engaging in certain political activities while on the job.
The employee posted more than 100 social media messages in support of Clinton between March and November 2016 while on the job or in her workplace, OSC said, a Hatch Act violation. She directly discussed Clinton with her coworkers, encouraging them to vote for the Democratic candidate and inviting them to campaign rallies.
The California-based, General Schedule-8 employee who worked as an enforcement removal assistant continued the activity after receiving guidance and annual training on Hatch Act policies. She had "significant" knowledge of the law, OSC said, and continued her prohibited activity even after OSC first interviewed her. She has worked in the federal government since 2000.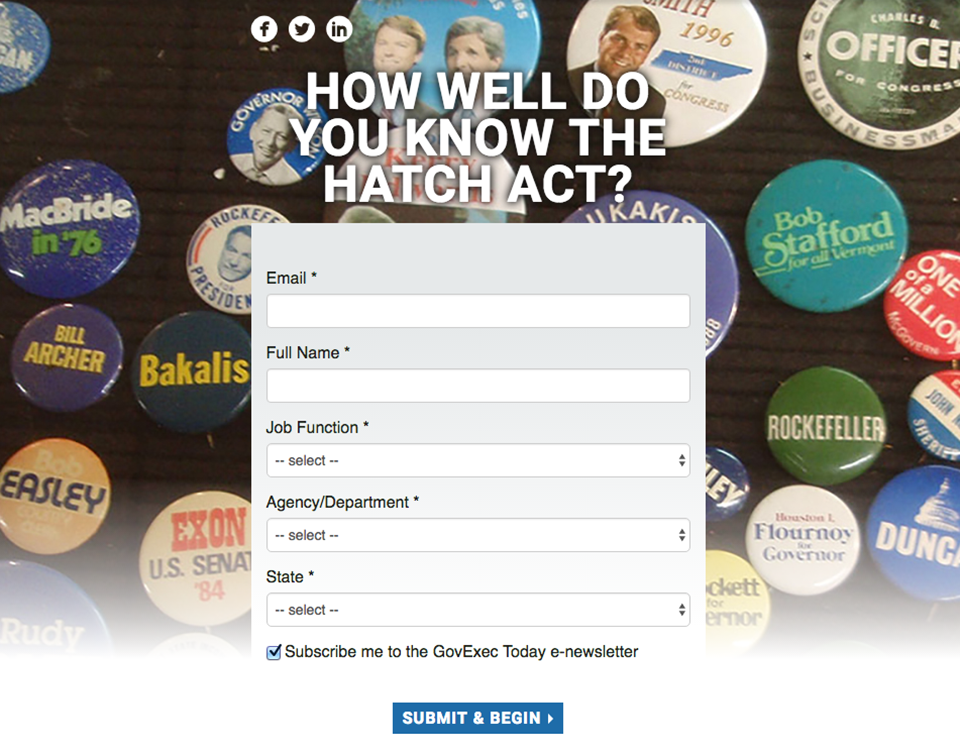 How well do you know the Hatch Act?
"When a federal employee emphatically and repeatedly engages in political activity while on duty or in the workplace, OSC takes that very seriously," Special Counsel Henry J. Kerner said. "This employee thumbed her nose at the law and engaged in vocal partisan politics both with her colleagues and on social media."
Kerner advised employees to be mindful of the ICE employee's mistakes with the upcoming midterm election approaching. The employee agreed to resign as part of her settlement.
The incident is the second time in recent weeks that OSC cracked down on an employee working in the immigration policy realm for having inappropriately voiced support for Clinton. The agency in June recommended for discipline an immigration judge, who in 2016 allegedly expressed support for Clinton during an open deportation hearing.
Carmene "Zsa Zsa" DePaolo said the threat of a 10-year ban on reentry for an undocumented person was "a pretty harsh thing" that Clinton was planning to change. The policy would be altered provided that "the Senate becomes a Democratic body and there's some hope that they can actually pass immigration legislation," DePaulo added. She then said the Republicans, by contrast, "aren't going to do anything" about immigration "if they can help it," other than to "try to deport everybody," according to OSC's account.