Report: How HHS Buried Information About the Affordable Care Act
A transparency group analyzed the removal and demotion of information related to Obamacare on a federal website.
Since the dawn of the Trump era, the Health and Human Services Department's leaders have made no secret of their disdain for the Obama-era Affordable Care Act.
That shift in policy was bound to show up in the department's website, but the exact nature of those changes was not readily apparent.
On Thursday, the government transparency activists at the Sunlight Foundation released the group's detailed analysis of the HHS website changes, noting that the Centers for Medicare and Medicaid Services "has not proactively communicated about or explained the changes described within this report."
The report details the removal of "The Affordable Care Act & Medicare" page from the Medicare website, and the inaccessibility of a page about "Medicare & the Marketplace," Sunlight wrote. The former contained information and several links to other informational pages throughout the Medicare domain described how Medicare coverage relates to the Health Insurance Marketplace created by the Affordable Care Act, researchers noted.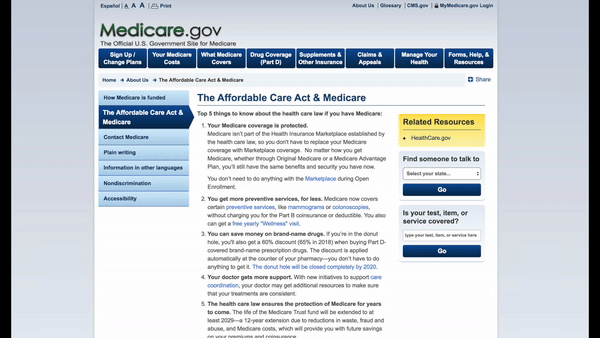 The deleted material included links to healthcare.gov and to "material related to Medicare coverage being protected under the health care law, preventive services covered under Medicare, discounts on brand-name prescription drugs, and initiatives that support care coordination between providers," Sunlight noted.
The URL for the page currently leads to an "Error: Page Not Found" notice. The previous "Medicare & the Marketplace" page is no longer linked from the "About Us" portion of the Medicare website, with descriptive text about how the Affordable Care Act affects people covered by Medicare now gone.
The material was removed last December, including elements website designers call "breadcrumb trails" that ease the user's way toward finding what is sought.
"We're trying to understand why the Medicare program would remove information about a current law from its website that is relevant to users," said the foundation's Web Integrity Project Director Toly Rinberg, acknowledging that HHS legally has the right to make such changes.
Some of the deleted pages were traced using the Internet Archive's Wayback Machine, Sunlight noted, and a public Web archive for the medicare.gov domain, collected by CMS and linked to in current footnotes, can be found at https://wayback.archive-it.org/2650/*/https://www.medicare.gov.
The study found that HHS had altered or removed text and non-text content, links and entire webpages. The department did not overhaul or remove an entire website; alter or remove search engines and open data platforms; or alter, remove or delete datasets.
Unchanged, the report noted, are content related to contact information, other languages and plain language writing.
HHS did not respond to inquiries from Government Executive about the changes.