New Special Counsel Takes on Kellyanne Conway Hatch Act Probe
Henry Kerner's former legal nonprofit argued White House officials were exempt from the law restricting political activity.
After just over a month in the job, the new head of the independent agency that investigates possible Hatch Act violations is presiding over a complaint involving White House counselor Kellyanne Conway. Office of Special Counsel chief Henry Kerner's previous organization, however, has taken the position that ethics rules do not apply to White House aides.
The Nov. 21 complaint to OSC from Walter Shaub, the former director of the Office of Government Ethics now with the Campaign Legal Center, said a Nov. 20 appearance on "Fox and Friends" by Conway was an "obvious violation" of the law limiting political activity of federal employees. Conway used her official title and criticized Alabama Democratic senate candidate Doug Jones on the eve of a Senate vote on major tax reform.  "Folks, don't be fooled," Conway said on the White House lawn. "He'll be a vote against tax cuts. He's weak on crime, weak on borders. He's strong on raising your taxes. He's terrible for property owners."
In a Nov. 27 Washington Post op-ed , Shaub wrote: "The White House has offered typical misdirection in response, asserting that Conway was innocently championing the president's agenda. The question is not whether Conway was championing the agenda of the president—who, it's worth noting, actively supports [Republican Senate candidate Roy] Moore—but whether she was advocating against Jones. Only in a world of alternative facts could Conway's televised words amount to anything other than advocacy against Jones."
On Nov. 22, Ana Galindo-Marrone, chief of OSC's Hatch Act unit, acknowledged to Shaub that the agency was opening a case file.
Conway was previously reprimanded and given counseling for encouraging TV viewers from the White House press room to buy clothing marketed by Ivanka Trump . Shaub noted that the conservative-leaning Cause of Action Institute, where Kerner worked as assistant vice president for investigations, once took the position that ethics rules don't apply to White House aides.
In a letter to the Shaub when he was still at the ethics agency following Conway's first controversy, Cause of Action's counsel had written, "As a government watchdog, we here at the CoA Institute share the concerns about Ms. Conway's conduct." The group called her comments on the clothing line "wholly inappropriate." However, "upon further review of the relevant regulations and statutes, we believe that OGE regulations may not extend to cover Ms. Conway's conduct given her employment in the White House," Cause of Action said.
"The special counsel is facing the biggest test of his career," Shaub wrote of the new complaint.
Shaub challenged Kerner to be prepared to write a letter to President Trump asking him "to take action against Conway. Kerner will have broad discretion in recommending a penalty," he wrote, because consequences for violating the Hatch Act range from a letter of reprimand to a civil penalty of up to $1,000 to suspension, termination or even debarment from federal employment for up to five years.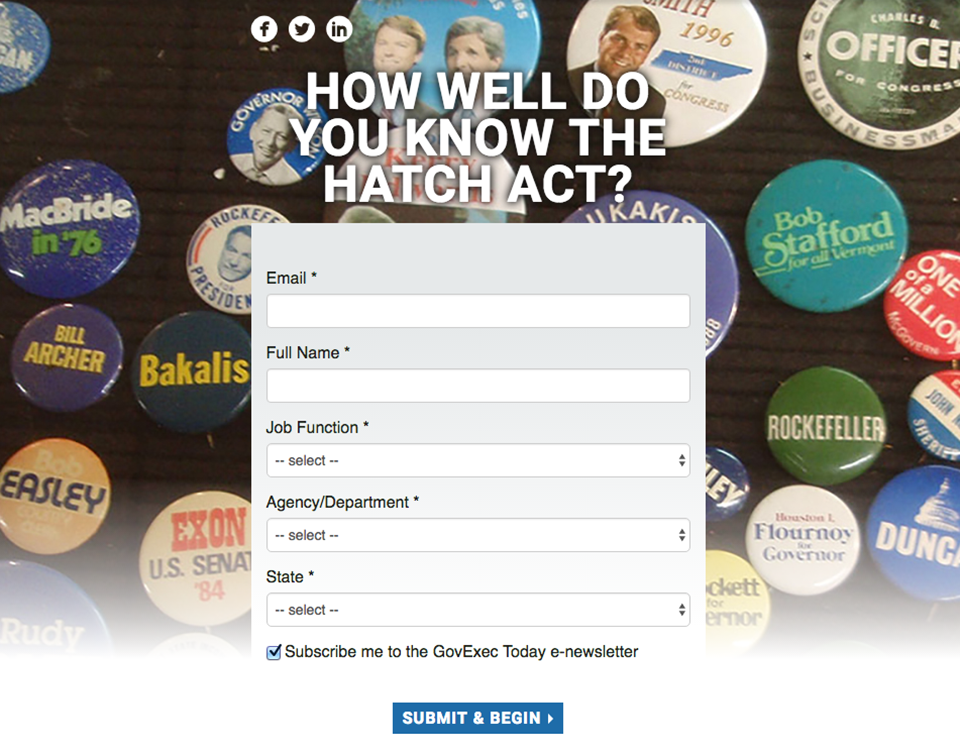 How well do you know the Hatch Act?
OSC earlier this year found that a White House aide had violated the act by using social media for political messages, but also found that accusations against Housing and Urban Development Secretary Ben Carson were unfounded.
Just before Thanksgiving, OSC announced it had filed a complaint seeking disciplinary action against a Veterans Affairs Department doctor for 15 counts of Hatch Act violations.
"While an employee of the VA's Tennessee Valley Healthcare System, the doctor ran as an independent candidate in the 2014 partisan election for the office of U.S. senator from Tennessee," it said. "The doctor promoted his candidacy by distributing business cards featuring the VA's official seal and touting his campaign video, which was available on his campaign website and on YouTube.  The video included a testimonial from a patient he had treated at the VA."
The doctor-candidate also encouraged VA colleagues and at least one patient, during a consultation, to watch his campaign video, OSC said. He invited at least one patient to a campaign event during a consultation and solicited campaign contributions in person and online.
"Federal employees should remember their restrictions under the Hatch Act," Kerner said in a statement. "Those who have questions should contact the Office of Special Counsel or their relevant agency officials for advice."
This story has been updated to clarify the position of Cause of Action on ethics applicability.