Interior Watchdog Is Probing Secretary Zinke on Alleged Lobbying Violations
Phone calls to Alaska senators during Senate health care debate attacked by Democratic lawmakers.
The Interior Department's inspector general confirmed on Thursday that it has launched a probe into whether Interior Secretary Ryan Zinke ran afoul of anti-lobbying laws when he phoned Alaska senators, one of whom voted against bills to repeal and replace Obamacare.
In an Aug. 3 letter to Reps. Frank Pallone, D-N.J., and Raúl Grijalva, D-Ariz., Deputy Inspector General Mary Kendall acknowledged receipt of their July 27 inquiry into the matter and said, "the OIG is undertaking a preliminary investigation."
The two Democrats on the Energy and Commerce and the Natural Resources committees were alarmed by reports that Zinke had phoned Sen. Lisa Murkowski and allegedly hinted at reprisals from his department on energy issues because her "no vote" had put "Alaska's future with this administration in jeopardy."
"Yesterday's phone calls by Secretary Zinke occurred shortly after President Trump's tweet expressing displeasure with Senator Murkowski, and just one day after DOE Secretary Perry generated concerns of impropriety with an editorial weighing in on the health care debate," Pallone and Grijalva wrote. "The close timing of these actions suggests an apparent pattern and organized effort within the Trump administration involving the use of federal resources to advance partisan legislation.  We request your office investigate whether such a pattern or organized effort exists."
They also wrote to the Government Accountability Office requesting a broader study of the Trump administration's general use of agency resources relating to active legislation as well as "a determination regarding possible legal violations."
GAO said it will take a few weeks to decide whether to pursue the issue.
The laws the House members say might have been violated include the Anti-Lobbying Act, the Anti-Deficiency Act, the Congressional Budget Control and Impoundment Act and the agency publicity and propaganda restricting provisions of the 2017 Consolidated Appropriations Act. In their letter to the IG, they also mentioned the 1946 Hobbs Act, which addresses robbery and extortion.
Murkowski responded to Zinke's phone call by confirming her independence, and postponed a hearing on Interior and Energy Department nominees. Alaska Republican Sen. Dan Sullivan--who voted in favor of the Trump-supported health care repeal bills—called the phone calls troubling.
Zinke has denied pressuring the senators and, as reported by TalkingPointsMemo, on Thursday tweeted a photo of himself and Murkowski sharing a beer.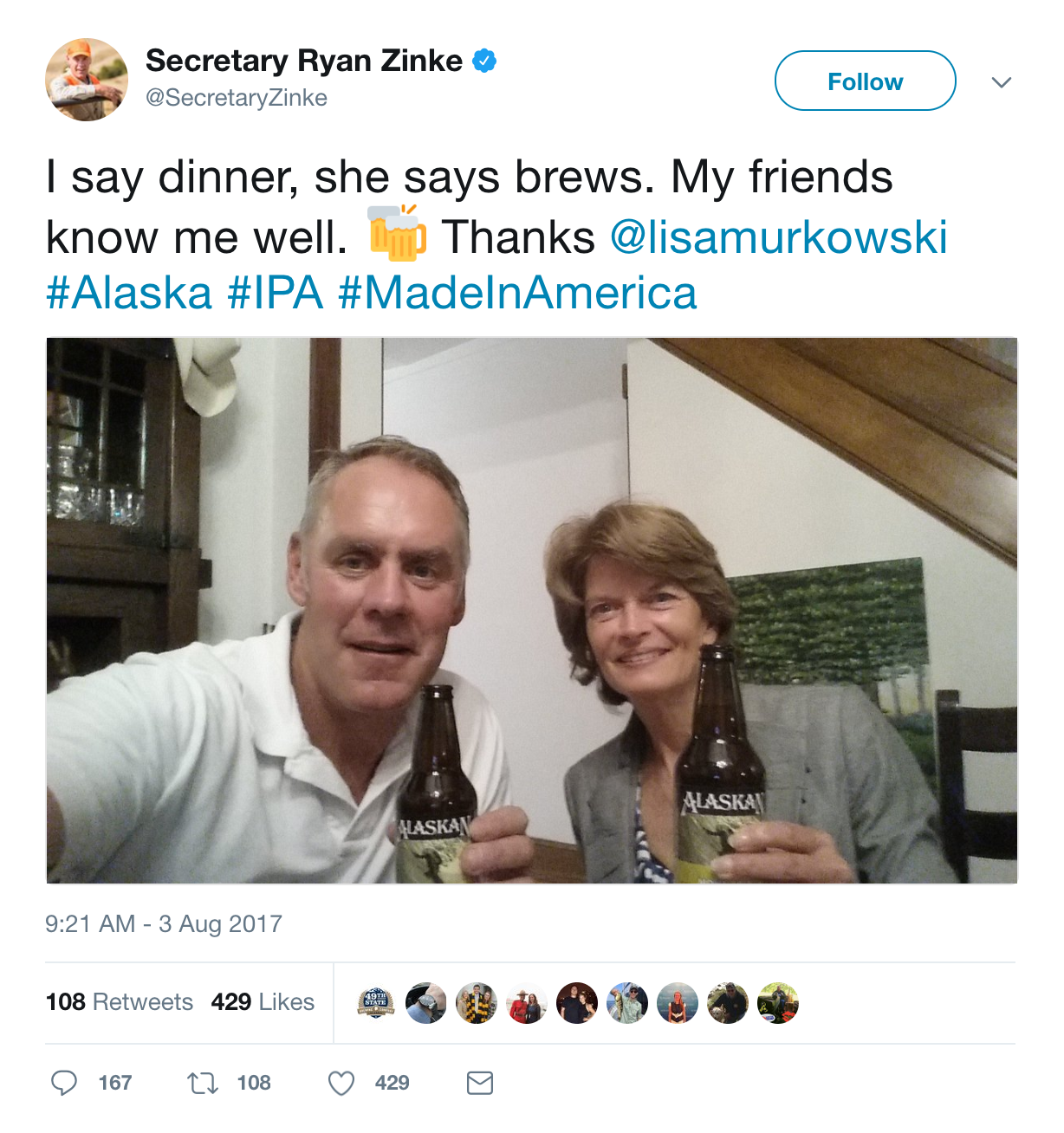 A spokeswoman for the IG's office told Government Executive that the investigation is highly preliminary.