House Panel Demands That Agencies Describe Hatch Act Compliance
Chaffetz and Cummings seek definitions of political events and travel decisions.
Following a slew of Hatch Act violations announced by the Office of Special Counsel, the chairman and ranking member of a key House panel have written to 18 major departments demanding details on their criteria for determining which events are too political for officials to attend.
Hatch Act regulations define "political activity" as "an activity directed towards the success or failure of a political party, candidate for partisan political office or partisan political group," wrote Reps. Jason Chaffetz, R-Utah, and Elijah Cummings, D-Md., of the House Oversight and Government Reform Committee. "It is not always clear, however, whether an event is political or official in nature.  We are writing to determine how your agency or your office makes decisions about how to structure official trips to comply with the Hatch Act and other applicable laws."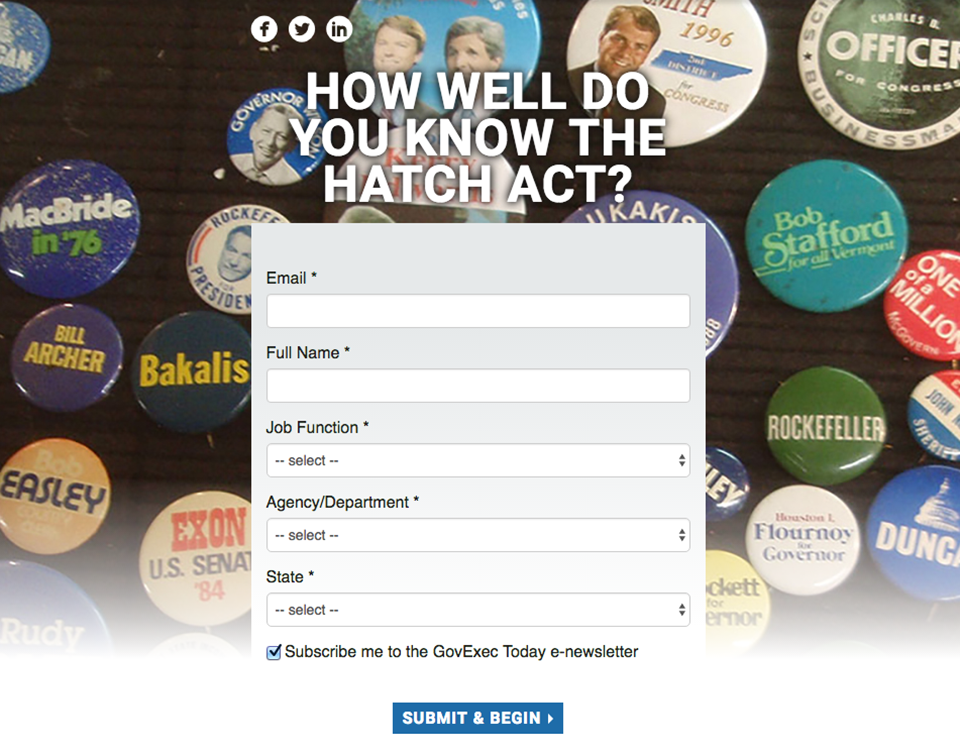 How well do you know the Hatch Act?
Cabinet members and other political appointees have long been permitted to combine official travel with political campaigning as long as they keep separate expense records and don't combine partisan speeches with official appearances. The lawmakers noted that President Obama recently traveled to North Carolina to appear with presumptive Democratic presidential nominee Hillary Clinton.
By Aug. 4, the 18 agencies are to provide answers to such questions as:
How does the agency ensure compliance with the Hatch Act's restrictions on political travel?
What is the formula for apportioning costs incurred during travel that has both official and political components?
How are travel requests handled from other government officials or offices, whether it be the White House, a member of Congress, or a separate agency, on a procedural basis?
What political events have presidentially-appointed Senate confirmed officials in the agency traveled to in 2016, to date? And;
What political events are PAS officials in the agency scheduled to attend in 2016, and are any of those events expected to have mixed travel?
Chaffetz and Cummings sent the letter to all departments, plus the Environmental Protection Agency, the General Services Administration and the Small Business Administration.