The Trump Administration's Gender Gap Is Both Broad and Deep
The president has named twice as many men as women to appointed positions, an Atlantic analysis shows.
Earlier this month, a woman broke a glass ceiling: President Donald Trump announced that he would name Gina Haspel, a career intelligence officer, the first female director of the Central Intelligence Agency.
Yet Haspel is something of a rarity, an Atlantic analysis of 2,475 Trump appointees shows. The White House has named twice as many men as women to administration positions. This gender skew is both broad and deep: In no department do female appointees outnumber male appointees, and in some cases men outnumber women four or five to one. Moreover, men significantly outnumber women in low-level positions as well as in high-level ones, with Trump's Cabinet currently composed of 19 men and five women. Overall, 33 percent of Trump's appointees are women, compared to 47 percent of the national workforce and 43 percent of the 2 million workers across the executive branch.
The Republican Party and Trump officials have touted the number of women named to top government posts. The president "has appointed more women to senior-level positions than previous administrations," the GOP has argued. "He's empowering ALL Americans with his winning agenda." But the analysis—the biggest and broadest look at Trump appointments conducted thus far—shows that by some measures the White House has assembled the most preponderantly male team since the Reagan administration. Until Haspel, Trump also had not named as many women to top positions as his most recent predecessors, as the GOP has claimed.
"With appointed positions, there's no excuse for an imbalance, because nothing is left to the voters, nothing is left to the media, nothing is left to potential candidates that have to decide whether to throw their hats into the ring and put themselves forward," said Jennifer Lawless, the director of the Women & Politics Institute at American University. "Any administration that actually values gender parity can very easily assemble appointees that are roughly 50-50."
The Trump administration has not, as the analysis, based on a pool of data on Trump appointees compiled and published by ProPublica, reveals. There are 75 different departments, boards, commissions, and agencies to which it has named staffers, from the massive Defense Department to the tiny Delta Regional Authority, and men made up half or more of appointments in 64 of them. In 22, all appointees were male, including at the National Labor Relations Board and the U.S. Agency for International Development. Men made up a majority of appointees in all Cabinet departments, with the skew particularly heavy in Agriculture, Commerce, Defense, Labor, Treasury, and Veterans Affairs, where male appointees outnumbered women by as many as four to one. The dataset of names Trump has put forward since taking office includes nominees awaiting Senate confirmation, interim appointees, those who have departed, and those who have transferred departments.
Republican strategists and officials pointed to the women Trump has named to top positions in government, among them Nikki Haley, the ambassador to the United Nations; Linda McMahon, the head of the Small Business Administration; Elaine Chao, the secretary of transportation; and Kirstjen Nielsen, the secretary of the Department of Homeland Security. "We are seeing more women in prominent positions that we never thought we'd see before and that's thanks to President Trump," said Missy Shorey, the executive director of Maggie's List, which, like its liberal counterpart Emily's List, helps women run for office.
Aside from Haspel, though, Trump has not put women forward for any top positions that were not previously held by a woman, meaning that large spans of the glass ceiling remain unbroken. "You've never had a female secretary of defense, and you've never had a female secretary of the treasury," said Michele L. Swers, who studies women and government at Georgetown University. "These are two positions that are seen as the most prestigious in the Cabinet, and the most central to the functioning of American national-security and economic policy. And President Trump did not renew Janet Yellen in her term as [the chair of the Federal Reserve]." Obama also had more top-level female appointees from the outset, contrary to Republican claims, naming seven such officials in 2009.
The Atlantic analysis showed that the Trump administration's gender skew occurred at all levels of government—meaning that Trump has more male administration officials to promote to senior ranks, and giving the next Republican administration a gender-skewed pool of potential applicants. "People further up the food chain are picking these people who are lower-level appointees who are also white and male," Debbie Walsh, the director of the nonpartisan Center for American Women and Politics at Rutgers. "This is part of the reason why you need to have people in the room that make decisions that are diverse. Diversity begets diversity."
The Trump administration's gender skew is roughly equivalent to that of the George W. Bush administration, and significantly higher than that of the Barack Obama administration. Roughly one in three Trump appointees is female, as in the George W. Bush administration, whereas Obama and Bill Clinton granted roughly two in five positions to women. Compared with a similar, large pool of data on Obama nominees as of 2012, the share of female appointees has fallen 27 percentage points at the Labor Department; 19 points at the Treasury; 18 points at the Department of Housing and Urban Development; and 16 points at Veterans Affairs. At no Cabinet department has the Trump White House named a higher share of women than the Obama administration did, thus far.
---
The Share of Women Among Political Appointees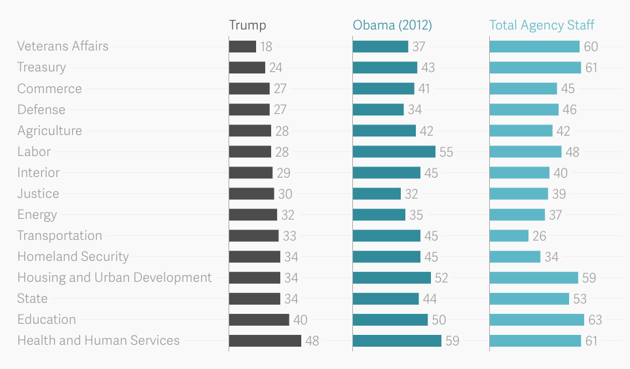 The percentage of women appointees, by Cabinet department, put forward by Trump since taking office, compared to a similar analysis of Obama appointees as of 2012. Both differ from the broader non-appointed workforce that currently staffs the agencies. (Data: The Atlantic / ProPublica / The New York Times / 2012 Plum Book / Office of Personnel Management)
Experts on women in government and Republican political analysts said that a number of interrelated factors contributed to the administration's gender skew. First was the simple fact that there are more Republican men than Republican women and, across Washington, more men working in conservative politics than women working in conservative politics. Think tanks, lobbying firms, research and advocacy groups, Hill offices, Wall Street: They all have a longtime gender imbalance, and all feed candidates into the administration. "It's important to have more women in these offices and to grow this pipeline," said Tiffany Waddell, a founder of RightNOW Women PAC, speaking about women on the Hill. "One of the easiest things to do is to have women who are holding public office encourage other women to be part of the team."
It is also possible that Trump—with his history of sexist remarks, alleged commitment of sexual assault, and heavily male inner circle—had turned off many conservative women who might have joined another Republican administration, with his support among conservative women consistently lower than his support among conservative men. "How many times does he get away with saying something misogynistic before we call him a misogynist?" said Ana Navarro, a Republican strategist and prominent Never Trumper, on CNN. "How many times does he get away with saying something sexist before we acknowledge it is he who is a sexist?"
The Trump administration's failure to make gender parity a priority—though it has touted its achievements in naming women to high-level positions, has never cited it as a personnel goal—played a role too. "My broad impression is that Donald Trump and his top advisers don't place any semblance of gender parity or equality at the top of their list of goals," said Lawless. "It's just that it doesn't occur to them—they are not at all interested in ensuring that they continue to make the progress that the Obama administration had made. And so when they come across a name of somebody that they think would be qualified, or that they think is a legitimate occupant for that position, they appoint that person regardless of sex." (The Trump administration did not respond to questions about the Atlantic analysis, or how it chose candidates for appointments. When previously asked about diversity in appointments, it has pointed to the womenwho hold Cabinet positions.)
Then there is the way that Trump himself chooses his aides and advisors, with an emphasis on individuals who "look the part" and on personal connections. "It's not necessarily surprising that you have the chief economic adviser, or at least the soon-to-be departing chief economic adviser, as somebody who is male, and you have a secretary of treasury who is male, and so forth," said Lilly J. Goren, a political scientist at Carroll University. "Those are the expectations. And when the president of the United States talks about his potential secretary of state having to look a certain way, then he too is casting an image of what that person is supposed to look like."
More broadly—and perhaps more importantly—conservatives as a group care less about gender balance, pushing against identity as a meaningful heuristic on its own. "We know that identity politics is hollow, and the left has it as their only rallying cry," said Shorey. "To sit there and look at this analysis and think it's complete and an accurate representation is shortsighted. You're talking about things where it's never been 50-50! To land that at the foot of this Republican administration—this is why so many conservatives write off the news as 'fake news.' Stop it and relax, and be excited for these amazing women." She added that she felt that the media condescended to Republican women, by arguing that they voted against their own self-interest and by implying that the party had a problem with women in general.
The important thing is whether the administration has been effective, argued Jody Rushton, the president of the National Federation of Republican Women. "As a women's organization, we champion women," she said. "But our first and foremost requirements of a candidate are to meet the requirements. Someone who's ethical. Someone who's conservative. Someone who's strong. What should come first is that you should elect or appoint quality candidates. It shouldn't matter what color you are. It shouldn't matter if you're male or female. You've got to fit our requirements." She added that Rex Tillerson, Trump's unceremoniously fired secretary of state, had not been a good administration official because of his lack of loyalty, whereas Haspel was "tough. She's smart. She is loyal to conservative politics and to Trump. There's nothing better."
On the left, on the other hand, arguments about representation and fairness have had far more resonance. In 1992, President-elect Bill Clinton famously called women's groups "bean counters" for pressuring him toward gender parity in his appointments. But now, Democrats are more than twice as likely as Republicans to say the country has more work to do to achieve gender equality, according to a Pew Research Center poll, and Democratic administrations have had far more female appointees than Republican administrations: The Obama administration openly talked about gender parity as a goal and Hillary Clinton promised as a candidate to appoint a Cabinet that looked like the American people. "The Republican party, in the current climate, is not as focused on diversity as the Democrats, so there's going to be a lot more pressure on Democratic groups to get their president to appoint women," said Lawless. "[Trump has] generally not emphasized the importance of appointing more women, and that's certainly not that important to the coalition that elected him."
Indeed, Republican women in some cases "will say there isn't any hard evidence of this argument that to overcome discrimination, to overcome bias, we need to take an extra step," said Leonie Huddy, a political scientist at the State University of New York at Stony Brook. "Take the argument that, 'Well, there aren't the kind of women who are well-qualified for this job and we're taking the best people," she said. "Those arguments are going to have great resonance for women who are Republicans."
Political experts also said that the Republican Party's position on women and representation in some ways might make it harder to recruit and promote women, and to push the party closer to gender parity in the future. "The whole philosophy of the Republican party is to steer clear of identity politics, so it's hard to make the case within the ethos of the party that it matters to have women there, substantively," said Walsh. "They'd like to have a big tent. They want it to be diverse. But they don't talk about the value diversity brings, and argue that identity politics is responsible for this partisan divide we have."
As of now, there is little evidence that the balance of female appointees will change in the coming weeks or months. Along with Haspel, who faces opposition from Democrats and some Republicans on the Hill, Trump has recently picked Larry Kudlow, a CNBC commentator, to head the National Economic Council, Mike Pompeo to run the State Department, and John Bolton as his national-security adviser.