Federal Employees Happier, More Engaged for Third Year in a Row
Worker response to OPM's annual survey reaches lowest level in more than a decade.
The happiness and engagement of federal employees inched higher for the third straight year in 2017, according to a new governmentwide survey measuring attitudes on jobs, management and compensation.
The Office of Personnel Management announced Thursday that this year's iteration of the Federal Employee Viewpoint Survey saw a 3-point increase in its "global satisfaction index," rising from a score of 61 last year to 64 in 2017. The score measures employees' happiness with compensation, their work and the overall organization.
Employee engagement also continued its gains from last year, as 67 percent of feds said they felt engaged by their work this year, which is 2 points higher than 2016 and the highest level since 2011. Prior to 2015, the survey showed four consecutive years of declines in both happiness and engagement.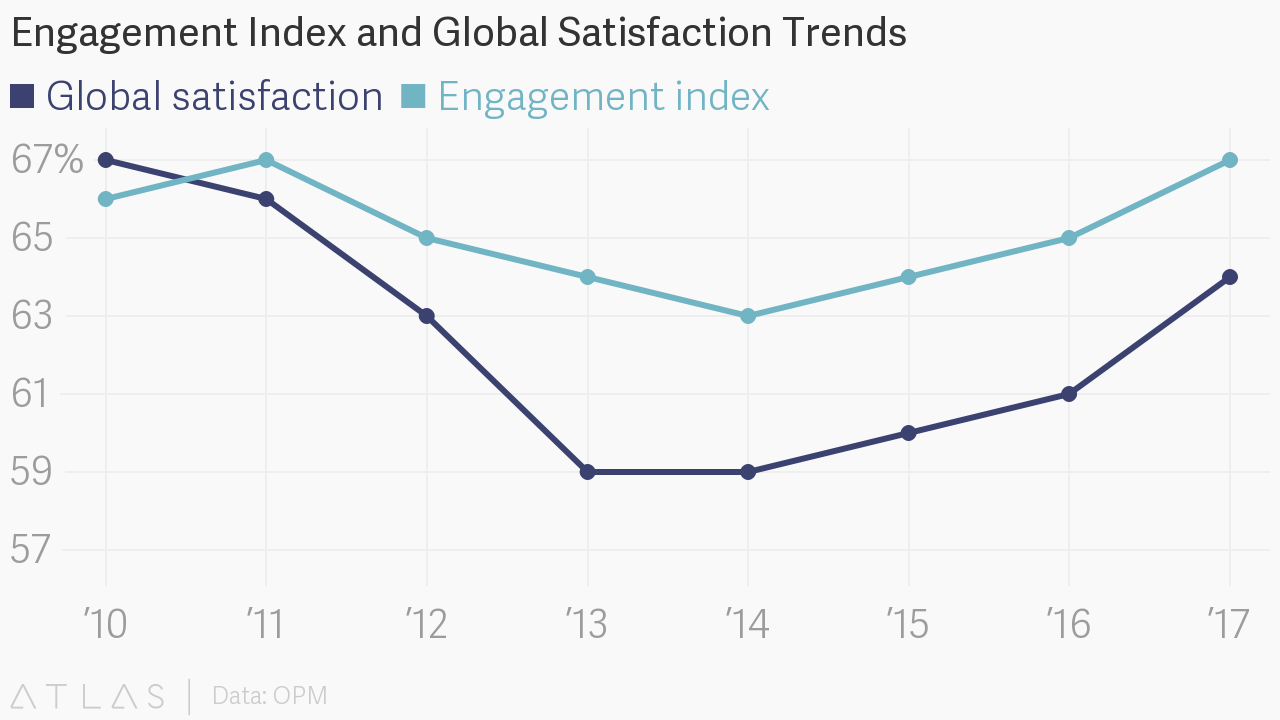 While the FEVS engagement results have improved, it appears feds' engagement with the survey itself has waned. Only 486,105 employees from 80 agencies responded to the survey, which amounts to 45.5 percent of feds. That marks the lowest response rate since at least 2004, when it was called the Federal Human Capital Survey and was administered biennially.
The Homeland Security Department, frequently dogged for its low worker morale and satisfaction, saw the biggest gains of any department with at least 75,000 employees, jumping 4 percentage points in engagement from 56 percent in 2016 to 60 percent this year. The U.S. Army also saw a 4 percentage point hike in that category.
Among agencies that employ 10,000 to 74,999 people, NASA continued its reign as the most engaged workforce, with 82 percent. The General Services Administration led improvement in the category and saw a 4 percentage point uptick in its engagement score.
The majority of survey questions received more positive responses compared to last year, and only one question saw a decrease in its score: "My work unit is able to recruit people with the right skills."
In a statement, OPM acting Director Kathy McGettigan applauded agencies for their work to improve morale and engagement.
"FEVS results point the way to stronger workplaces," she said. "The ongoing actions of federal leadership and employees are key to building on the positive gains we have made over the last few years, while addressing areas in need of improvement."
In the report, McGettigan also highlighted some common issues requiring additional attention.
"While 2017 FEVS results are pretty positive, survey responses also show several key aspects of federal workplaces could be improved," she wrote. "Based on employee perspectives, agencies would be more effective to the extent that leaders are able to address insufficient resources, recruit for the right skills, recognize employee performance, and generate commitment and motivation in the workforce."