When Hillary Clinton spent one of her final days on the campaign trail stopping by a phone bank to encourage and thank her supporters for their volunteer work, it was no surprise she found some federal employees there on her behalf.
Federal unions have mobilized their members across the country to motivate both their colleagues and other Americans to vote for their preferred candidates, including Clinton at the top of the ticket.
Over the weekend, Clinton stopped for a photo with American Postal Workers Union members in Cleveland, Ohio, who were making calls to remind voters to go to the polls. APWU, the American Federation of Government Employees, the National Treasury Employees Union and other groups have tapped into their network of current and former feds in key states to make calls, knock on doors, educate voters and participate in general get out the vote efforts.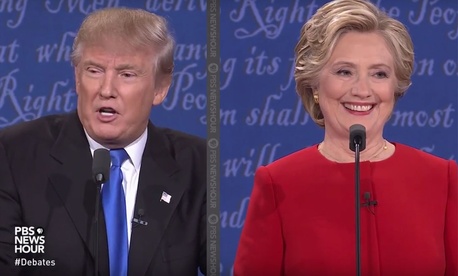 How well do you know candidates' stances on federal issues?
NTEU has sent its national staff to Ohio, Pennsylvania, North Carolina, Florida, Nevada and Wisconsin, in addition to the efforts from local chapters. Those teams on the ground have hosted voter registration drives and education efforts, organized trips to campaign rallies, volunteered at campaign events and sent endorsement lists to union members. They have developed an automated system to help members make peer-to-peer calls to their colleagues to encourage them to vote and volunteer. They have set up phone banks around the country and worked with other labor and worker-friendly groups to organize their efforts.
In addition to Clinton, NTEU has campaigned for Democratic Senate candidates such as Russ Feingold in Wisconsin, Tammy Duckworth in Illinois and Katie McGinty in Pennsylvania. It has been active in Maryland and Minnesota in competitive House races, among other states.
"I was very favorably impressed with what I saw," said Tony Reardon, NTEU president, who campaigned in Milwaukee, Wis., Raleigh, N.C., Philadelphia and Cleveland last week. He said his members were knocking on 85 to 125 doors per day, but emphasized all their campaign activity took place while the employees were off the clock.
AFGE said it sent "hundreds" of members this past weekend in support of Clinton. At a get out the vote event in North Carolina this weekend, AFGE President J. David Cox encouraged union members to " open a can of whoop ass " on political candidates trying to "take down" labor groups. Union members were front and center when Clinton and Sen. Bernie Sanders, D-Vt., came to the state for a recent rally.
The group has organized for Senate candidates around the country, including Jason Kander in Missouri and Deborah Ross in North Carolina. AFGE launched an "election center" website with endorsed candidates and ways to volunteer. Some members have even taken leave from their federal jobs to campaign full time for Clinton.
APWU, which has local chapters in virtually every state and territory, is working "all across the country" where "they are involved in get out the vote activates," said Jamie Horowitz, a union spokesman. He said they have focused both on Clinton's race and Senate campaigns with candidates likely to vote on postal reform they favor, such as Feingold. APWU and AFGE are working on a coordinated campaign with their parent union, the American Federation of Labor and Congress of Industrial Organizations (AFL-CIO).
Shawn Moran, a spokesman for the National Border Patrol Council, one of two federal employee unions that have endorsed Republican presidential nominee Donald Trump, is not engaging in campaign activities.
"We believe our members have a vested interest in the outcome of this campaign and will take it upon themselves to exercise their right to vote," Moran said. Both NBPC and the National Immigration and Customs Enforcement Council, which has also backed Trump, are subsidiaries of AFGE.
The Office of Personnel Management recently issued guidance reminding agencies that voting is an excused absence for federal employees in certain circumstances.