Amid the Firestorm Over Comey Come Charges of Hatch Act Violations
FBI chief's handling of Clinton email probe draws blasts from Democrats, prosecutors.
Fallout from FBI Director James Comey's dramatic move on Friday to alert Congress to possible new evidence in the Hillary Clinton email probe continued on Monday as the top law enforcement officer came under fire from Democratic lawmakers and numerous professional prosecutors.
At issue is whether Comey's missives to lawmakers and his own staff—which offered a short-on-details "update" based on discovery of an unexamined batch of possibly related emails—violated the federal Hatch Act as well as Justice Department guidelines on avoiding disclosures of confidential investigations close to an election.
Government Executive interviews with legal specialists suggest that Comey may be in hot water legally as well as politically. Among the fast-moving developments in play on Monday:
A letter from Senate Minority Leader Harry Reid, D-Nev., saying Comey appears to have broken the law as well as Justice Department guidance on complying with the Hatch Act;
An op-ed from a George W. Bush administration prosecutor announcing that he'd filed complaints alleging Hatch Act violations;
A new search warrant granted to FBI investigators to examine Hillary Clinton-related emails found on computers owned by former Rep. Anthony Weiner, D-N.Y., and his estranged wife and long-time Clinton aide Huma Abedin, reflecting an attempt by the FBI to accelerate its inquiry;
A letter from four Democratic senators suggesting that many of the newly found emails may be duplicative and demanding that Comey provide additional details on the newly discovered information by Oct. 31;
An op-ed from former Obama administration Attorney General Eric Holder saying Comey, "a good man," made "a serious mistake" and violated "fundamental principles" to the detriment of public trust; and
A letter signed by nearly 100 former Justice Department prosecutors and others making the same charge.
Sen. Reid's argument that Comey violated the Hatch Act also introduced a theme of a "double standard" in updating Congress on what usually are secret FBI probes. "In my communications with you and other top officials in the national security community," Reid wrote, "it has become clear that you possess explosive information about close ties and coordination between Donald Trump, his top advisers, and the Russian government—a foreign interest openly hostile to the United States, which Trump praises at every opportunity. The public has a right to know this information."
Those charges, which involve fired Trump campaign manager Paul Manafort, were echoed by House Oversight and Government Reform Committee ranking member Elijah Cummings, D-Md.
Comey's surprise Friday letter to the chairmen and ranking members of key congressional committees came just 11 days before Election Day and created an impression that the FBI had "reopened" the probe of Clinton it had suspended in July with a conclusion of no criminal indictment.
His Oct. 28 letter said that "due to recent developments, I'm writing to supplement my previous testimony" on whether the FBI's probe of Clinton's emails was over, saying the FBI had "learned of the existence of emails that appear to be pertinent to the investigation." He acknowledged that he didn't know their contents or whether they contained classified information, nor could he promise a quick answer to such questions.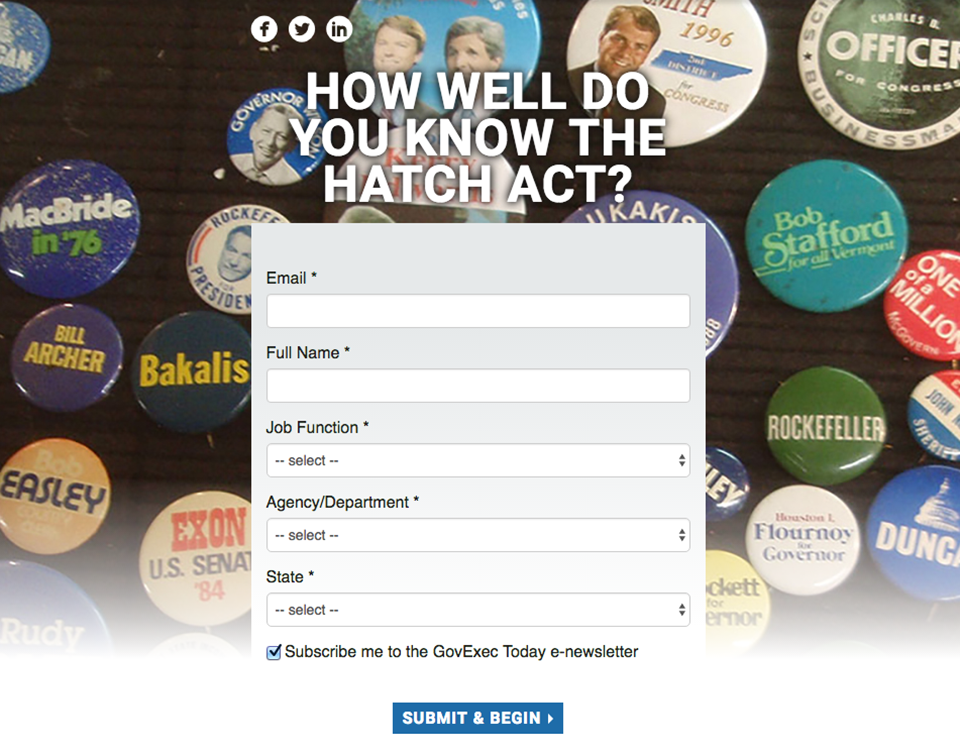 How well do you know the Hatch Act?
Simultaneously, Comey wrote an internal email to FBI staff announcing the move, saying, "Of course, we don't ordinarily tell Congress about ongoing investigations, but here I feel an obligation to do so given that I testified repeatedly in recent months that our investigation was completed. I also think it would be misleading to the American people were we not to supplement the record."
What the Hatch Act Says
The agencies that received former prosecutor Richard Painter's complaints are the Office of Special Counsel—which investigates Hatch Act violations and adjudicates noncriminal remedies—and the Office of Government Ethics, which advises all federal agencies on ethics issues. Neither, in accordance with standard practice, would comment on the case to Government Executive.
Regulations for Hatch Act compliance are written by the Office of Personnel Management, which did not respond to queries by publication time.
The key passage of the Hatch Act, as modernized in 2012 , lives in U.S. Code Title 5, Section 7323 , which says, "an employee may take an active part in political management or in political campaigns, except an employee may not . . . use his official authority or influence for the purpose of interfering with or affecting the result of an election."
Similar language appears in the latest update in the Code of Federal Regulations. Penalties, which used to routinely extend to job termination, more often today come in the form of reprimands and unpaid administrative leave.
Comey, is a longtime Republican appointed to a 10-year term by President Obama in 2013. Obama has authority to fire him—though White House spokesman Josh Earnest on Monday said he would neither criticize nor support Comey's move.
The actions of Comey may indeed run counter to the legal language, according to William Cowden, an attorney affiliated with the Federal Practice Group.
"What hurts him is the letter he wrote to FBI internally, in which he says, 'Of course we don't ordinarily tell Congress, but we also felt it was misleading to the American people not to supplement the record,' " he told Gov ernment Executive . "That is influencing the American people. He didn't come out and say it, but in a back-handed way it is practically a confession that he would let this out to make sure the American people are not under the impression that the investigation is closed," Cowden said. "How is that not influencing an election? I have good cause to be concerned."
John Mahoney, a Washington attorney specializing in federal employment law, also called Comey's actions questionable. "At issue is what was Comey's purpose in sending the letter to Congress," he said in an interview. "My understanding is that the FBI had possession of the emails some weeks prior to his letter. And though I don't know the contents of the emails, they don't look that relevant to Clinton from what we're seeing."
In Mahoney's opinion, "it seemed quite unusual for an FBI director to make that implied accusation to congressional committee chairs and ranking members that the FBI had obtained these emails of questionable relevance—why wait a number of weeks to issue it?"
Mahoney expects the complaint now with the Special Counsel—where investigations take many months—and the Ethics Office to also prompt probes by the Justice Department's inspector general and the FBI's Office of Professional Responsibility.
Efforts to obtain comment from Republican lawmakers went unanswered. But in an interview Monday with MSNBC, Rep. Trey Gowdy, R-S.C., mocked Sen. Reid's letter. He criticized Reid for not writing such a letter to Attorney General Loretta Lynch, recalling the controversial surprise meeting between Bill Clinton and the attorney general last summer at an Arizona airport.
"Senator Reid didn't write a letter to either one of them about the Hatch Act," he said. "I mean, President Obama is actively campaigning right now for a candidate for president, and that doesn't violate the Hatch Act," Gowdy said. "So how Jim Comey supplementing his record before Congress violates the Hatch Act is just laughable."
As for the charge of an FBI "double standard" in not updating Congress about any probe of the Trump campaign's possible Russia ties, House Judiciary Committee Chairman Bob Goodlatte, R-Va., said on CNN Monday, "If there are facts available to the FBI that would support an investigation that indicates a violation of the law, then the FBI should follow the truth wherever it leads them."
Attorney Cowden disagreed with the Democrats' demand for openness in that instance, saying, "Two wrongs don't make a right. If an investigation is going on about Trump's former campaign manager, that investigation should not be publicized—that's the whole point of grand jury secrecy rules. Investigations oftentimes don't lead to a criminal indictment," he said. "If there's no meat to it, it doesn't go anywhere. But someone's reputation could be besmirched by the mere fact of being investigated."