Trump Spends More On Jet Fuel Than On Staff
Frugal except about personal comforts, he burns through some $3 million on his Boeing 757 so he can sleep at home in Manhattan or Florida.
Re­pub­lic­ans des­per­ate to keep Don­ald Trump from their nom­in­a­tion can at least be thank­ful for this: When choos­ing between buy­ing fuel for his lux­ury jet­liner or a lar­ger cam­paign staff, Trump has op­ted for jet fuel.
From the start of his pres­id­en­tial cam­paign through the end of Feb­ru­ary, Trump's spend­ing on private air travel, primar­ily his ker­osene-guzz­ling Boe­ing 757, totaled $3.4 mil­lion—about a third more than he spent on payroll and polit­ic­al con­sult­ants, ac­cord­ing to a Na­tion­al Journ­al ana­lys­is of Fed­er­al Elec­tion Com­mis­sion fil­ings.
The up­shot? Trump and a hand­ful of aides swoop to his ral­lies in style aboard an air­plane large enough to carry 200 pas­sen­gers, but GOP meet­ings at the county and con­gres­sion­al-dis­trict level around the coun­try have gone un­staffed by the Trump cam­paign, al­low­ing scores of del­eg­ates loy­al to Sen. Ted Cruz to win slots to the sum­mer nom­in­at­ing con­ven­tion.
Trump cam­paign aides did not reply to Na­tion­al Journ­al quer­ies. But GOP strategists crit­ic­al of Trump's can­did­acy said his choices are not sur­pris­ing, giv­en his repu­ta­tion as be­ing tight­fis­ted about most spend­ing yet ex­tra­vag­ant when it comes to his per­son­al com­fort.
"He's a nar­ciss­ist­ic baby," said Flor­ida's Rick Wilson, who sup­por­ted Sen. Marco Ru­bio's bid and is now a key act­iv­ist in the "Nev­er Trump" move­ment.
Trump does also own a Cessna Cita­tion X, an eight-pas­sen­ger busi­ness jet that uses less than half as much fuel as the 757, which burns through $10,000 worth each hour. Trump has only used the smal­ler plane oc­ca­sion­ally, when a cam­paign event is be­ing held in a town that doesn't have a suf­fi­ciently long run­way nearby.
The fond­ness for the big­ger plane, which boasts a state­room and a shower, has been an ex­pens­ive one, par­tic­u­larly with Trump's pref­er­ence to spend every night at either his New York City apart­ment or Mar-a-Lago, his Palm Beach es­tate. Rather than in­cur­ring costs of hun­dreds of dol­lars a night for hotel rooms, he has been spend­ing tens of thou­sands of dol­lars so he can awaken in his own bed.
Had he used the smal­ler plane in­stead, he could have saved up­wards of $1 mil­lion—enough to have hired dozens more full-time staffers over the past year.
"It doesn't shock me that he's ba­sic­ally thrown money in­to a shred­der, spend­ing all that money for his plane. It doesn't shock me at all," Wilson said.
No oth­er can­did­ate has spent so much on private air travel com­pared to payroll. Cruz, his nearest re­main­ing Re­pub­lic­an rival, spent $5.9 mil­lion on payroll and polit­ic­al con­sult­ants through Feb. 29 (the latest fil­ing avail­able) but only $568,000 on private planes. Demo­crat­ic front-run­ner Hil­lary Clin­ton spent $35 mil­lion on staff and $3.7 mil­lion on private air travel—al­though some of that was re­im­bursed to the cam­paign by mem­bers of Clin­ton's trav­el­ing press corps.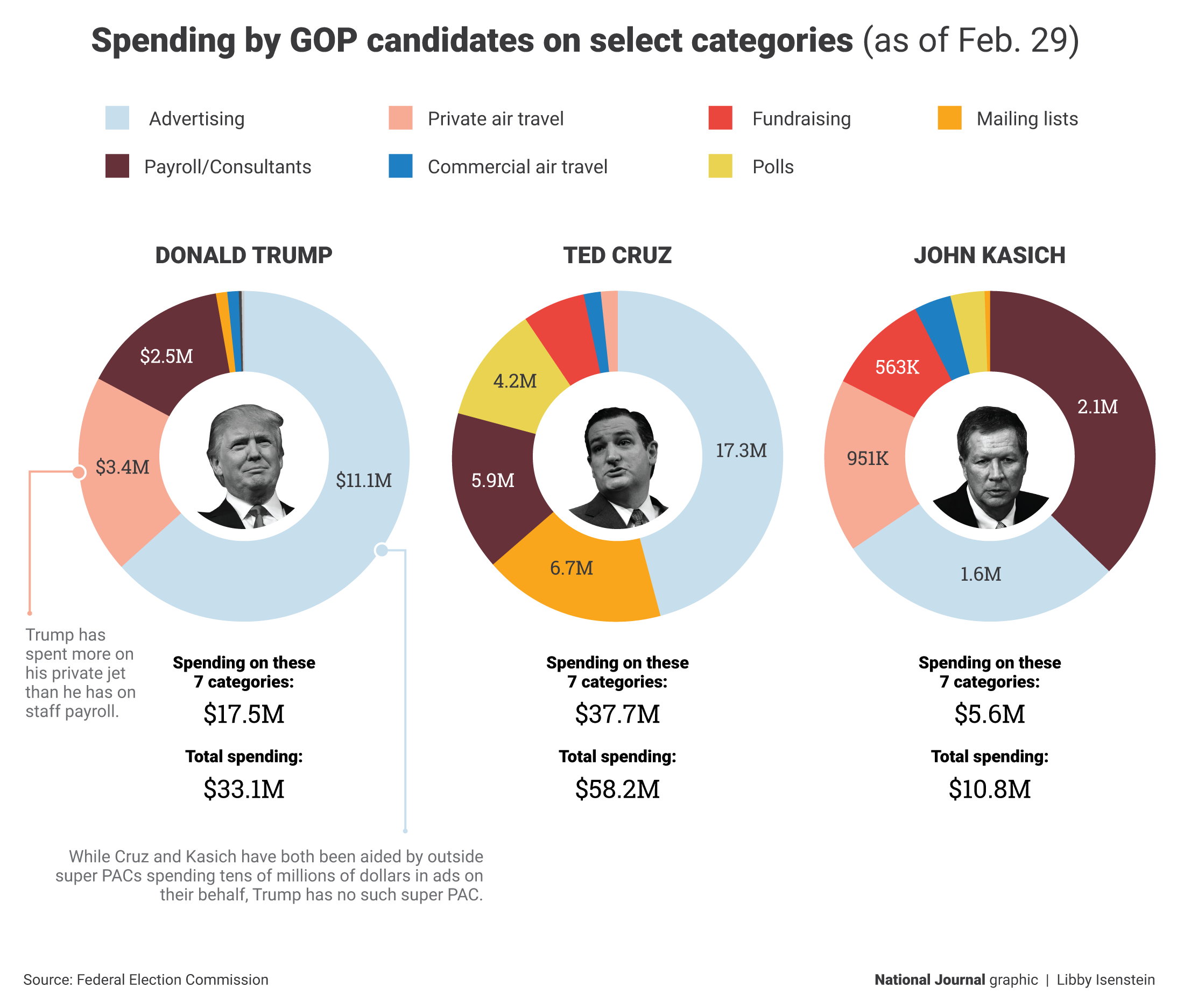 Trump has in re­cent weeks hired sev­er­al high-level aides in an ef­fort to se­cure the 1,237 del­eg­ates needed for the GOP nom­in­a­tion, in­clud­ing Paul Man­a­fort and Rick Wiley. Man­a­fort is a long­time Wash­ing­ton lob­by­ist and con­sult­ant who in 1976 helped Pres­id­ent Ford hold off a chal­lenge from Ron­ald Re­agan, while Wiley most re­cently ran Wis­con­sin Gov. Scott Walk­er's short-lived pres­id­en­tial bid. How much they are paid and wheth­er on-the-ground staff is also be­ing ad­ded in states that are choos­ing del­eg­ates this month will not be dis­closed in the FEC fil­ings un­til mid-May.
But through much of the cam­paign, Trump has res­isted hir­ing staff, cit­ing his high rank­ings in pub­lic polls to jus­ti­fy the ap­proach. Through Nov. 1, the Trump cam­paign had paid a grand total of 15 staffers and polit­ic­al con­sult­ants. In con­trast, Cruz had paid 75 by that date.
One Re­pub­lic­an con­sult­ant said privately that Trump's Iowa strategist, Chuck Laud­ner, lob­bied hard for more on-the-ground work­ers in that first-to-vote state. "They didn't listen to Laud­ner in Iowa, lost, then blamed him," the con­sult­ant said. "Now, they're pay­ing for it. Chuck has so many con­nec­tions in Iowa and oth­er states, he could have really helped with the del­eg­ate pro­cess. Missed op­por­tun­ity for them."
Laud­ner de­clined to dis­cuss his work for Trump with Na­tion­al Journ­al. Trump's FEC fil­ings show Laud­ner and the con­sult­ing firm re­gistered to his wife were paid $210,665 through the end of Feb­ru­ary. Laud­ner, in fact, is among five top Trump aides who among them re­ceived more than $1 mil­lion of the $2.5 mil­lion Trump spent on payroll and polit­ic­al con­sult­ants. Cam­paign man­ager Corey Le­wan­dowski's con­sult­ing firm was paid $321,098; James Mer­rill's South Car­o­lina firm made $307,472; Mi­chael Glassner and his firm were paid $182,071, and so­cial-me­dia dir­ect­or Dan Scavino was paid $85,000.
Trump by the start of Feb­ru­ary ap­peared to have caught up with Cruz in staff­ing, with 109 paid em­ploy­ees and polit­ic­al con­sult­ants com­pared to 108 for Cruz. The fig­ures for March will be avail­able next week. Those fil­ings will also re­veal how much more of his own money Trump has put in­to his ef­fort. So far, Trump has lent his cam­paign $24.4 mil­lion of the $33 mil­lion he has spent. Much of the rest has come from the sale of hats, T-shirts, and oth­er paraphernalia.
While Trump fre­quently claims a net worth of $10 bil­lion, a Na­tion­al Journ­al re­view of his fin­an­cial dis­clos­ure fil­ing and re­ports of court tran­scripts found that he is likely worth con­sid­er­ably less—and in any event only had between $78 mil­lion and $232 mil­lion in re­l­at­ively li­quid as­sets when he began his cam­paign last year
(Top image via Flickr user Gage Skidmore)