The Argument Over Disposable Plastic Water Bottles in National Parks
The bottled water industry is lobbying hard to overturn waste-reducing bans in parks, claiming concerns about dehydration and health.
Since 2011, roughly 20 national parks have banned the sale of plastic water bottles at concession stands and vending machines as part of the National Park Service's effort to stop waste. In fact, disposable water bottles alone make up one third of all trash dumped in America's national parks, according to a survey by the Public Employees for Environmental Responsibility.
Meanwhile, the bottled water industry has spent big money lobbying Congress to overturn all bans on water bottles, according to The Washington Post. The International Bottled Water Association, which represents 200 bottlers, recently made strides toward this goal after Republican congressman Keith Rothfus agreed to slip an amendment that could nix the National Park Service's current efforts into a House spending bill.
With temperatures topping 100 degrees at the Grand Canyon, he argued on the House floor, the bans could put families at the risk of dehydration.
"This is a prominent, misleading attack on bottled water that has no justification," Chris Hogan, the association's vice president of communications told The Washington Post. In a separate statement, he called the bans "misguided" and argued that not only do they not reduce waste, but also force people turn to soda and other sugary drinks.
Hogan pointed to a recent study in the American Journal of Public Health, in which researchers at the University of Vermont concluded that there was 30 percent increase in the shipment of sugary drinks when the campus stopped selling water bottles in vending machines. The researchers also concluded that it led to a 6 percent increase in the number of bottles shipped to the campus.
But one national park has reported a different outcome. With more than 2.7 million visitors each year, Zion National Park in Utah estimated in 2012 that its ban has stopped more than 60,000 water bottles, or 5,000 pounds of plastic, from entering the waste stream.
Instead, people are buying the park's reusable bottles and filling them at water-refill stations installed along major stopping points on trails. The iconic Grand Canyon and Arches national parks have also done the same, offering what they tout as free and readily available fresh spring water.
"It's misleading to say [the ban] pushes people to drink less healthy beverages—in reality they still get free water, and they can get a bottle just as cheap as most bottled waters," Alyssa Baltrus, spokesperson for Zion National Park toldFast Company.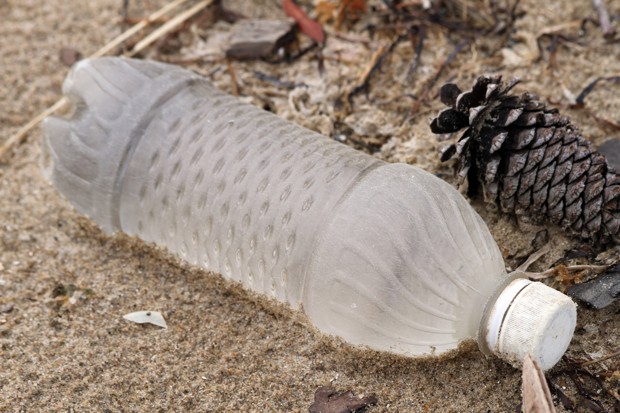 The National Park Service does acknowledge, however, that a blanket ban on bottled water sales could affect visitor safety. It also recognizes the very health concerns brought up by the bottled water industry—which is why their policy calls for bans to be enacted on a park-by-park basis. Generally, parks without sufficient running water are discouraged from implementing bans.
The war on water bottles has been raging for years, with organizations linking disposable water bottles to global warming. Only 13 percent of the millions of bottles we use end up in recycling streams. The rest—a whopping 2 million tons by one count in 2005—turns up in landfills, according to the National Resources Defense Council.
Some have called for bottled water to be taxed in order to discourage people from buying it. And this year's California drought has put bottling companies in a rather negative spotlight.
And with more research emerging to clear up confusion about the safety of tap water versus bottled, the bottled water industry indeed has a few reasons to be worried that no one wants to take it to the park.