Federal employees have significantly more negative views of many areas of their workplaces than their managers do, according to a new report.
The Partnership for Public Service, in conjunction with the consultancy Deloitte, analyzed data from the 2013 Federal Employee Viewpoint Survey and found in several key metrics, rank-and-file workers gave worse reviews of leadership than the leaders themselves. The assessment gaps will likely make it harder for agencies to improve employee morale, PPS said.
On a governmentwide level, employees expressed the most significantly different views from their managers on the issue of promotions. Just 26 percent of staff-level federal workers gave a positive response when asked if promotions were based on merit, while nearly half of managers said they were. Large divides also showed up on issues such as supervisors allowing individuals to demonstrate their leadership skills, and retribution against employees for partisan political purposes.
Managers also felt they were fairly rewarded for good work at a much higher rate than their employees.  Here's a PPS chart showing the areas with the largest disparities: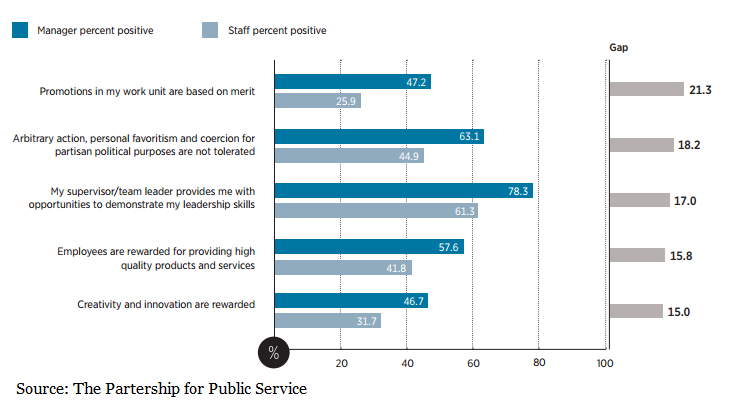 Some agencies maintained better alignment between staff and managers than others. Supervisors and employees at the Commerce, Agriculture and State departments expressed the most similar views. State and Commerce previously ranked among the top five large agencies on PPS' best places to work analysis.
The correlation did not hold up in all cases; the Federal Trade Commission was a top-five mid-size agency, but had below average alignment. In other examples, however, poorly ranked agencies such as the National Archives and Records Administration and the Housing and Urban Development Department had little correlation between managers' and employees' evaluations.
The issues in which staff and supervisors most closely aligned generally involved self-assessment, such as the knowledge of the workforce and "the work I do is important." The two groups also agreed supervisors support the need for work-life balance.
Employees gave more positive responses on only two questions, PPS found. More employees felt their workloads were reasonable and they had the resources to get the job done than their managers. This likely reflects that managers "are feeling a great deal of stress in trying to accomplish their mission goals," PPS said.
Mitigating the disparity between employees' and managers' assessments of each other and the state of their agencies relies primarily on communication, according to the Partnership. Brown bag lunches, anonymous online feedback portals and periodic messages from agency heads to recognize exceptional work can help eliminate the disconnect, the group advised. Senior executives should involve both managers and their employees when taking steps to improve the workplace, PPS said.
Overall, the 2013 employee viewpoint survey, administered annually by the Office of Personnel Management, showed the federal workforce's pay and job satisfaction has plummeted .
( Image via iodrakon / Shutterstock.com )