A senior Immigration and Customs Enforcement official resigned on Saturday, amid allegations in a discrimination lawsuit that she fostered a "frat-house-type atmosphere that is targeted to humiliate and intimidate male employees," according to the New York Times.
The official, Suzanne Barr, had been on leave from her role as chief of staff to the ICE director due to the allegations against her.  Those allegations surfaced in a discrimination lawsuit filed against Homeland Security Secretary Janet Napolitano by an immigration official claiming he was pushed out of a senior position in lieu of a less-qualified woman.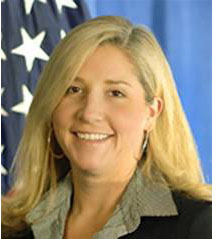 In a letter to the ICE director, John Morton, Barr denied the accusations and said she was resigning with "great regret."
"In recent weeks, I have been the focus of unfounded allegations designed to destroy my reputation, but of greater concern, however, is the threat these allegations represent to the reputation of this agency and the men and women who proudly serve their country by advancing ICE's mission," Barr wrote, in a letter obtained by the Times. "As such, I feel it is incumbent upon me to take every step necessary to prevent further harm to the agency and to prevent this from further distracting from our critical work."