This story was updated after a statement Tuesday from the board.
Terrence Flynn, a National Labor Relations Board member who had come under fire for sharing internal documents with a political ally , has submitted his resignation, NLRB said in a statement.
NLRB Chairman Mark Gaston Pearce told staff the news and thanked them, on behalf of the entire board, for their "hard work and commitment to excellence through even the most difficult circumstances."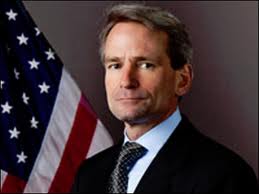 Flynn had been under fire since the NLRB inspector general this spring completed a probe concluding he violated standards of conduct by releasing "deliberative, predecisional information" on pending board rulings to Peter Schaumber, a former NLRB chairman whom Flynn had served as counsel, and to another former board member. Schaumber served last fall as a key labor adviser to the Mitt Romney presidential campaign but left that position.
Flynn defended his sharing internal information as simply a dialogue between former colleagues.
His resignation, dated May 25 and submitted by fax and email, takes effect July 24. He has recused himself from all agency business and asked President Obama to withdraw his nomination to be a permanent board member, having received a recess appointment in January.
On Tuesday, NLRB members met with employees and announced they were reassigning Flynn's cases and staff. They also released a joint statement saying that recent events have "created a distraction" from the board's mission.
"Such distractions shall not tarnish this agency's image -- an image created from the good and honest work of its employees," it said. "These events also caused us to reflect on the extremely high value we as board members place on the deliberations we have with each other and, as importantly, the free and open exchange we have with you in considering cases. Hopefully, we can all come away from this difficult experience and the threat it posed to our deliberative process with a greater appreciation for that process."